Posted By Norman Gasbarro on July 2, 2014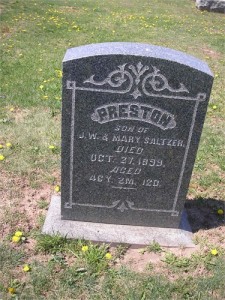 In the Saltzer family genealogy in A Comprehensive History of the Town of Gratz Pennsylvania, published in 1987, there is a brief reference following the inclusion of the name of Preston Saltzer (15 August 1851 – 1896):
Said to be a drummer boy in the Civil War.
As with most stories and facts presented in this book, no source of the information is given.
Preston Saltzer was the son of John Wolfe Saltzer (1816-1885) and Mary K. [Clark] Saltzer (1818-1881).
An older brother, Josiah D. Saltzer (1845-1898), served in the 50th Pennsylvania Infantry, Company A, as a Private, and was captured and held at Andersonville Prison for a time as a prisoner of war.  Another older brother, John G. Saltzer (1844-1907) served in the 210th Pennsylvania Infantry, Company H, as a Private.  At the start of the war, Preston would have only been 8 years old – way too young to serve in the army – and at the conclusion of the war, only 12, still too young.  However, it was a known fact that many boys too young to serve in the infantry, did follow the regiments and did serve as drummer boys.
For a story of a drummer boy who documented his service and applied for a pension, see:  Thomas McDowell Jones – Drummer Boy and Newspaperman.
In 1870, Preston Saltzer is found in the household of his parents in Lykens Township where he was working as a farm laborer.  Strangely, his age was given as 15 – which would mean that he was born about 1855 – not 1853 as calculated from his grave marker (shown at top, from Gratz Union Cemetery).
Preston has not yet been located in the 1880 or 1890 censuses.  He also has not yet been located in any military or pension records.  No record has been located of a marriage – or that he had any children.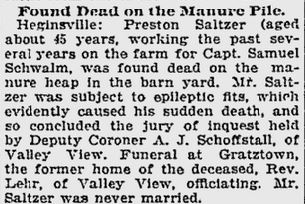 On 4 November 1899, the Reading Eagle printed Preston's obituary (shown above):
Found Dead on the Manure Pile.

Heginsville:  Preston Saltzer (aged about 45 years, working the past several years on the farm for Capt. Samuel Schwalm, was found dead on the manure heap in the barn yard.  Mr. Saltzer was subject to epileptic fits, which evidently called his sudden death, and so concluded the jury of inquest held by Deputy Coroner A. J. Schoffstall, of Valley View.  Funeral at Gratztown, the former home of the deceased, Rev. Lehr, of Valley View, officiating.  Mr. Saltzer was never married.
A death record (shown below) has been found for him at the United Methodist Church, Valley View, Schuylkill County, Pennsylvania.
The death record notes that he lived 46 years, 2 months, and 12 days.  The calculated birth date from the given date of death of 17 October 1899 is 15 August 1853.  The 46 years, 2 months, and 12 days is also given on his grave marker.  However, there is no G.A.R. star or flag holder at his grave.
The Samuel Schwalm (1827-1903) referred to in the obituary, has been featured in several prior posts on this blog:  Click here for listing.  Preston probably obtained the job through his sister Elizabeth [Saltzer] Schwalm (1864-1934)  her husband Henry Schwalm's uncle was Samuel Schwalm.
Any mention of Civil War service is worth researching.  How was this information obtained?  From family stories that were passed down?  Did he follow one his brothers in their regiments?  Or was the story from a news article that appeared at some time in Preston's life?  Perhaps a reader of this blog can provide an answer.
—————————-
The Valley View church records and the census records shown above are available on Ancestry.com.  The obituary is from GoogleNews.