Posted By Norman Gasbarro on July 18, 2014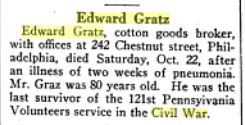 Edward Gratz Jr. died on 22 October 1921 in Philadelphia, Pennsylvania,  A notice of his death appeared in Textile World:
Edward Gratz

Edward Gratz, cotton goods broker, with offices at 242 Chestnut Street, Philadelphia, died Saturday, 22 October, after an illness of two weeks of pneumonia.  Mr. Graz [sic] was 80 years old.  He was the last survivor of the 121st Pennsylvania Volunteers [121st Pennsylvania Infantry] in the Civil War.
Edward Gratz Jr. was born in Pennsylvania, 24 December 1841, the son of Edward Gratz (1806-1850) and Caroline [Vandover] Gratz (born about 1815 in New Jersey, died 11 December 1896).  His grandfather was Simon Gratz (1773-1839), the founder of Gratz, Pennsylvania, and his great grandfather was Michael Gratz (1740-1811), a merchant of Philadelphia.
Edward Gratz Jr. is buried at Laurel Hill Cemetery, Philadelphia.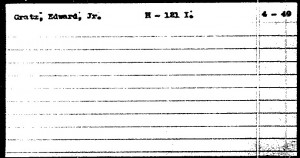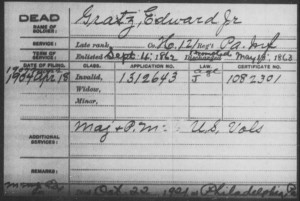 During the Civil War, Edward Gratz Jr. served in the 121st Pennsylvania Infantry, Company H, as a 1st Lieutenant, from September 1862 until May 1863, when he received a promotion.  This information, except for his rank, is shown on the Veterans' Index Card (above, from the Pennsylvania Archives) and the Pension Index Card (above, from Fold3).  For the promotion information, although suggested in the additional remarks as "Major and P. M. [Pay Master] of U.S. Volunteers," further research is necessary.
Turing to Fold3, the documents can be found which verify the application for, the promotion of, and the later resignation of Edward Gratz Jr.
Application (5 pages):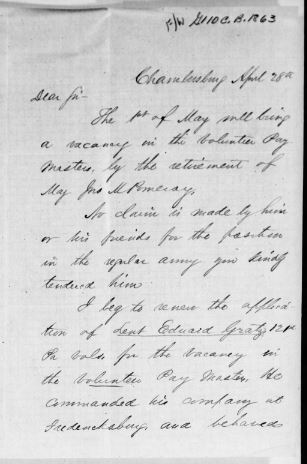 For the promotion, Edward Gratz needed a letter of recommendation which he received.  In that Major George Pomeroy, then current Paymaster of the Army was retiring effective 1 May 1863, it was suggested that Gratz be appointed to that position.  "[Gratz] commanded his company at Fredericksburg and behaved heroically but he is broken in health and is now quite ill in the hospital."
—————————–
Recommendation and Promotion (5 pages):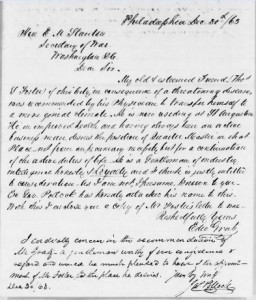 In a letter sent to Secretary of War Edwin Stanton, Edwin Gratz recommended another man, Thomas Foster for transfer to a "more genial climate" for health concerns.  At the foot of this letter, Gov. James Pollock noted his concurrence in the recommendation of Gratz because Gratz was a "gentleman worth of our confidence and regard."  This letter served as corroboration of the integrity of Gratz to be appointed to the Paymaster position.
————————-
Acknowledgment of Appointment (2 pages):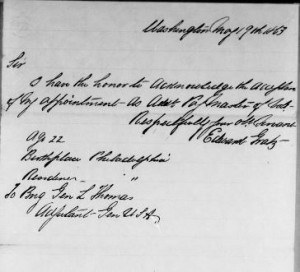 On 19 May 1863, from Washington, D.C., Edward Gratz wrote to Brigadier General L. Thomas acknowledging the appointment as Assistant Paymaster.
————————
Oath of Office (1 page):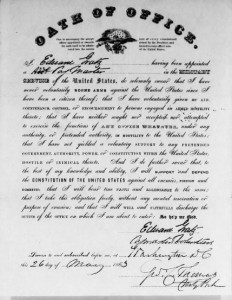 As part of his appointment Gratz had to take an oath of office and sign a document verifying his loyalty to the United States.  That document was signed and witnessed at Washington, D.C., 26 May 1863, five days before the Battle of Gettysburg.
—————————–
Resignation (6 pages):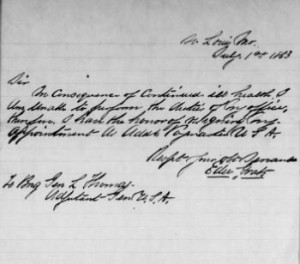 On the first day of the Battle of Gettysburg, Edward Gratz, who had removed from Washington to St. Louis, submitted his resignation to Gen. Thomas:  "In consequence of continue ill health I am unable to perform the duties of my office.  Therefore I have the honor of resigning my appointment…."
———————————
Very little is known about the activities of Edward Gratz from the date of the resignation to the recording of his information in the Census of 1870.  What was the the nature of his illness which prevented him from performing the duties of Paymaster?  Did he return immediately to Philadelphia?  Or did he go South and establish contacts for what would be his later vocation – a trader of cotton?
After the Civil War, in 1870, Edward was single and living in the household of his widowed mother Caroline in Philadelphia, and was a working as a dry goods merchant.  That same year he married Frances Donaldson or Donelson (1843-1912) of Tennessee.
In the decade between the next census, three children were born to the couple:  Emma F. Gratz, born about 1871; Sydney Gratz, born about 1876; Norman Gratz, born about 1879; and Violet Gratz, born in January 1880.
In 1880, the family was living in Philadelphia and Edward was a commission-merchant of dry goods.  In 1883, the youngest child was born – Thomas Donelson Gratz.  In 1890, he reported as a Civil War-related disability that he had to resign his military commission because of ill health.  On 1 April 1904, he first applied for a veteran's pension, which he soon-after received; apparently, the ill health which resulted in his resignation, did not plague enough him during his business dealings – and he waited for 14 years after old age was a legitimate reason for a pension (1890).
Wife Frances died in 1912.  The Census of 1920 saw Edward still living in Philadelphia and still working (at age 79) as a dry goods merchant.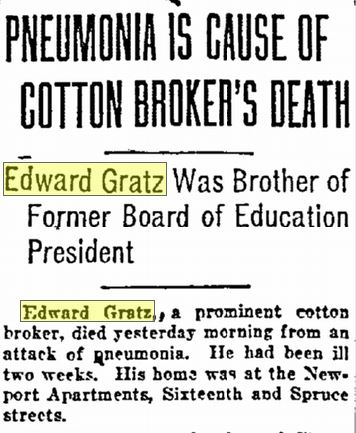 On 23 October 1921, the Philadelphia Inquirer reported his obituary, but avoided any mention of his military service:
PNEUMONIA IS CAUSE OF COTTON BROKER'S DEATH

Edward Gratz Was Brother of Former Board of Education President

Edward Gratz, a prominent cotton broker, died yesterday morning from an attack of pneumonia.  He had been ill two weeks.  His home was at the Newport Apartments, Sixteenth and Spruce Streets.

Mr. Gratz was a brother of Simon Gratz, former president of the Board of Education, and also of Harry Gratz and Alfred Gratz.  He was a widower, his wife, Mrs. Frances Donaldson Gratz having died ten years ago.

He is survived by a daughter, Miss Violet Gratz, and two sons, Thomas D. Gratz and Norman Gratz.

Mr. Gratz is eighty years old. He has been in the cotton brokerage business many years, with offices at 242 Chestnut Street.
Many questions are left unanswered about the Civil War service of Edward Gratz.  Additional research into the military and pension records may provide some answers.  His career as a cotton broker, based in Philadelphia, also needs further examination – how it was that he was able to enter this market and capitalize on the South's key agricultural crop and build a business enterprise around it in the latter part of the 19th Century.  Also missing at this point are photographs of Edward Gratz and his family members – although a picture of the brother, Simon Gratz, has been located.
Add comments to this post or send an e-mail with answers.
——————————-
The complete document file on the promotion and resignation of Edward Gratz is available at Fold3.  Census returns are available on Ancestry.com.  Samples and information from those documents are presented in this blog post.  The news clippings are from the on-line resources of the Free Library of Philadelphia. For two stories on his brother, Simon Gratz, see:  Was Simon Gratz a Civil War Veteran? and Simon C. Gratz – Son of First Mayor of Gratz, Pennsylvania.