Posted By Norman Gasbarro on July 14, 2014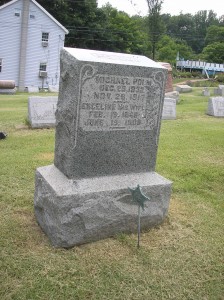 Previously on this blog, Michael Polm was featured as part of the post entitled Methodist Cemetery, Williamtown (Part 3 of 3).  The following was then stated:
Michael Polm (1835-1917).  According to pension records, Michael Polm first served in the 10th Pennsylvania Infantry, Company F, as a Private, from 26 April 1861 through 31 July 1861.  He later served in the 127th Pennsylvania Infantry, Company D, as a Private, from 9 August 1862 through 3 May 1863.  During this second tour of duty, he was wounded at Chancellorsville, 3 May 1863.  Michael lived in the Fisherville area of Dauphin County and the Washington Township area where he worked as a general laborer.  Later, he and his wife, Angeline Schoffstall (also known as Engeline) moved to Williamstown.  Michael Polm became ill and was admitted to the Government Hospital for the Insane on 12 July 1916., previously having been admitted to the Veteran's Home in Dayton, Ohio.  His cause of death was ruled as "senile psychosis."
Some supporting documentation and additional information can now be presented: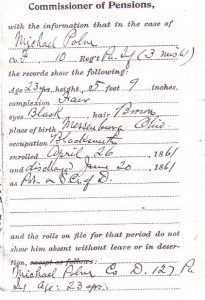 From the pension file (above), Michael Polm's physical characteristics are given:  He claimed to be 23 years old at the time of his enrollment, and was 5 foot 9 inches tall, had a fair complexion, black hair and brown eyes.  His place of birth was said to be Messenberg, Ohio, and he was working as a blacksmith.
Two addition items related to his military record are presented below (from the Pennsylvania Archives):
The top card gives Michael Polm's enrollment place as Lykens and his residence as the same place.  When he enrolled for his first service, his occupation was laborer and for his second service, his occupation was blacksmith.  On neither card is there a physical description.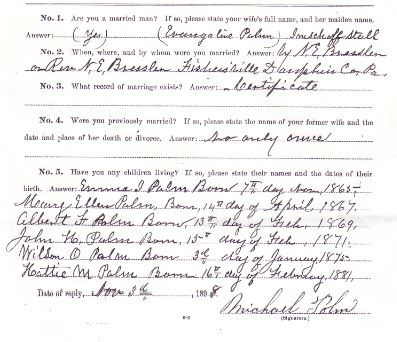 Presented as part of his pension application for increased benefits was a statement (above) of marriage to Evangeline Schoffstall, which took place in Fisherville, Dauphin County, and was performed by Rev. N. E. Bressler.  He also named all his living children and the date of their birth:  Emanuel Polm, 7 April 1865;  Mary Ellen Polm, born 14 April 1867; Albert F. Polm, born 13 February 1869; John H. Polm, born 15 February 1871; Wilson O. Polm, born 3 January 1875; and Lottie M. Polm, born 16 February 1881.  The statement was made on 3 November 1898.
The Soldiers' Home record from 1916 (shown above, from Ancestry.com) notes Polm's illnesses that he believed were incurred as a result of his service and included: defective vision and hearing, gastritis, and rheumatism.  His closest relative was his son Wilson who lived in Lykens at the time.  This record also states that his hair (as well as his eyes) had turned gray, and that he grew two inches in height since his military days.  The date of death of 26 November is given and occurred at "G.H.I.", an abbreviation for Government Hospital for the Insane.
Michael Polm's death was also noted in the registers at Dayton, Ohio, where he died (shown above, from Ancestry.com).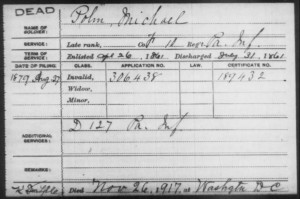 The Pension Index Card from Fold3 (shown above), gives the same date of death and the place of death as Washington, D.C.  This card also gives the pension application date as 27 August 1879.  This relatively early pension application date is an indication that the wounds Michael received at Chancellorsville were problematic to him.
In the years after the Civil War, Michael Polm worked as a laborer/day laborer in Washington Township, Dauphin County (as per 1870 census).  By 1900, he moved to Williamstown.

For his service, Michael Polm is recognized on the Lykens G.A.R. Monument.
Additional information is sought about Michael Polm.