Posted By Norman Gasbarro on July 9, 2014
Today's blog post will feature some interesting news stories about Jacob Shiro.
Jacob Shiro was born in Wittenberg, Germany, on 19 February 1843, the son of Jacob Shiro and Susan [Bellon] Shiro. He arrived in the United States around 185 at the age of eight.  During the Civil War, he served in Company G, 103rd Pennsylvania Infantry, as a Private, from 14 March 1865 through discharge on 25 June 1865.
From the Harrisburg Patriot, 15 September 1891:

While Jacob Shiro and wife, of Gratz, were driving to Harrisburg yesterday morning their horse became frightened and threw both out of the buggy.  Mr. Shiro was slightly injured.
From the Harrisburg Patriot, 30 July 1902: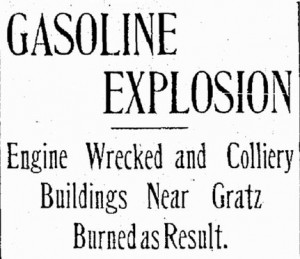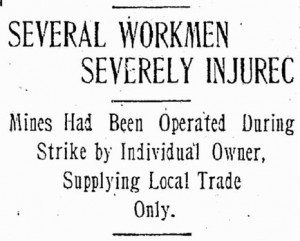 GASOLINE EXPLOSION

Engine Wrecked and Colliery Buildings Near Gratz Burned as Result

Building Near Gratz Burned as a Result

SEVERAL WORKMAN SEVERELY INJURED

Mines Had Been Operated During Strike by Individual Owner, Supplying Local Trade Only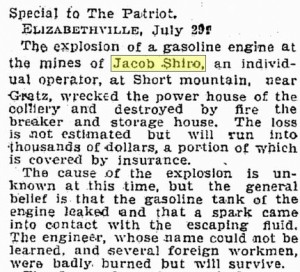 Special to The Patriot. 
Elizabethville, 29 July 1902.   The explosion of a gasoline engine at the mines of Jacob Shiro, an individual operator, at Short Mountain, near Gratz, wrecked the power house of the colliery and destroyed by fire the breaker and storage house.  The loss is not estimated but will run into thousands of dollars, a portion of which is covered by insurance.  The cause of the explosion is unknown at this time, but the general belief is that the gasoline tank of the engine leaked and that a spark came into contact with the escaping fluid.  The engineer, whose name could not be learned, and several foreign workmen, were badly injured but will survive.
The flames from the wrecked power house were communicated at once to the adjoining buildings and all destroyed, no fire fighting apparatus adequate to fight the flames being available.  The loss in mined coal will be considerable.  The strike of the hard coal workers has not affected the Shiro workings, which supply only local trade.  There are no union men employed there.  It is said that the mines will be put into operation again as soon as possible.
From the Philadelphia Inquirer, 12 September 1902:
Mining Coal in Farming District.

HARRISBURG, Pennsylvania, 11 September 1902 — The anthracite coal mines of Jacob Shiro, near Gratz, this county, are yielding as fine quality of coal as has ever been mine in Lykens Valley, and notwithstanding that prices have abnormally advanced elsewhere, Mr. Shiro continues filling orders at the old rates. Large quantities are being hauled from Gratz to Millersburg by team, a distance of seventeen miles.
From the Harrisburg Patriot, 14 September 1903:

Jacob Shiro, one of our reliable merchants, intends to retire from the mercantile business.
—————————–
News clippings are from the on-line resources of the Free Library of Philadelphia.