Posted By Norman Gasbarro on July 26, 2014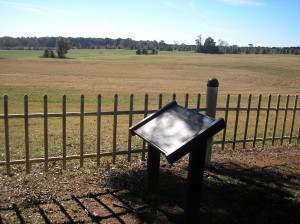 In a previous post of 10 December 2012, entitled The Nash Farm Battlefield, Henry County, Georgia, the following was stated:
The Nash Farm is located in the western part of Henry County, Georgia, 21 miles south of Atlanta, at 4361 Jonesboro Road.  It is about five miles west of Exit 221 of I-75.  During the Civil War, it was a Confederate campsite and was the location of the largest cavalry raid the state's history – which was conducted by Union General Hugh Judson Kilpatrick, after whom the G.A.R. Post in Millersburg, Dauphin County, Pennsylvania was named.  Participating in the cavalry corps led by Kilpatrick was the 7th Pennsylvania Cavalry which included many men from  the Lykens Valley area.  According to local (Henry County) information, the Nash Farm site is one of the "few Civil War battlefields that remain intact, meticulously preserved" – which allows visitors to re-visit the final days of Gen. William T. Sherman's Atlanta Campaign – much as it may have appeared at the time to the participants.
Pictures, taken in 2010, were shown in that post of some older battlefield markers and it was reported in that post that construction was taking place at that site, expected to be completed in time for the 150th Anniversary of the cavalry battle that took place there in August 1864.
Another visit was made to the battlefield in early November 2013.  The following pictures show some of the results of the construction which include the new battlefield markers that tell the story of the battle in words and pictures.  Click on the photos to enlarge them and the tablets should be readable: