Posted By Norman Gasbarro on July 11, 2014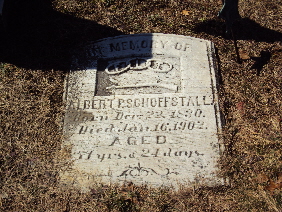 Albert P. Schoffstall (1830-1902) is buried at the Donaldson Cemetery, Donaldson, Schuylkill County, Pennsylvania.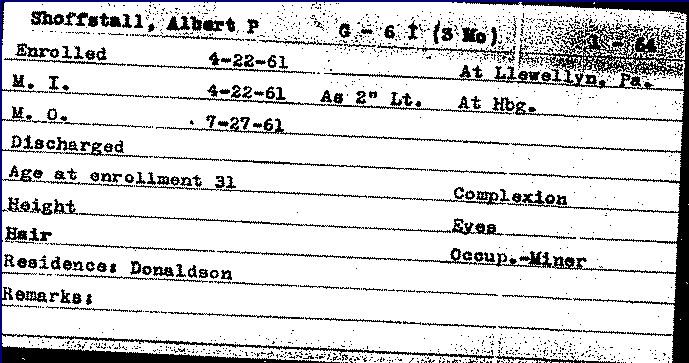 He was a Civil War veteran having served in the 6th Pennsylvania Infantry, Company G, as a 2nd Lieutenant.  On 22 April 1861 Albert enrolled at Llewellyn, Schuylkill County and then reported to Harrisburg to be mustered into service.  At the time, he indicated that he was working as a miner and that he lived in Donaldson.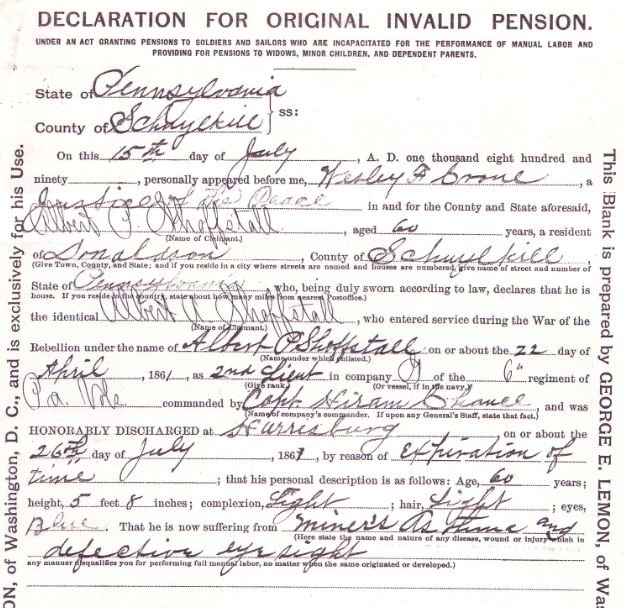 In a pension declaration made in 1890 (above), Albert P. Schoffstall gave a physical description of himself – that he was 5 foot 8 inches tall, had a light complexion, and light hair, and black eyes.  In 1890, he was suffering from miner's asthma and had defective eye sight.  From information on the Pension Index Card from Fold3, (shown below), Albert P. Schoffstall received the pension for which he applied.  His death date of 16 January 1902 is noted on the card as well as the fact that a widow also applied and received a pension based on his service.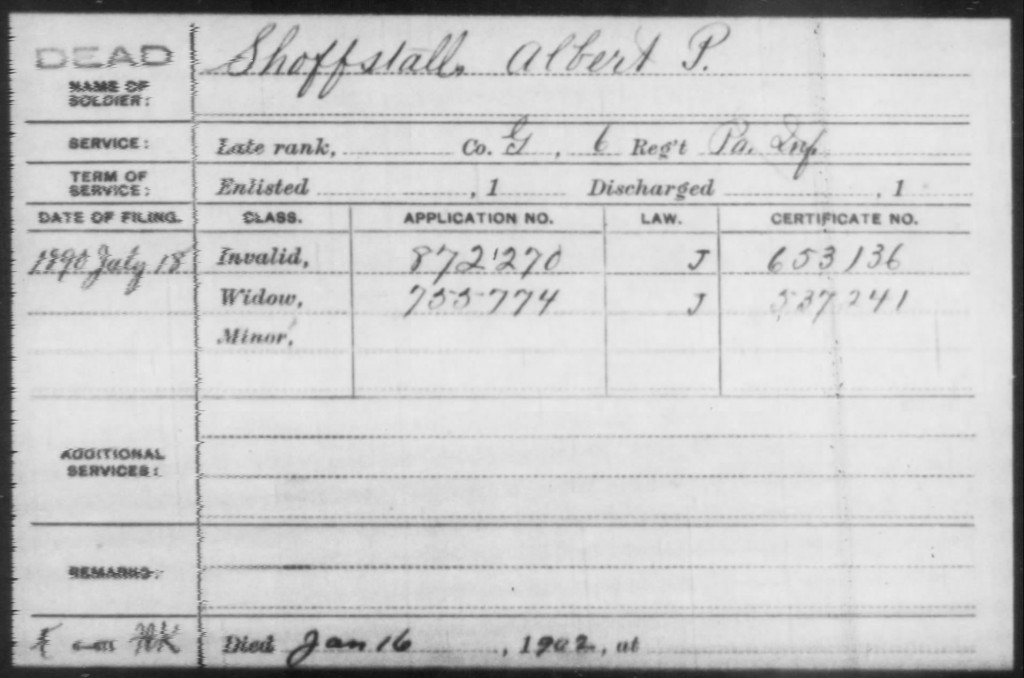 Albert P. Schoffstall was born in Gratz Borough, Dauphin County, on 22 December 1830, the son of Ludwig "Lewis" Schoffstall (1780-1861) and his wife Elizabeth.  He had two known brothers: Lewis Henry Schoffstall, born about 1828; and Joseph A. Schoffstall, born about 1833.   Ludwig, the father, died about one month before Albert enrolled in the 6th Pennsylvania Infantry.
Some time around 1850, Albert married Elizabeth Minnich.  Children born of this marriage included:  William, born about 1851; and Minnie, born about 1869.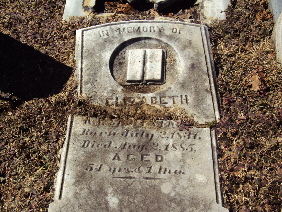 Elizabeth died in 1885 and is buried in the Donaldson Cemetery, in the family plot where Albert would later be buried when he died on 16 January 1902.
Albert then re-married to Susan [Lehman] Wetzel who had previously been married to John Wetzel about whom not much is known at this time, except that he was from Pine Grove.  While this re-marriage created some confusion when Albert applied for a pension in 1890, it was easily straightened out by providing proof of marriage and death of those concerned – which made it relatively easy for the 2nd wife Susan to apply for widow's benefits.  Susan did not die until 1918, so as the 2nd wife and survivor, she was able to collect the widow's pension.   This information is shown on the Pension Index Card (below) from Ancestry.com.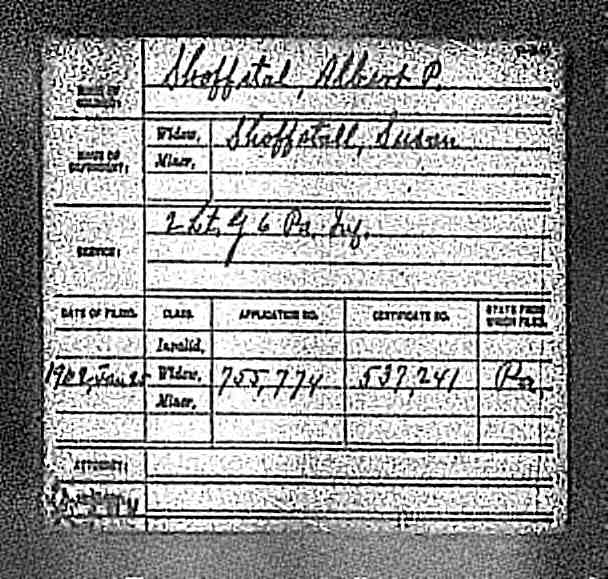 The Pension Index Card (above) from Ancestry.com surprisingly does not mention the pension application of Albert but gives the application date for Susan.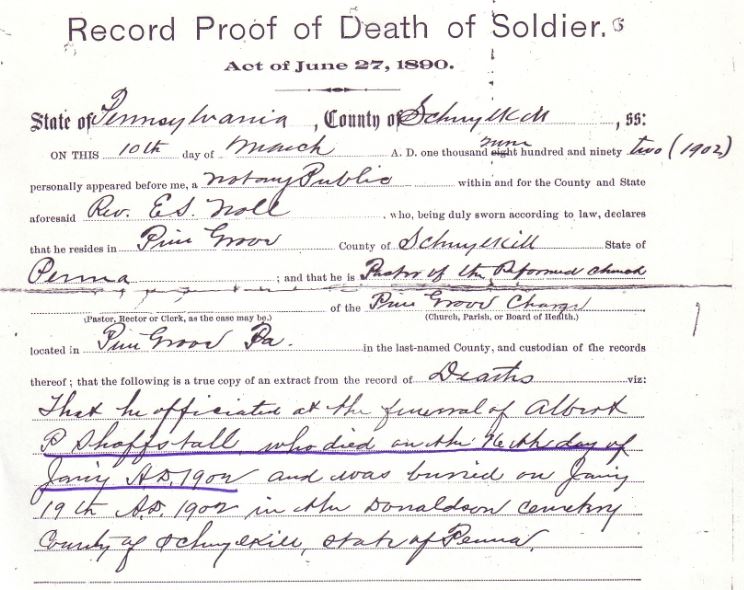 Finally, the "Record Proof of Death of Soldier," (above) reports on when and where Albert P. Schoffstall died and where he was buried.  Click on the document to enlarge it.
This post combines several sources to get a broad picture of the life and military duty of Albert P. Schoffstall who served in the 6th Pennsylvania Infantry for three months in Company G as a 2nd Lieutenant.  The grave marker pictures are from Findagrave.  Some of the documents are from the pension application files available at the National Archives.  The Veterans' Index Card is from the Pennsylvania Archives.  Genealogical information is from A Comprehensive History of the Town of Gratz Pennsylvania.  Other documents are from Fold3 and from Ancestry.com.
No veteran's story is complete until personal information is included that can only be provided by family and those who knew him.  That's why readers are always encouraged to contribute information to these blog posts.