Posted By Norman Gasbarro on June 1, 2014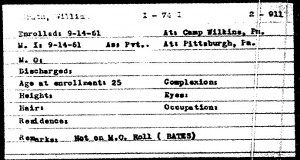 On 14 September 1861, William Gratz (1836-1863), of western Pennsylvania, enrolled in the 74th Pennsylvania Infantry, Company I, as a Private, at Camp Wilkins, Pittsburgh, Allegheny County and the same day and place was mustered into service.  His age was given as 25, but no other distinguishing information was given about him.  The remarks at the bottom of the Pennsylvania Veterans' Index Card (shown above from the Pennsylvania Archives) state that he was not on the muster out roll and that this information was also noted in Bates.
Two questions about him could be asked:  (1) Was he a member of the Gratz family of Philadelphia, the family of Simon Gratz, known as the founder of Gratz, Dauphin County, Pennsylvania?  and (2) Why was he not on the muster out roll?
The Pension Index Card (above) from Ancestry.com, gives the date of application for a pension by his mother, Eva C. Gratz, as 25 February 1864.  She received the pension – but probably much later than the date of her application (there is a significant difference in the file number of the application and certificate number). This is an indication that there was something that possibly did not satisfy the pension examiners – something which took a period of time to prove.
In consulting the actual pension application file, now available on-line through Fold3, Eva's full name is revealed as Eva Christina Gratz, a widow.  Two statements in page 3 of the file help clarify some genealogical information as well as information on why William Gratz did not return from the war (click on any document below to enlarge it):

Adjutant General reports enrollment and muster as a Private, 14 September 1861 – On roll for May and June 1863, he is reported as "killed in action, 2 May 1863, at Chancellorsville, Virginia.

Celibacy of Soldier/Relationship/Death or Disability of Husband:  Cred. [credible] wits. [witnesses] swear soldier left neither widow nor children, that he was the son of claimant, whose husband died 1859.

Dependence: Also that the soldier regularly contributed to the support of claimant by his labor before enlisting and by sending money for her use afterwards.  Claimant is poor.
1st Lieutenant Carl Veitenheimer, who later became Lieutenant Colonel of the 74th Pennsylvania Infantry, made a statement regarding the circumstances of the death of William Gratz: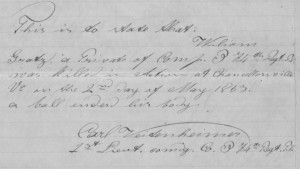 The Veitenheimer statement (above, page 4 from the pension file), states that William died at Chancellorsville when "a ball entered his body."  This statement was provided to the Pension Bureau on 21 January 1864, about a month before William's mother made formal application for benefits.
For the controversy regarding Veitenheimer's promotion within the 74th Pennsylvania Infantry, see Chancellorsville and the Germans, by Christian Keller, page 135.
On page 5 of the application, Eva swore that she was 61 years old (born about 1803) and that she had been totally blind for five years.  She made her mark on that document – an indication that she could not read or write.
Page 6 reveals the father's name (Eva's deceased husband) as John Gratz.
Pages 7 through 17 provide evidence confirming William's military service and death, state that Eva was "in indigent circumstances having no means of support," and that William had worked in "rope and cordage manufacturing" from the time he was ten years old – supporting his mother with his earnings.
Page 18 of the file reveals that after five years of waiting to hear from the Pension Bureau, she made a complaint against her attorney, T. W. Day of Pittsburgh, because she had not heard anything regarding her claim.  At that time, she requested that the authority for the claim be transferred to Attorney Jonathan W. Riddell of Pittsburgh.  Page 19 is the formal legal document for the transfer to the new attorney.  This latter document is the last one in the application file.
Given the genealogical information that was gleaned from the Pension Application File, a search was made in the 1850 and 1850 censuses with no positive results.  We are left with the fact that William Gratz's father was John Gratz, that he died in 1859, and that the widow, Eva Christina Gratz lived in Allegheny County, Pennsylvania, at the time of her son's death (1863), and afterward, through her pension application and receipt of benefits.  From this information, no connection has been made to any members of the Gratz family of Philadelphia – the family of Simon Gratz who founded Gratz, Pennsylvania.
It does not appear that Eva had any other children with John Gratz – thus,most likely ending this Gratz line.
There are many veterans listed in regimental records with the designation, "not on muster out roll." In this case, the additional research has shown that there was a reason that William Gratz was not mustered out with his company – he was killed in action!  No place of burial has been located.
Perhaps there is someone reading this post who can fill in some information on John Gratz or be more specific on when and where at Chancellorsville he lost his life.  Information can be added to this post or sent by e-mail to the Project.