Posted By Norman Gasbarro on June 18, 2014
In researching the military records of William F. Bowman (1838-1870), it was discovered that he did not apply for a pension, but a widow did apply.  She was Mary A. Bowman and she made application on 30 January 1880, nearly ten years after William died.  She did not receive a pension based on the service of William F. Bowman.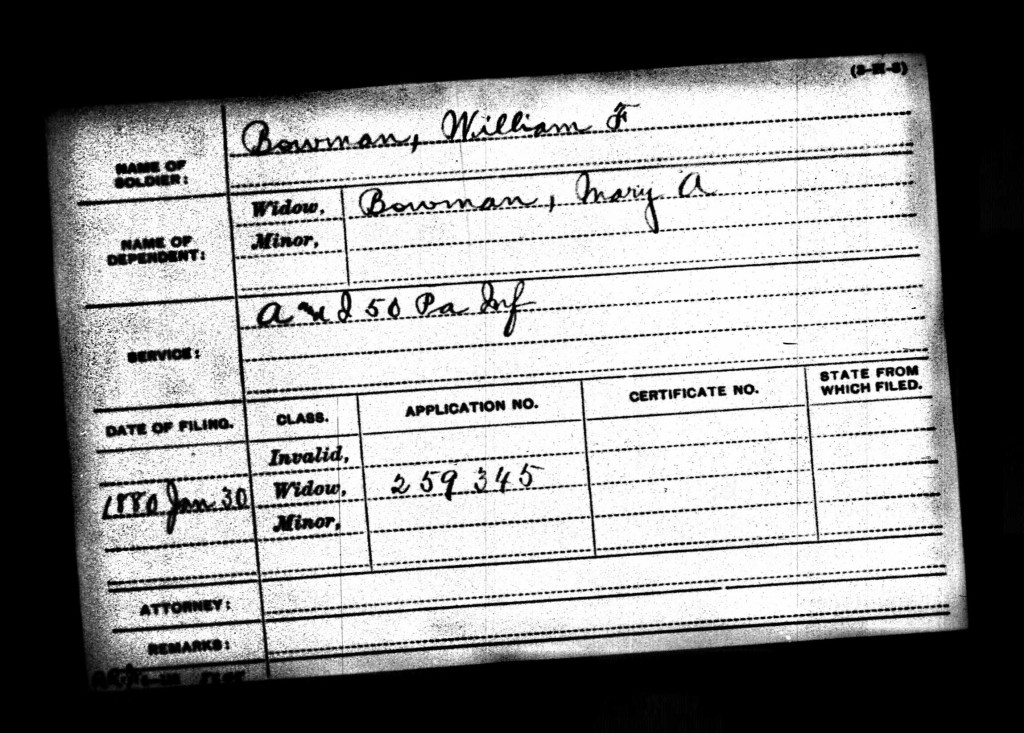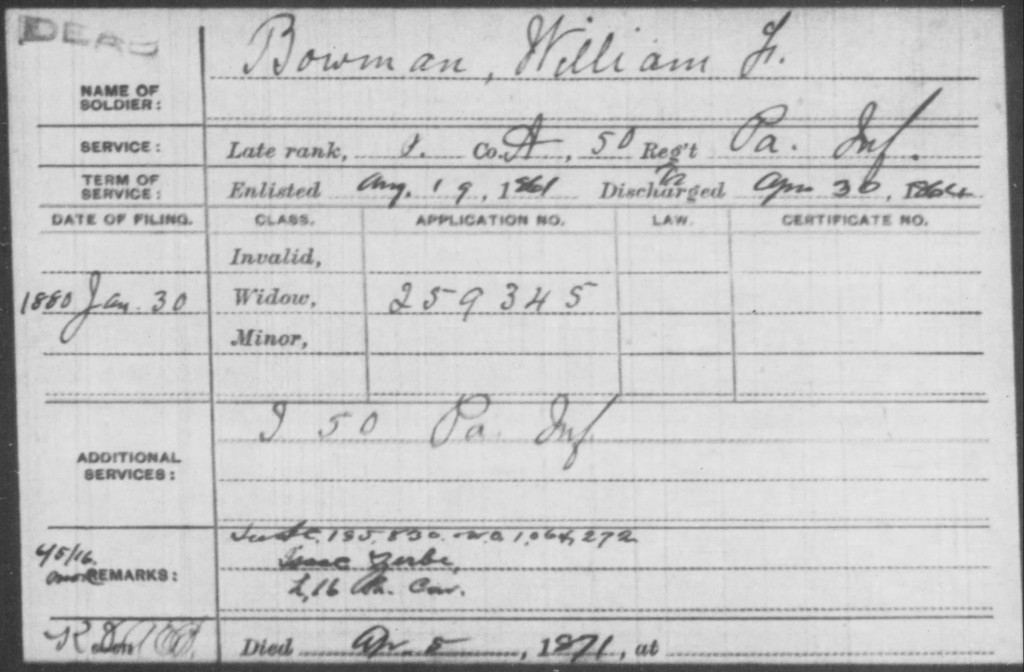 The two Pension Index Cards shown above tell part of the story and give some clues as to where to look next.  The first card, from Ancestry.com, notes the name of the widow as "Mary A. Zerbe", gives the pension application date and number #259345, and with no certificate number noted, it is assumed that she was denied.  The second card, from Fold3, adds the death date of 8 April 1871 (slightly incorrect from other records which state that he died on 15 April 1870).  The application number and service record matches the first card.  However, at the "Remarks" section, there is the name of Isaac Zerbe, who served in the 16th Pennsylvania Cavalry, Company L.   This is an indication that Mary was also the widow of Isaac Zerbe and her widow's pension records can also be found in the file for Isaac Zerbe.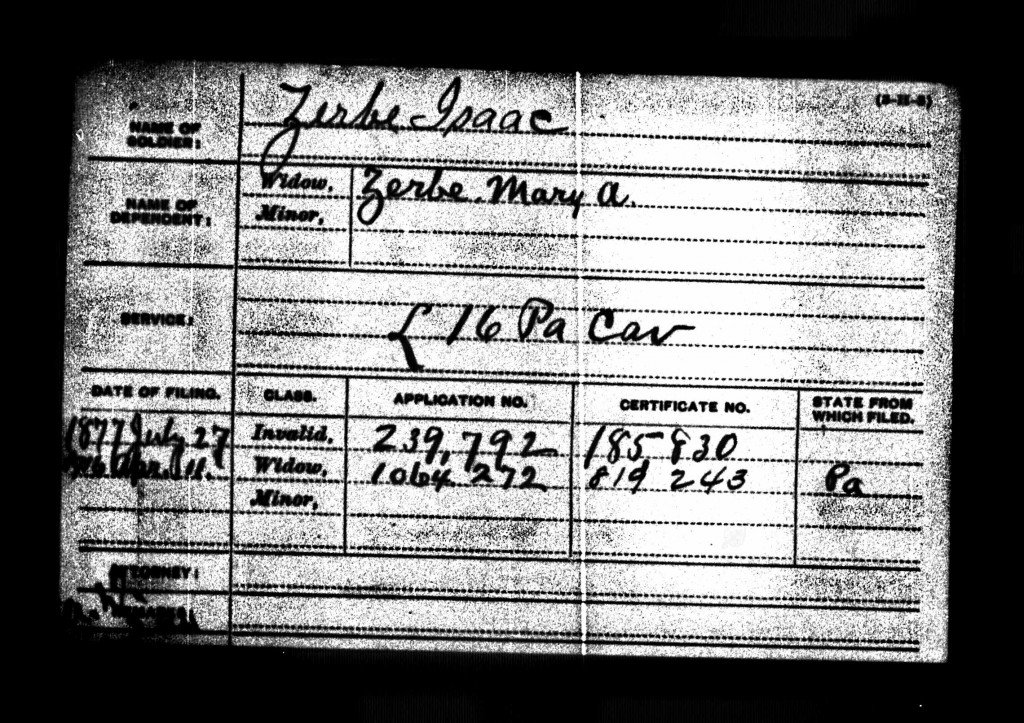 The only Pension Index Card available on-line for Isaac Zerbe is from Ancestry.com and is shown above.  Isaac applied for a pension on 17 July 1877.  His military records indicate that he was discharged from service on 10 April 1863 on a Surgeon's Certificate of Disability.  The widow's pension application, made by Mary A. Zerbe, occurred on 11 April 1916, less than a month after Isaac's death which occurred on 30 March 1916.  Mary did receive a widow's pension based on Isaac's service in the 16th Pennsylvania Cavalry.  [Note: Many of the Pension Index Cards  for the higher numbered Pennsylvania cavalry regiments have not yet appeared on Fold3].
The death certificate for Isaac Zerbe (above) only notes that a "Mrs. Isaac Zerbe" was the informant.  The date of death is given as 30 Mar 1916 and the place of death was Sunbury, Northumberland County.  [Note:  Pennsylvania Death Certificates have recently been placed on Ancestry.com, starting with 1906, with plans over the next year to include to complete the scanning and uploading through the early 1960s].

The final set of readily available records on Mary A. Zerbe can be found  by looking at the census returns.  The above census for Sunbury Borough for 1910 note that he marriage to Isaac Zerbe took place 22 years prior (or about 1888, that this was her third marriage, and that she gave birth to 12 children, 8 of whom were still living.  A daughter (presumably the daughter of Issac and Mary), Mary Emma Zerbe, age 21, unmarried, was living in the household and working as a dressmaker.  The daughter would have been born in 1889, just after "Mary A.'s" marriage to Isaac Zerbe.  The Census of 1910 gives similar information about Mary and Isaac's marriage year, and the number of children Mary had given birth to.
Mary A. Bowman-Zerbe was born about 1846 or 1847.  Assuming she began having children at the age of 18 (or about 1864), she possibly had several children with William F. Bowman before he died in 1870.  Then, after he died, she may have married again – and had more children.  That second husband possibly died around 1880 and he was most likely not a Civil War veteran or she would have applied for a widow's pension based on his service.  Left with many minor children and no means of support, she married Isaac Zerbe, who himself was a recent widower (his wife Elizabeth [Reichenbach] Zerbe, died in 1879 in Dalmatia, Northumberland County).  She remained married to Issac Zerbe until his death in 1916, when she applied for a pension as his widow – which she received.
The speculation in the above paragraph can be confirmed by consulting the 1916 widow's application.  At that time she would have had to confirm all prior marriages and give proof that those husbands were dead.  Also, in the pension file would be proof that Isaac Zerbe was previously married to Elizabeth and that she had died in 1879.
One final note.  William F. Bowman was found in the book, A Comprehensive History of the Town of Gratz Pennsylvania, page 121, in the genealogy of the Bowman family.  He was the older brother of Cyrene T. Bowman who was from Gratz and also served in the 50th Pennsylvania Infantry, but the genealogy did not mention that William was a Civil War veteran – only that he was buried in Hebe.  It took some "connecting of the dots" to confirm that the William in the genealogy was the same William F. Bowman who was a Civil War veteran – and in the process of doing so, "Mary A." was discovered as well as her last husband – Isaac Zerbe.
Additional information is sought on Mary A. Bowman-Zerbe.  What was her maiden name?  Who was her other husband?  When did she die?  Where is she buried?  Are there any living descendants?  Some stories, pictures, and other records are surely out there somewhere – with eight surviving children in 1910, someone must have more information on her.  Comments, as always, are appreciated.