Posted By Norman Gasbarro on June 6, 2014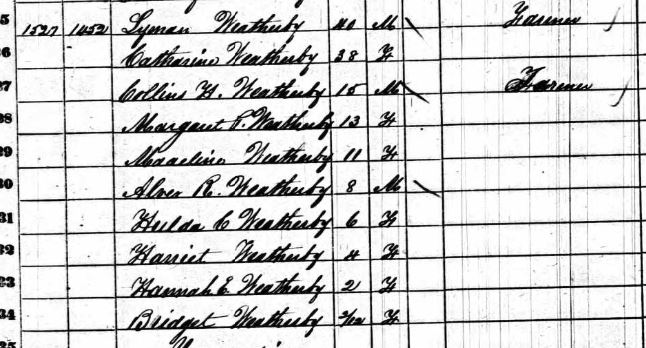 One of the great ironies of the Great Shohola Train Wreck is that one of the Union guards who was killed, Lyman Wetherby, was from the same region of Pennsylvania where the coal train originated – the coal train that collided with the prisoner train resulting in Lyman's death. The northern part of the anthracite mining area included Luzerne County, Pennsylvania.  The above extract from the Census of 1860 (Ancestry.com) is from Scott Township, Luzerne County, where Lyman Wetherby was enumerated as a 40 year old farmer, living with his large family.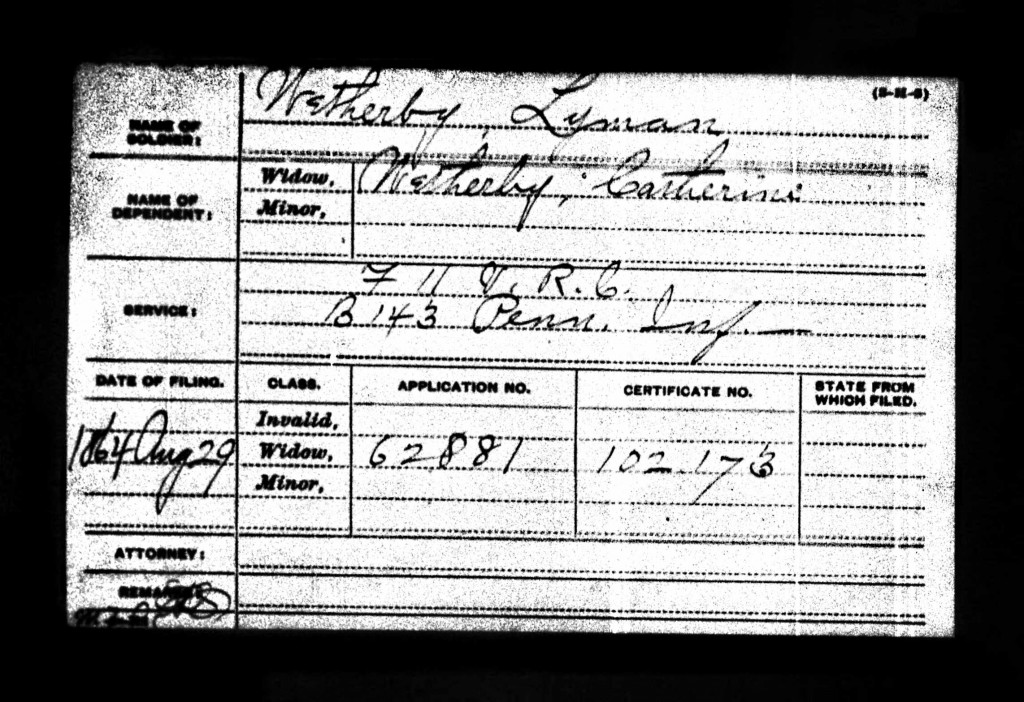 A widow's pension application based on Lyman Wetherby's service was made on 29 August 1864, by his widow, Catherine [Swetland] Wetherby. The Pension Index Card from Ancestry.com is shown above.   She received the pension.  All the application papers (59 pages) that she submitted are now available on the military records site Fold3.  The application file contains the usual, required proof that Catherine was the legal husband of Lyman Wetherby, that all the minor children were the children of Catherine and Lyman, the military record of Lyman, and that Lyman died in the line of duty – including the circumstances surrounding his death.
Lyman Wetherby's military service included his first enrollment in the 143rd Pennsylvania Infantry, Company B, as a Private.  He was mustered into that service on 16 August 1862, but owing to wounds received at Gettysburg in early July 1863, he was given an opportunity to be discharged on a Surgeon's Certificate of Disability or joining the Veteran Reserve Corps.  He chose the latter and on 1 November 1863, he was transferred to the 11th Veteran Reserve Corps, Company F.  After his initial service guarding a Philadelphia hospital, he was assigned to duty at Point Lookout, Maryland, guarding prisoners, and just after the military prison opened in Elmira, Chemung County, New York, in early July 1864, he was detailed to guard a group of Confederate prisoners to be transported by water to Jersey City, New Jersey, and then by rail to Elmira Prison.  If he had been successful in this task, he would have returned to Point Lookout via the Northern Central Railroad- through the Lykens Valley and Millersburg to Harrisburg, and then to Baltimore – which was the fastest way for him to return.  Unfortunately, the tragedy of the train wreck near Shohola terminated his return plans.  Lyman was declared dead at the train wreck site and initially buried there in Pennsylvania.  In 1911, most of the bodies were recovered from their burial place near where the wreck occurred and were re-interred at Elmira, New York, in a common grave at Woodlawn National Cemetery.  The odds are that Lyman was one of those re-interred, but since all of the bodies were not found in 1911, it is possible that his remains are still in Pennsylvania.
The summary military record (shown above, from Fold3), includes the statement that he was "killed 13 July 1864 at Shohola, Pennsylvania, by collision of trains at the Erie Railroad while guarding prisoners of war to Elmira, New York."  There several other references to his death at Shohola, including in Documents #3, #5, #7, #9, #38, #39, #41, #53, #56, #57, and #58.
However, two letters to Mrs. Wetherby detail the circumstances of Lyman's death.  These letters are found in the pension application file, heretofore referenced.  A portion of one of the letters is shown above.
The first letter, 1 August 1864, sent to Mrs. L. Wetherby (Document #43 and #44) was from a Private William H. Crop of Company F of the 11th Veteran Reserve Corps who was on the train and who described the accident as follows:
The accident occurred on the R. R. from Jersey City to Erie, Pennsyvlania, about 1 1/2 miles from Shohola, Pennsylvania.  Robert Wilson of this Company saw him breathe his last.  Mr. W. lived only 40 minutes after the collision.  His head was hurt some way and the right leg badly mangled but it was supposed that his death was occasioned by more internal injuries not apparent.  You can best obtain the money due him by procuring the services of some lawyer to that end.  He has pay due from 6 months and 16 days service….
The name of Robert Wilson is not found among the dead. Perhaps the writer mistook him for someone else – or Robert Wilson may have been one of those in the Company who were not injured.
The second letter found in the files pre-dates the first letter and was sent to Mrs. Lyman Wetherby on 23 July 1864, from Point Lookout (Documents #47, #48, #49, and #50).  It was also from Private William H. Crop:
It is with the greatest reluctance that I proceed to address you today, but I conceive it to be my solemn duty to make this painful announcement.

Doubtless the intelligence of the late terrible Railway disaster on the N. Y. and Erie R. R. has reached you ere – this is possibly the worst and most grievous tidings connected with this sad affair have also been transmitted to you.  If so your grief will be less intense from a repetition of this melancholy announcement.  I shall regret deeply having reproduced an account of your inconsolable sorrow.  Your husband, Lyman Wetherby, left here on about the 12th inst. as one of a squad detailed from this Regiment to act as escort to Rebel prisoners being sent from this point to Elmira, New York. He was apparently rugged in health and enjoying himself cheerfully as well and I cannot say positively on what day the accident occurred but I think it happened a day or two before your last letter to your husband which I return enclosed herewith.  It was opened that I might assure myself of the proper directions as I endeavor to inform you of the… fate visited upon your companion in that horrible collision.  Twenty men from this Regiment are reported as killed, four of them being members of Company F….  Most to be lamented is the name of Lyman Wetherby.

The intelligence of the latter's death gave me feelings of the deepest grief.  He was my berth companion ever since we left Philadelphia last May.  We were associated at that place in the hospital together as guards.  We have slept side by side for the past three months or nearly so.  Mr. W. merited the universal esteem of the members of the military organization from which he has just been separated.  Was truly patriotic in sentiment, tone to which he espoused his soldierly calling.

His habits were uniformly those of strict sobriety, his example worthy of imitation. In his bearing… conversation a religious inclination was clearly manifest.  It was evident religious matters had been given some consideration – some serious contemplation.
William H. Crop then proceeded to inventory Wetherby's effects.  He concluded with the following:
The actual figures may vary slightly from those above given, but they are approximately correct.  I am willing to transmit you any further information in my possession relative to the one you mourn.
Lyman Wetherby's service at Gettysburg is noted on the table for the 143rd Pennsylvania Infantry on the Pennsylvania Memorial:
The believed grave site of Lyman Wetherby is at Elmira, New York.  The common grave for the Union and Confederate soldiers is marked by a monument.  Lyman's name appears on the tablet for the Union soldiers killed near Shohola:
——————————
To see all the posts in this series, click on ShoholaTrainWreck.