Posted By Norman Gasbarro on June 14, 2014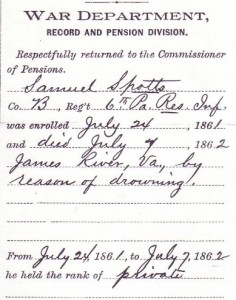 Military and pension records for Samuel Spotts (1841-1862), who is also found in the records as Samuel Spatz,  indicate that he died by drowning in the James River, Virginia, on 7 July 1862 at Harrison's Landing.
Samuel was a member of the 35th Pennsylvania Infantry (also known as the 6th Pennsylvania Reserves) and had been mustered into service at Washington, D.C., on 27 July 1861, after enrolling at Gratz Borough (Gratztown) three days prior.  His age was given as 18, but no other personal information was reported about him on the Pennsylvania Veterans' Index Card (shown above) available from the Pennsylvania Archives.
According to the history of the 6th Pennsylvania Reserves, the regiment saw the following service up to and including the time of the reported death of Samuel Spotts:
Service & Battles – 1861

Duty at Tennallytown, Maryland, July 27 to October 10, 1861, and at Camp Pierpont, near Langley, Virginia, till March, 1862.
Expedition to Grinnell's Farm December 6, 1861.
Action at Dranesville December 20.

Service & Battles – 1862

Advance on Manassas, Virginia, March 10-15. 1862.
McDowell's advance on Falmouth, Virginia, April 9-19.
Duty at Fredericksburg, Virginia, till June.
Moved to White House June 11-13.
Seven days before Richmond June 25-July 1.
Guarding supplies at Tunstall's Station and White House June 26-July 2.
At Harrison's Landing till August 16.
According to the web site for the Napa Valley Register:
On 8 July 1862, 150 years ago, during the American Civil War, an important meeting occurred between Commander-in-Chief Abraham Lincoln and his leading Union general, George B. McClellan.

It took place at Harrison's Landing on the north bank of the James River in Virginia, in the aftermath of the Seven Days' Battles that were the culmination of McClellan's unsuccessful Peninsula Campaign.
Thus, the death of Samuel Spotts can be attributed to the failed campaign on the peninsula, in that he died, according to the record, on 7 Jul7 1862.  The exact circumstances of his drowning are not known at this time nor is his place of burial.  For further information on the Seven Days Battles, see the prior blog post entitled, Pennsylvania Regiments at the Seven Days Battles – Corps and Generals.
Samuel Spotts was born around 1841, the son of Michael Spotts (or Spatz) and Elizabeth J. Long, who supposedly were not married.  In 1843, Elizabeth married Daniel Williard (1809-1885), and with him had ten known children.  Daniel Williard was a Civil War veteran of the 177th Pennsylvania Infantry, Company I, a drafted unit.  The record of the 177th Pennsylvania Infantry shows that Daniel Williard served a full term from 2 November 1862 through discharge on 5 August 1863.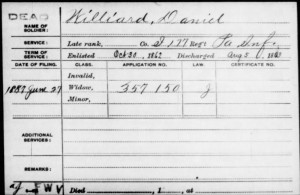 After Daniel died in 1885, Elizabeth, his widow, applied for pension benefits  on 27 June 1887 (see card above from Fold3), but for some reason she was denied.  The specific reason for denial should be found in the pension application file, which has not yet been consulted.  At that time, all Elizabeth's children with Daniel Williard were past the age of 16, so the benefits would have only been for her – not for minor children.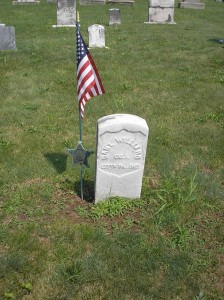 Daniel Williard is buried at Zion(Klinger's) Church Cemetery, Erdman, Lykens Township, Dauphin County.  His grave is marked with a government-issued stone.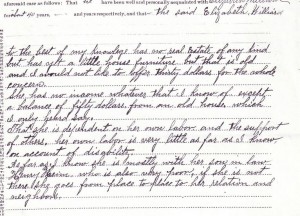 A statement (pictured above) of Elizabeth's financial condition was found in her pension application file:
The said Elizabeth Williard to the best of my knowledge has no real estate of any kind but has yet a little house furniture but that is old and I would like to offer thirty dollars for the whole concern.  She has no income whatever that I know of except a balance of fifty dollars from an old house which I only heard say.  That she is dependent on her own labor and the support of others.  Her own labor is very little as far as I know on account of disability.  So far as I know she is mostly with her son-in-law Henry Heim who is also very poor.  If she is not there she goes from place to place to her relation an neighbors.
The Henry Heim (1847-1919) referred to in the above statement was the husband of Elizabeth's daughter Lydiann Williard, who was born about 1858.  Henry was a Civil War veteran of the 7th Pennsylvania Cavalry, and at the time of the death of Lydiann's father, Daniel Williard, had just applied for his own pension benefits (see card below from Ancestry.com).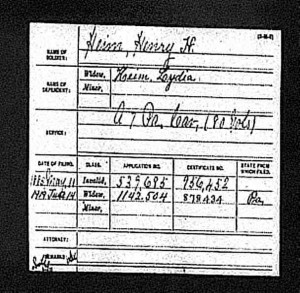 After Henry Heim died in 1919 of a mining accident near Shamokin, Northumberland County, his widow Lydiann [Williard] Heim applied for benefits, which she received until her death.
At this time it is not known whether any of the other children (or sons-in-law) of Elizabeth [Long] Williard and Daniel Williard were collecting Civil War pensions.  Someone must have suggested to Elizabeth – after she was rejected for her husband's pension benefits – that she apply for benefits based on the death of her son, Samuel Spotts, which the record shows (see below from Fold3), that she applied for on 9 October 1890.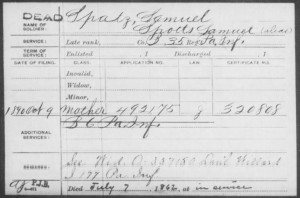 The pension, based on Samuel Spotts's service was granted and Elizabeth received benefits until her death.  Note also that the card indicates that the application files based on the service of Daniel Williard and Samuel Spotts have been combined in the widow's file for Elizabeth Williard.
Further information is sought on Samuel Spotts as well as his mother Elizabeth Long and his father Michael Spots.  Was his body ever found, identified and buried?  Add comments to this post or send by e-mail.