Posted By Norman Gasbarro on June 23, 2014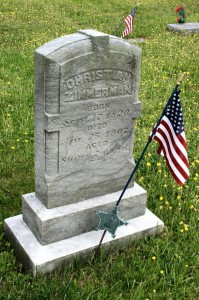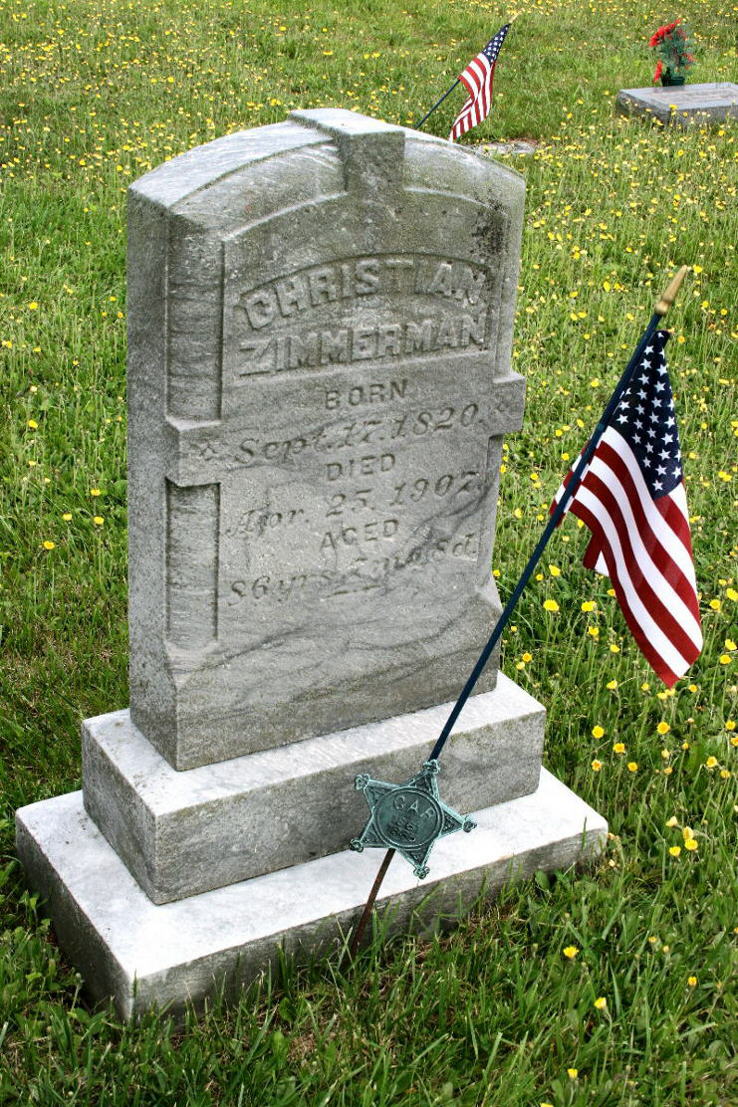 Christian Zimmerman was born 17 September 1820 and died 25 April 1907.  During the Civil War he served in the 210th Pennsylvania Infantry, Company A, as a Private, from 7 September 1864 thorough discharge with his company on 30 May 1865.  In April 1865, he received a bullet wound in his left arm.
The Pennsylvania Veterans' Index Card for Christian Zimmerman (above) from the Pennsylvania Archives provides no personal information.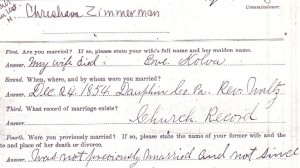 On 24 November 1854, in Dauphin County, Christian married Eva Kolva (1829-1890), the daughter of Jacob Kolva (1803-1832) and Hannah [Buffington] Kolva (1808-1890).  Eva's mother was a direct descendant of the first Buffington settlers in the Lykens Valley.  The marriage record (above) was provided by Christian Zimmerman to the Pension Bureau in support of his initial pension application, 7 March 1883.  At least five children were born to Christian and Eva.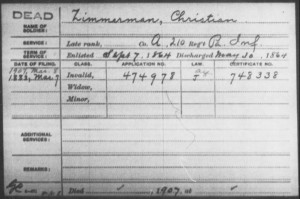 The Pension Index Card from Fold 3 confirms that Christian survived his wife Eva (no widow's pension application), and that Christian died in 1907.  After his death, he was buried in Straw's Cemetery, Enders, Dauphin County, and his grave marker is pictured at the top of this post.  Also, the grave marker confirms both the birth date and the death date of 17 September 1820 and 25 April 1907 – which is consistent with other records.  Although the Pennsylvania Death Certificates for 1907 are now available on-line through Ancestry.com, his death certificate has not yet been located.
In his claimant's affidavit submitted for an increase in pension benefits, Christian gave all his injuries and disabilities that he believed were connected to his military service:  he had a gunshot wound to his right index finger, date and place not remembered; he dislocated his left knee at Gravelly Run, Virginia, in April 1865, when he fell as he was running down a hill with a load on his back; he had an injury to his left arm by a bullet at Gravelly Run; and generally, he was suffering from exposure from laying on wet and damp ground and he had heart failure ever since his army service.  The above affidavit also confirms his service in the 210th Pennsylvania Infantry.
Also found in the pension file was a document which further described Christian's disabilities and how and where he received them.
Contracted chronic diarrhea and fever while in the line of my duty and was treated by the doctor of my regiment which I was treated by the doctor three weeks on or about 6 April 1865 I received a hurt in my left leg near the knee and my back between Hatchet's Run and Gravel Creek and keep on duty with disability.

Was treated by the regimental doctor and stearded [stayed?] in my regiment until my discharge from the service….
Finally, another document found in the pension application file (see above) gives Christian's physical characteristics:  He was 5 foot 10 inches tall, dark complexion, gray eyes, brown hair, and was employed as a millwright.  He also indicated that he was born in 1829, which was inconsistent with other data, and his birthplace was Jackson Township, Dauphin County.
Any family members and/or researchers who wish to contribute additional information about Christian Zimmerman my do so by sending an e-mail or adding comments to this post.