Posted By Norman Gasbarro on May 9, 2014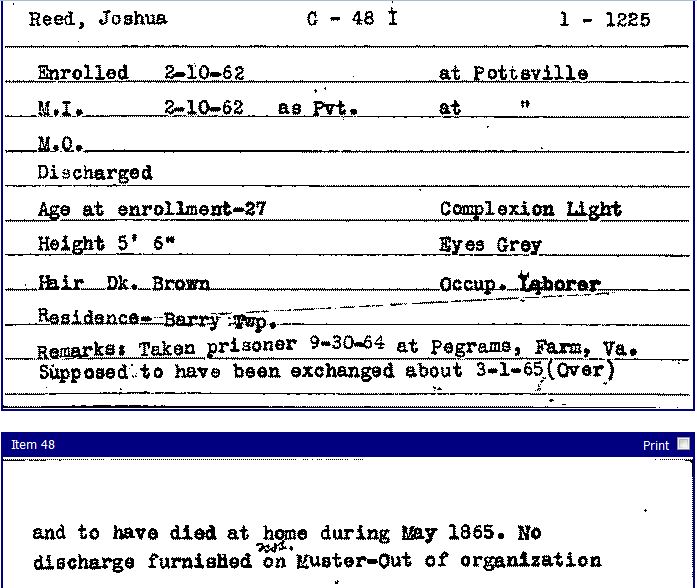 The Pennsylvania Veterans' Index Card for Joshua A. Reed notes that this resident of Barry Township, Schuylkill County, Pennsylvania, died at home during May 1865.  Other records indicate that his death was due to "effects of prison."
Joshua A. Reed was born in Barry Township about 1834, although some records indicate his birth year may have been 1836.  He was the son of Israel Reed (1808-1875) and Louise [Seitzinger] Reed (1814-1865) and was the oldest of at least ten children.  Through his mother's line, he was the direct descendant of Revolutionary War patriot, Nicholas Seitzinger Jr. (1758-1854).
In 1850, Joshua was living with his family in Barry Township, where his father was a farmer.  In 1860, Joshua, still living at home, was working as a farm laborer on his father's farm.
The Veterans' Index Card from the Pennsylvania Archives (shown at top of this post), notes that Joshua Reed enrolled at Pottsville on 10 February 1862, and was mustered into service the same day and place in the 48th Pennsylvania Infantry, Company G, as a Private.  Other records note that he may have been mustered into service on 16 February 1862.  At the time of his enrollment, he declared that he was 27 years old and was employed as a laborer.  He stood 5 foot, 7 inches tall, had dark brown hair, grey eyes, and light complexion.
From various sources, including the Veteran' Index Card, it is stated that Joshua was wounded at Bull Run, 29 August 1862.  After recovering, he continued to serve with the company and regiment until he was captured at Pegram's Farm, Virginia, 30 September 1864, and then taken to Salisbury Prison in North Carolina.  After being exchanged on or about 1 March 1865, he was released, probably on a Surgeon's Certificate of Disability and sent home.  He also could have been released as a result of completion of his term of service.  The illness or disability that resulted from his confinement as a prisoner of war was a contributing factor to his death, which occurred at home in  Barry Township either on 20 March 1865, 18 March 1865 or 20 March 1865.
No pension application has been located for any of Joshua A. Reed's survivors.  His mother, who also died in 1865,was not eligible because she was supported by Joshua's father, Israel Reed, who did not die until 1875, and he had other male children who could have supported him had he needed it.  No record has been located that Joshua was ever married or had any children.
There are several pictures of the grave stone of Joshua A. Reed on Findagrave with that site stating that burial took place in Bickel's Cemetery, Ashland, Schuylkill County.  Another source refers to the burial place as Reed's Family Cemetery. Taylorsville, Barry Township, Schuylkill County.  The grave marker gives the death date as 18 May 1865.
For some additional information about Joshua A. Reed and his activity in the 48th Pennsylvania Infantry, see John David Hoptak's Blogspot.
Further information can be found by consulting the military record index cards, found at the National Archives in Washington, D.C., Series M554 (Pennsylvania), microfilm roll 99.
As always, comments are appreciated from blog readers and can either be added to this post or sent to the Project by e-mail.
—————————–
The Sons of the American Revolution record is from Ancestry.com.