Posted By Norman Gasbarro on May 20, 2014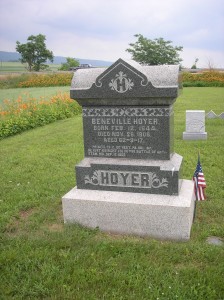 Benneville Hoyer (1844-1906) is buried at Peace Cemetery, Berrysburg, Dauphin County, Pennsylvania.  During the Civil War he served in the 107th Pennsylvania Infantry, Company G, as a Private. He is also found in the records as Benwill and Benwell.
His enrollment occurred on 24 February 1862 at Schuylkill County, and he was mustered into service on 5 March 1862 at Harrisburg.  On 17 September 1862, Benneville was seriously wounded in the right thigh at Antietam, Maryland, for which he lost the leg in an amputation that was done on 19 September 1862 in an area hospital.  Information from medical records states that the amputation was done very close to the body.  By 11 January 1863 he had sufficiently recovered to be discharged from the service on a Surgeon's Certificate of Disability.  The only personal information on the Pennsylvania Veterans' Index Card (shown above) from the Pennsylvania Archives, was his age of 18 and his occupation of blacksmith.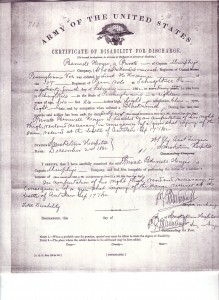 As proof of his total disability, Benevelle Hoyer submitted a statement from the surgeon who performed the amputation (shown above, from the pension application file available at the National Archives).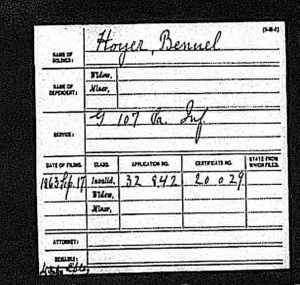 Benneville applied for a pension on 17 September 1863, a few months before his 20th birthday.  The pension application was made from Hubley Township, Schuylkill County, where he was residing after the war.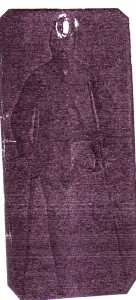 In the pension file, there is a picture (shown above) of Benneville Hoyer as he appeared at the time of his pension application – on crutches and missing one leg.  The picture is of very poor quality, and is either a mirror image photo or it was his left leg that was amputated, not his right leg.
In or about 1872, Benneville Hoyer married Caroline Schoffstall (1850-1892), the daughter of Solomon Schoffstall (1803-1866) and Catharine [Bordner] Schoffstall (1811-1868).  Carolyn had been previously married to Benjamin Kuntzelman (1847-1869).  She had at least two known children with Kuntzelman before he died.  After she married Benneville Hoyer, she had at least eight children with him.  Carolyn Hoyer died 8 October 1892 at Berrysburg, Dauphin County, leaving several children under the care of her widower husband Benneville.  It is believed that Benneville then re-married and fathered another child, born in 1898, which he named Ulysses S. Hoyer.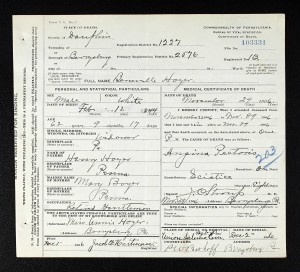 Benneville Hoyer died on 29 November 1906 at Berrysburg.  His death certificate, shown above (from Ancestry.com) indicates that he died of angina pectoris.  Benneville's parents were Henry Hoyer and Mary [Boyer] Hoyer and he was born in Mahantongo Township, Schuykill County, Pennsylvania.
His name appears on the Lykens G.A.R. Monument: