Posted By Norman Gasbarro on April 12, 2014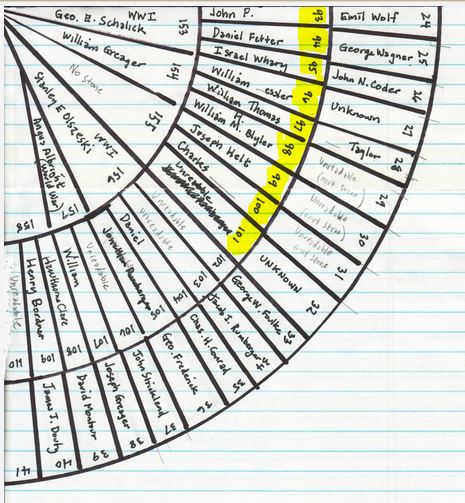 Today's post on the Shamokin Cemetery's Soldiers' Circle features nine graves in the second circle, second quadrant, beginning with photograph 93.  The photographs in this segment are numbered 93 through 101.  All of the stones in this section are sequenced in the order of the death of the veteran.  For each of the veterans, the best determination of the name is given and where possible some information about the military record.  Some errors may be noted where the information on the stone may not match other records.  Each grave photograph may be enlarged by clicking on it, and in some cases, readers may be able to identify or clarify some of the unknown information.  Comments can be added to this post or sent by e-mail to the Civil War Research Project.  The collected information on soldiers buried in the circle (including some military records, pension files, photographs, etc.) is available free-of-charge to veterans organizations, historical societies, and other non-profit groups.  Inquiries may be sent by e-mail or by regular mail, to the attention of Norman Gasbarro, P.O. Box 523, Gratz, PA  17030.
—————————-
#93 – John P. ——–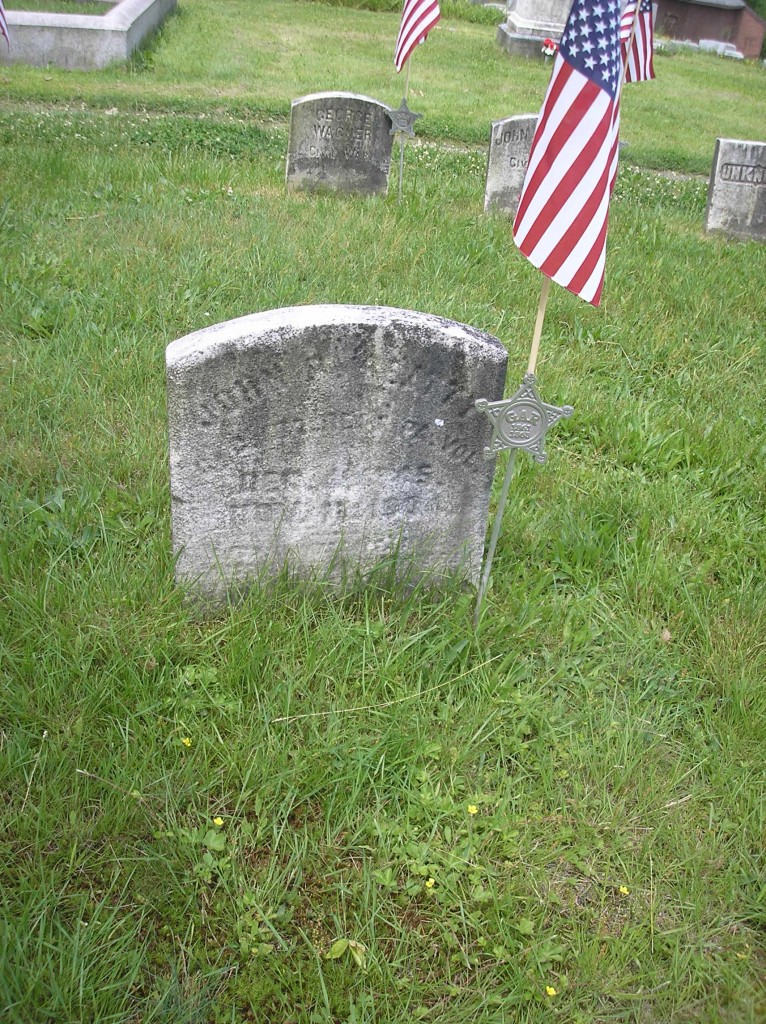 Most of the lettering on this grave marker is readable, except for the surname of the veteran, who was born in December 1845 and died in November 1904.
—————————-
#94 – Daniel Fetter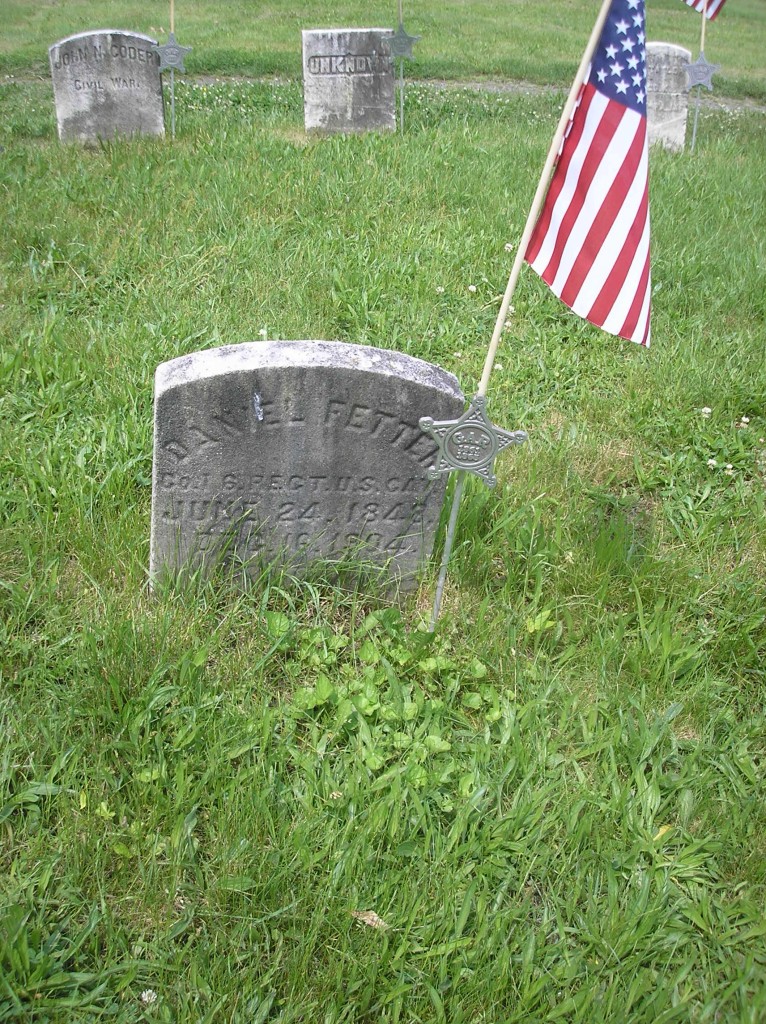 According to this grave stone, Daniel Fetter served in the 6th U.S. Cavalry, Company I.  He was born on 24 June 18– [year date is not clear] and died on 16 December 1904.  Not much else is known about him at this time.
—————————-
#95 – Israel Whary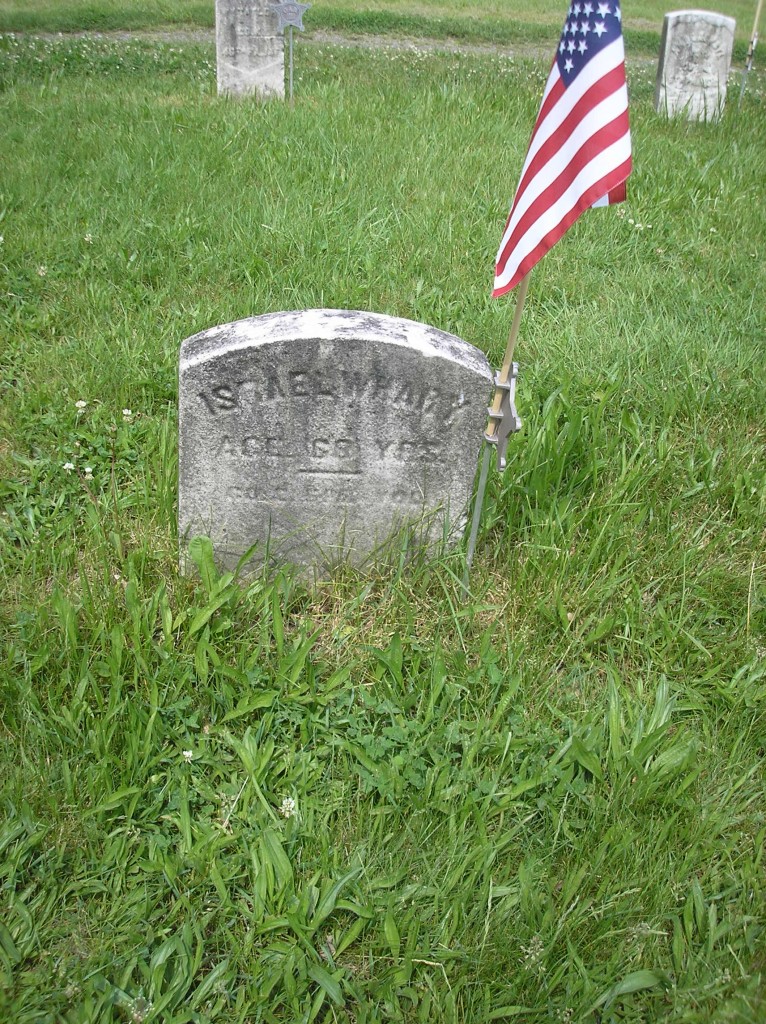 The name on this grave marker is Israel Whary, but he is found in the records as Weary or Wary.  Israel enrolled at Llewellyn in the 6th Pennsylvania Infantry, Company G, as a Private, and served from 22 April 1861 through his honorable discharge in July 1861.  He was mustered into service at Harrisburg. At the time of his muster, he was a miner living in Donaldson, Schuylkill County.  In 1880, Israel Whary was living in Frailey, Schuylkill County, and by 1890 he had moved to Shamokin.  In 1903 he was working as a watchman for a colliery.  On 28 November 1887, he applied for a Civil War pension.  After his death, his widow, Annette [Bressler] Whary applied on 6 March 1905.
—————————-
#96 – William ——–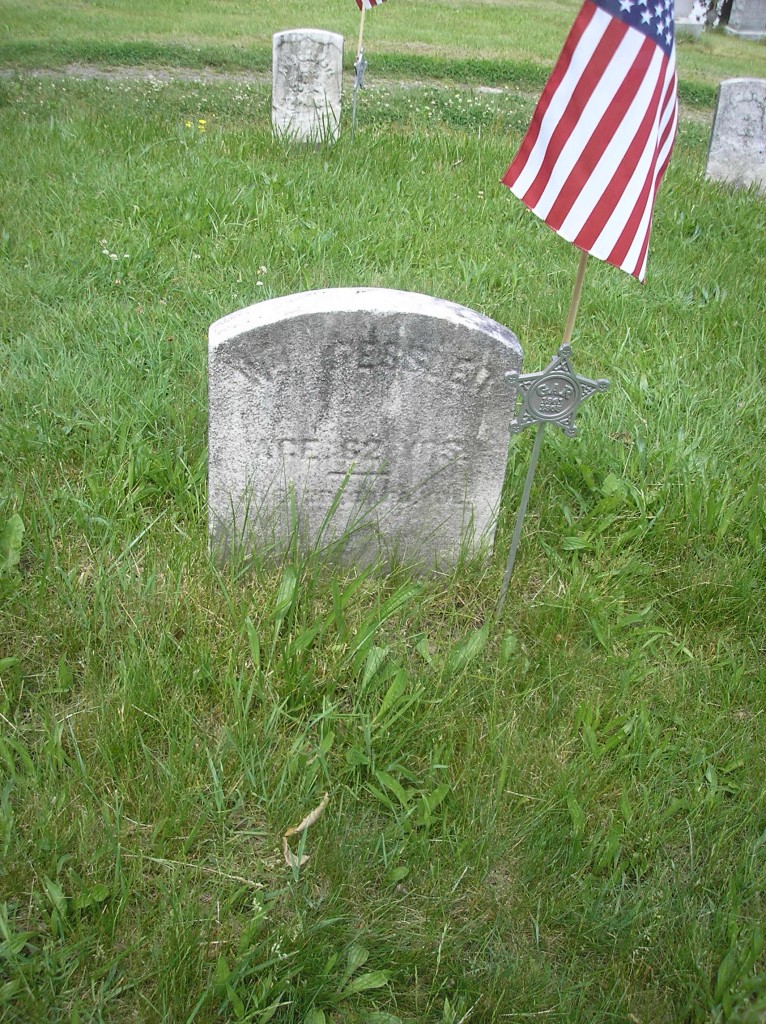 Most of the wording on this stone is readable, but because the surname is unclear, this veteran has not yet been researched.  The first name is clearly William.  Is the last name Kessler or Bressler?  This soldier probably died in mid-1905.
—————————-
#97 – William Thomas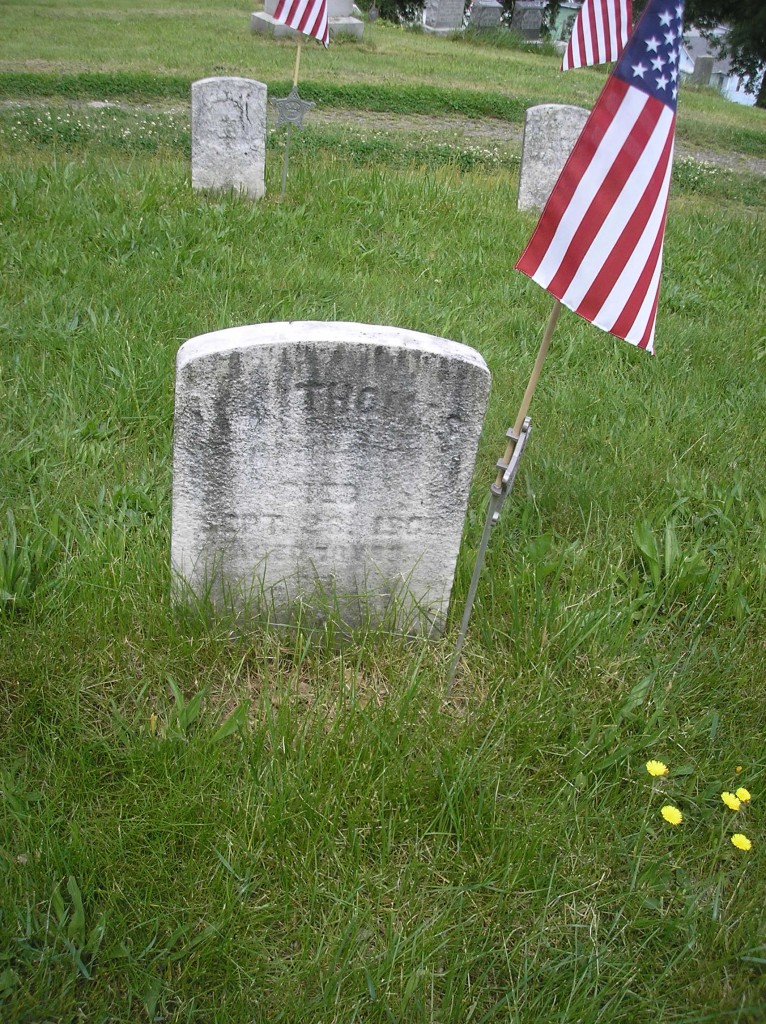 Many persons of the name William Thomas served in the war – as well as men named Thomas William (or  Williams).  The William Thomas buried here was born in 1827 and died on 28 September 1905.  The regiment and company in which he served has not yet been determined.
—————————-
#98 – William Blyler
William H. Blyler ( September 1845-19 December 1905) was a resident of Gratz Borough, Dauphin County, who was working as a laborer.  He served in the 50th Pennsylvania Infantry, Company A, but was listed as a deserter on 11 May 1864 at Spottsytlvania Court House, Virginia.  Later he was found in the 16th Pennsylvania Cavalry lists for Company G and Company F.  He was married to Mary Elizabeth Beck.  The records may be confused for this individual because he used the alias "William Clinger."  Klinger was the maiden name of his mother.  William H. Blyler was previously featured in a post on 20 April 2012.  Military records indicate that he was a printer, was born in Dawsontown, Pennsylvania, and enrolled at Camp Stoneman, Washington, D.C.  He also was credited with a re-enlistment at Blaines Crossroads, Tennessee.
—————————-
#99 – Joseph Helt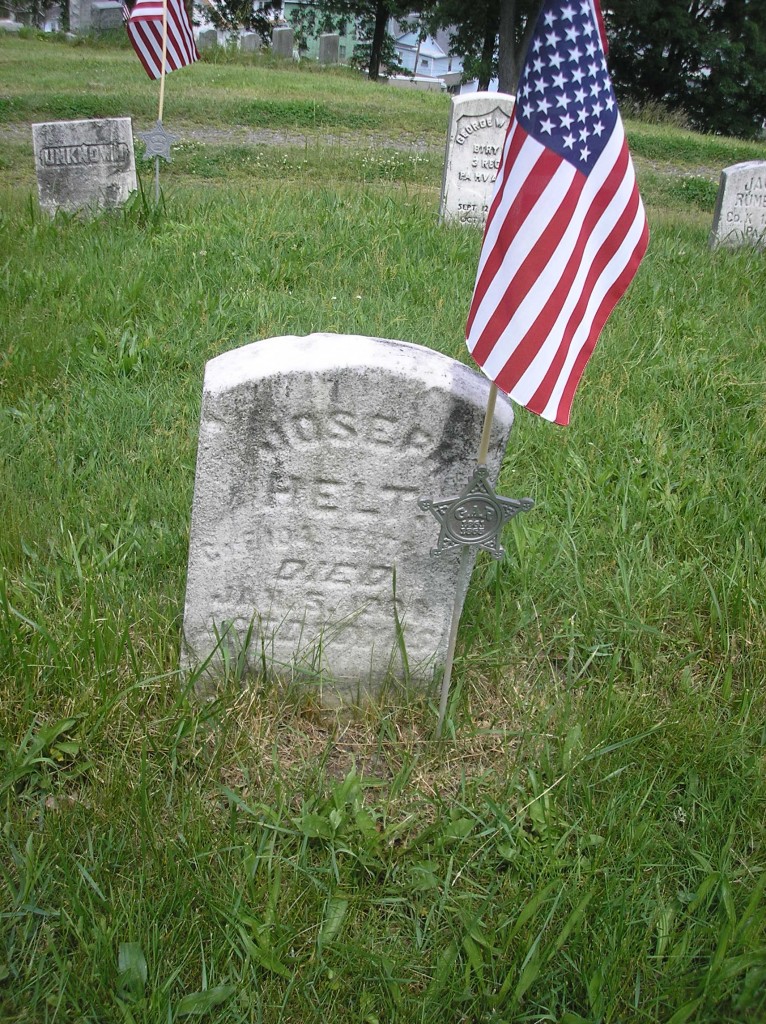 Joseph Helt served in the 104th Pennsylvania Infantry, Company F, as a Private from 9 March 1865 through 25 August 1865.  He had enrolled and was mustered into service at Harrisburg, where declared that he had been born in Dauphin County and worked as a laborer.  In 1870, he was living in Shamokin and working as a laborer.  On 3 February 1888, he applied for an invalid pension.  In 1890, he was living in the National Soldiers' Home in Elizabeth City (Hampton), Virginia, where it was reported that he was suffering from general debility.  Joseph's wife's name was Amelia E. Helt who apparently did not survive him because no widow applied for his pension.
—————————-
#100 – Charles ——–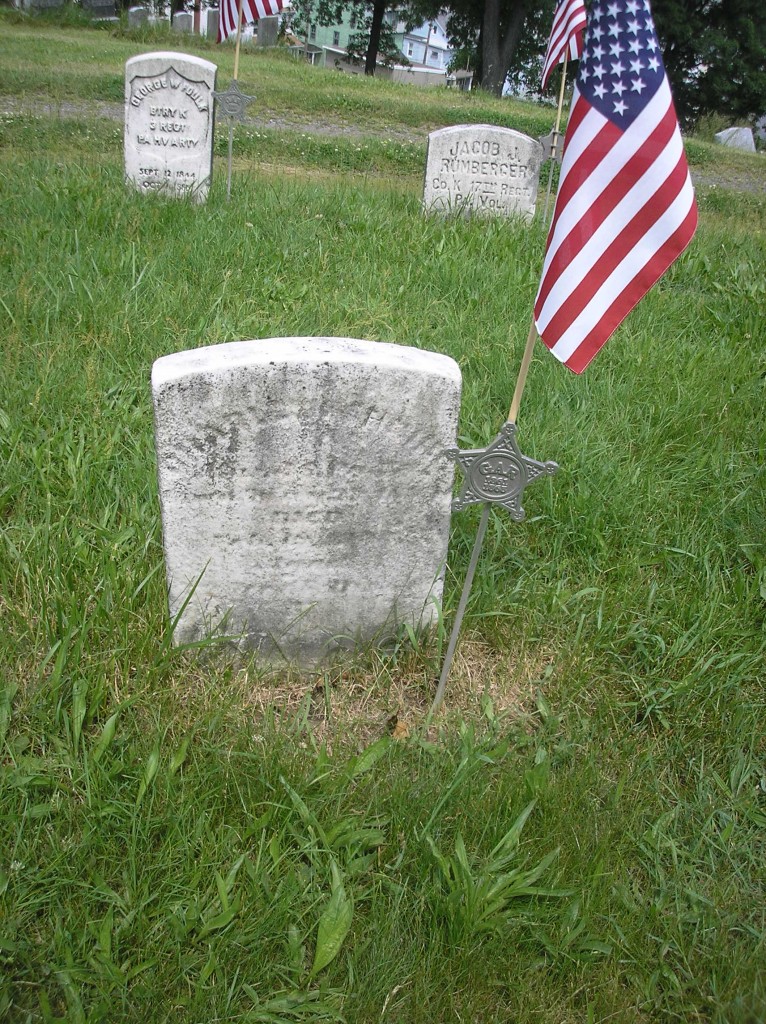 A difficult to read stone for a soldier named Charles who died some time between 1906 and 1907.
—————————-
#101 – Unreadable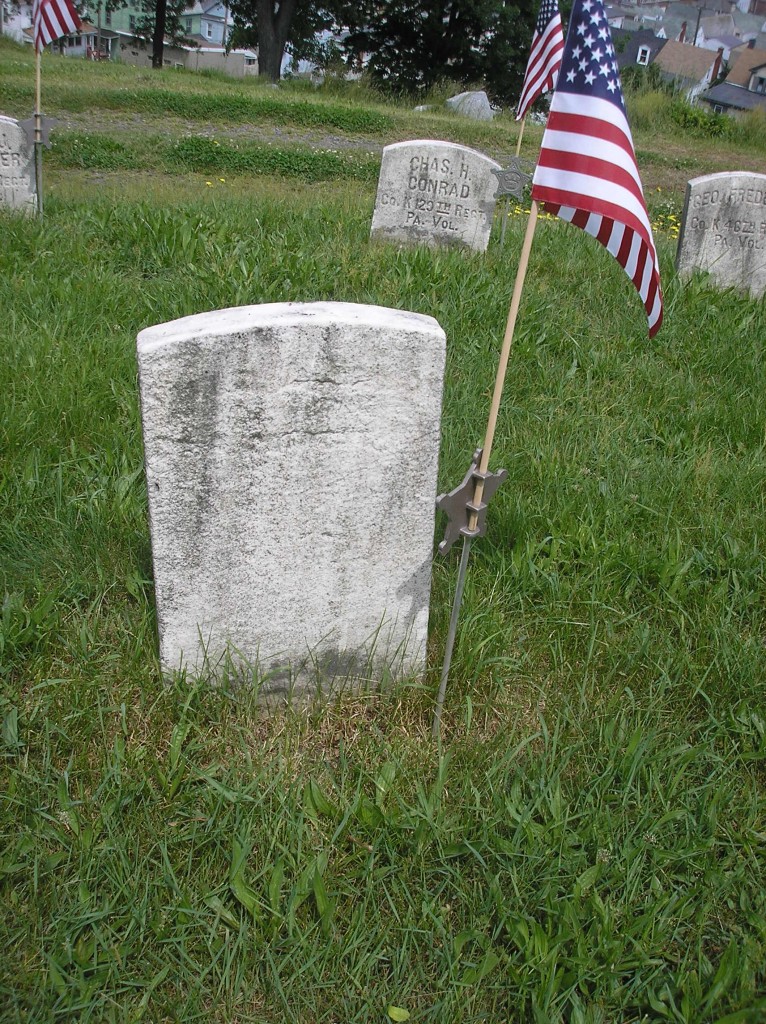 Another difficult to read, badly weathered stone.
—————————-
For all posts in this series, click on ShamokinSoldCircle.