Posted By Norman Gasbarro on April 15, 2014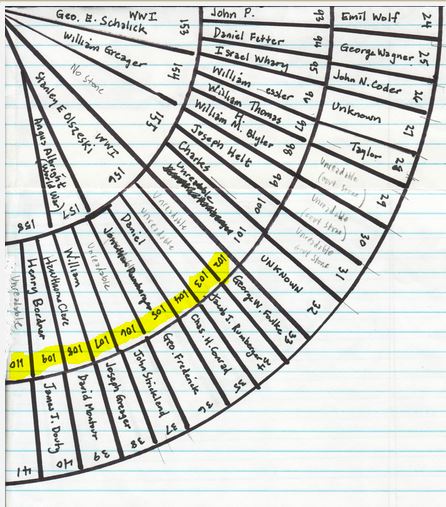 Today's post on the Shamokin Cemetery's Soldiers' Circle features nine graves in the second circle, second quadrant, beginning with photograph 102.  The photographs in this segment are numbered 102 through 110.  All of the stones in this section are sequenced in the order of the death of the veteran.  For each of the veterans, the best determination of the name is given and where possible some information about the military record.  Some errors may be noted where the information on the stone may not match other records.  Each grave photograph may be enlarged by clicking on it, and in some cases, readers may be able to identify or clarify some of the unknown information.  Comments can be added to this post or sent by e-mail to the Civil War Research Project.  The collected information on soldiers buried in the circle (including some military records, pension files, photographs, etc.) is available free-of-charge to veterans organizations, historical societies, and other non-profit groups.  Inquiries may be sent by e-mail or by regular mail, to the attention of Norman Gasbarro, P.O. Box 523, Gratz, PA  17030.
—————————-
#102 – Unreadable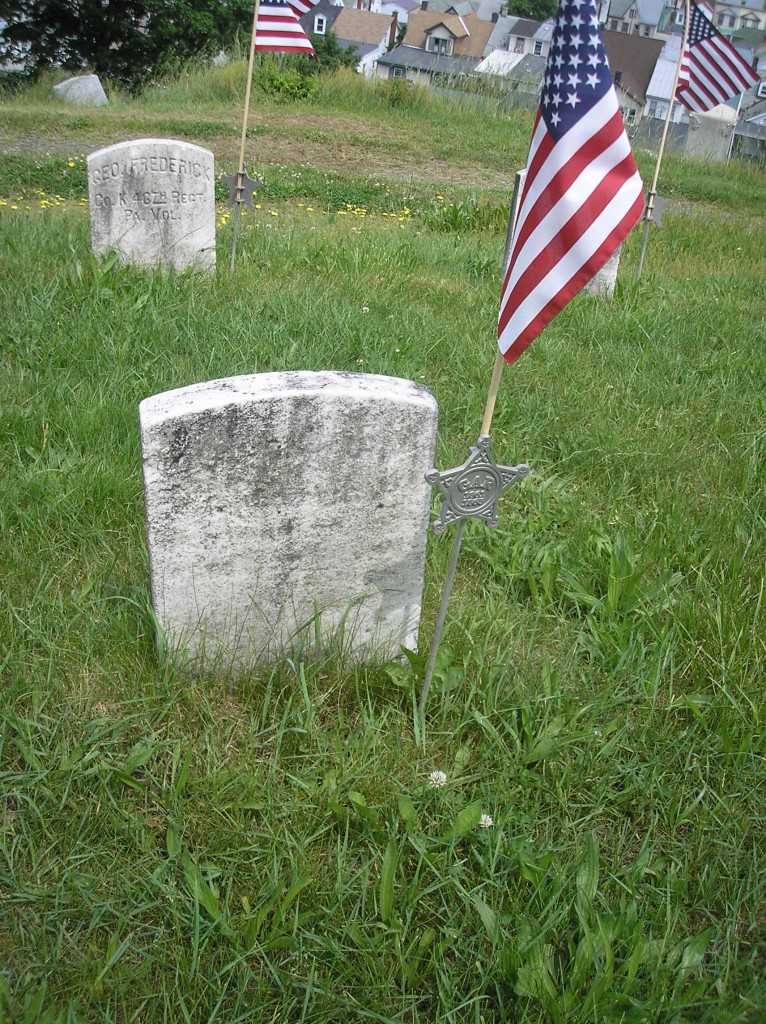 This stone is badly weathered and unreadable.  The soldier buried here died between January 1906 and January 1907.
—————————-
#103 –Daniel ——–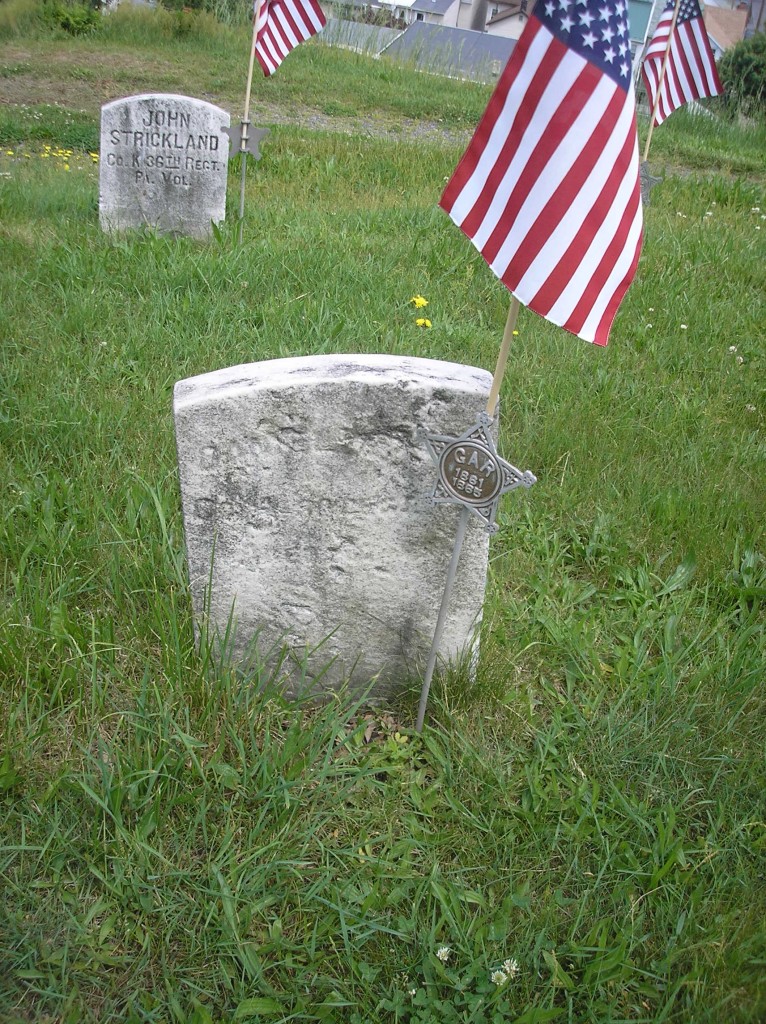 The first name on this grave marker appears to be Daniel.  The rest of the stone is difficult to read.  The soldier buried here died between January 1906 and January 1907.
—————————-
#104 –Unreadable
This stone is badly weathered and unreadable.  The soldier buried here died between January 1906 and January 1907.
—————————-
#105 – Jonathan Rumberger
Jonathan Rumberger was born in Dauphin County on 29 September 1825.  He is also found in the records as John Romberger and Jonathan Romberger.  During the Civil War he enrolled at Lykens Borough and was mustered into service in Pottsville, 30 September 1861, in the 96th Pennsylvania Infantry, Company G, as a Private.  At the time he was working as a laborer.  On 15 February 1862, he re-enlisted at Brandy Station, Virginia.  On 15 October 1864, his company was merged into Company G of the 95th Pennsylvania Infantry.  On 13 August 1883, Jonathan Rumberger applied for pension benefits.  In 1890 he was living in Shamokin and complained of "deafness received in the war."  After his death, his widow, Elizabeth [Snodgrass] Rumberger applied for pension benefits.  In recognition of his war service, he is named on the Pennsylvania Memorial at Gettysburg (as J. Romberger) and on the Lykens G.A.R. Monument (as Jonathan Romberger, not a member of the Heilner Post).
—————————-
#106 – Unreadable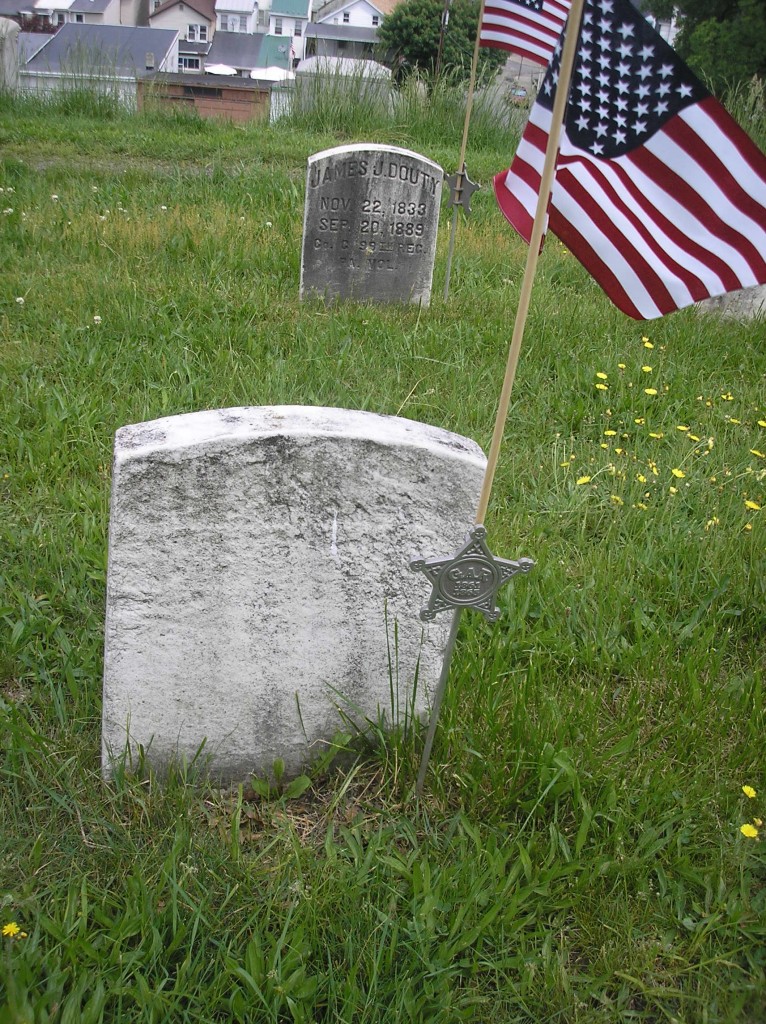 This grave marker is almost completely unreadable.  Based on the burial position in the circle, death occurred for this veteran between January 1907 and June 1907.
—————————-
#107 – William ——–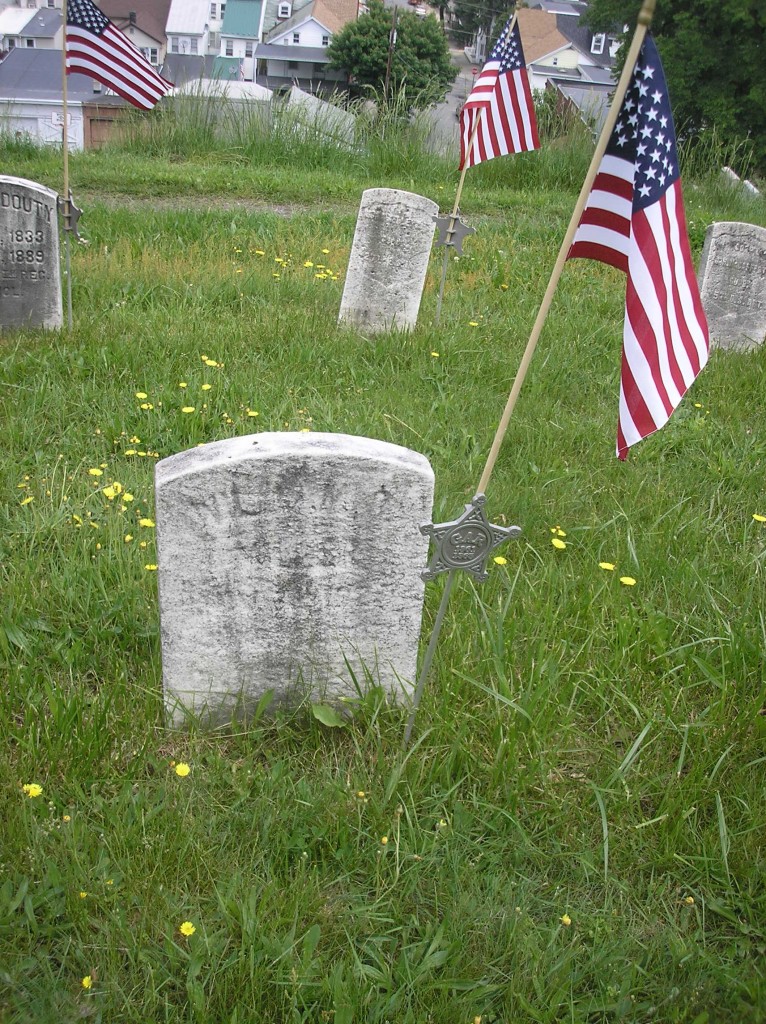 While the first name of the veteran who is buried here appears to be William, the rest of the stone is badly weathered.  The surname could be Miller, but the middle initial is needed to identify the regiment and company as there are many of that name who served. This veteran died in 1907, prior to 26 June.
—————————-
#108 – Hawthorne Clare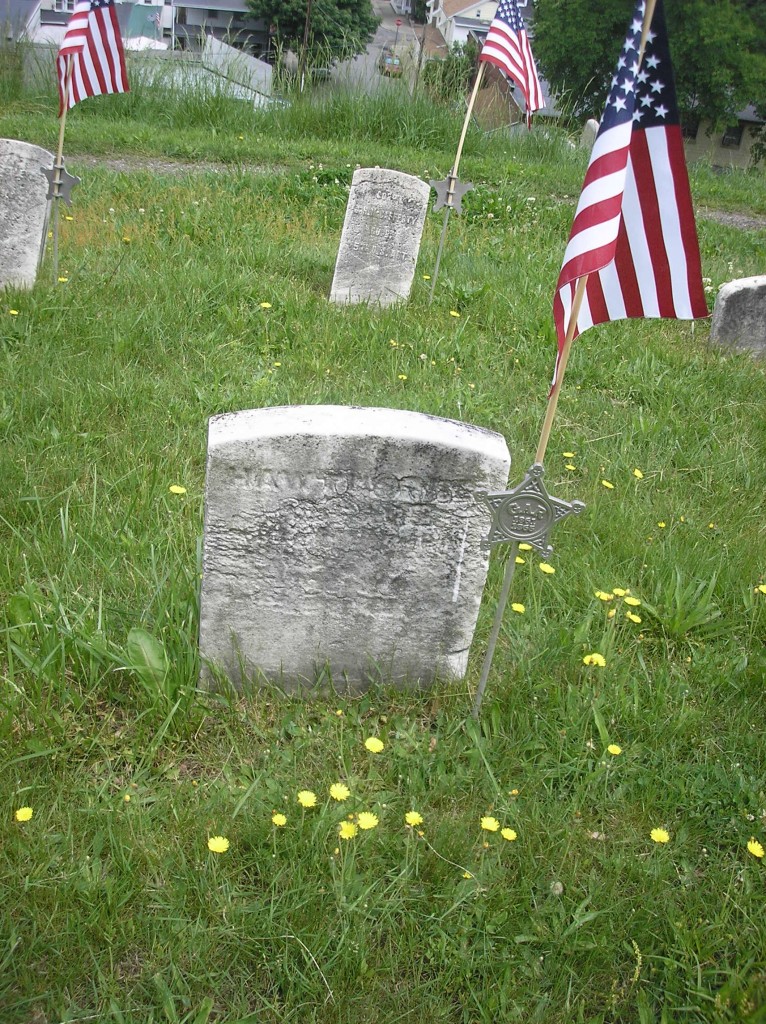 If the soldier buried here was named Hawthorne Clave, then he was born about 1831 in Scotland, and arrived in America before the Civil War began.  Two Civil War regiments have been identified for him including the 41st Pennsylvania Infantry (Emergency of 1863), Company E, where he served as a private from 1 July 1863 to 3 August 1863, and the 200th Pennsylvania Infantry, Company C, also as a Private, from 11 August 1864 through honorable discharge on 30 May 1865.    Hawthorne was married to Agnes Wright.  In 1880, he was living in Danville, Montour County, Pennsylvania.
—————————-
#109 – Henry Bordner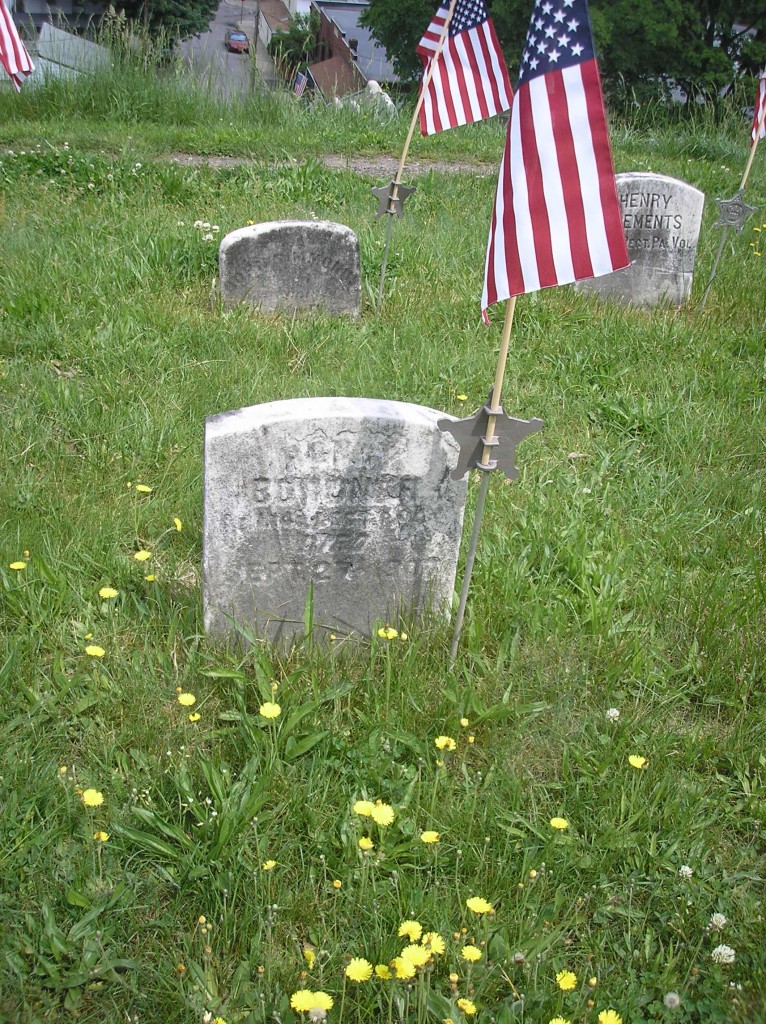 This is a different Henry Bordner than had been previously identified as a Civil War soldier.  The Henry Bordner who is buried here was born 3 October 1834 and died 27 September 1907.  He first was drafted into service in the 173rd Pennsylvania Infantry, Company K, as a Private, and was mustered in on 2 November 1862.  On 24 November 1862, he was reported as "deserted." He was caught and tried by a military commission and assigned to serve a nine month period in Company I of the 147th Pennsylvania Infantry for "time lost in the 173rd Pennsylvania Infantry."  The Special Order  No. 151 was issued at Philadelphia on 14 December 1863.  The wife of this Henry Bordner was Ellen Ziders or possibly Mary (maiden name not yet found).  A pension application was made by Henry on 11 November 1890 and after his death, application was made for benefits for his minor children with the Guarantee Trust and Safe Deposit Company of Shamokin serving as legal guardian.  The widow also applied for pension benefits.  Care must be taken to separate the records of the two men named Henry Bordner, both of whom had Civil War service.  The other Henry Bordner served in the 177th Pennsylvania Infantry and was buried at the Marion National Cemetery in Marion, Indiana.  See: Sergeants of the 177th Pennsylvania Infantry, Company I.
—————————-
#110 – Unreadable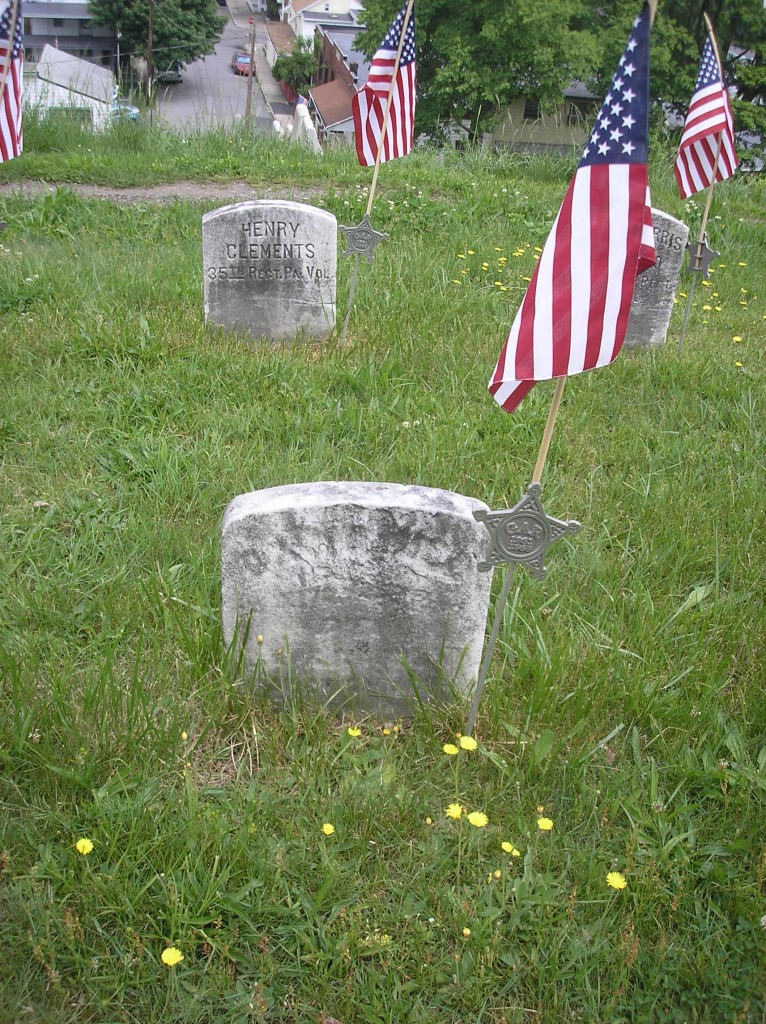 This stone is badly weathered and partially sunken in the ground.  The soldier buried here died between 27 September 1907 and 11 January 1909.
—————————-
For all posts in this series, click on ShamokinSoldCircle.