Posted By Norman Gasbarro on April 10, 2014
A biographical sketch of Robert M. Palmer appeared in the Biographical and Portrait Cyclopedia of Schuylkill County, Pennsylvania, published in 1893, and was authored by Samuel T.  Wiley.  It is presented below in slightly modified form.  It tells the story of the minister President Abraham Lincoln appointed to Argentina.
The Hon. Robert M. Palmer was born in Pottsville, Schuylkill County, Pennsylvania, 8 September 1843.  His father was a native of New Jersey, born at Mount Holly in the year 1820.  His grandfather, Judge Strange N. Palmer, was a son of Hon. Nathan Palmer, a lineal descendant of Miles Standish, settled in Pottsville in 1829, and remained a resident of that place for a period of thirty-six years.  Nathan Palmer was born in Plainfield, Connecticut, and in early life came to Pennsylvania, where he afterwards served in the State Senate for three years, having been elected by his Democratic constituents of Luzerne and Northumberland Counties.  Robert was nine years of age when his father removed to Pottsville, and in his youth began the trade of printing.  He passed through the usual route of the apprentice, and step by step reached the editorial chair of the Emporium.  While performing his editorial duties, he took up the study of law, and was admitted to practice before the Schuylkill County bar in 1845.  In 1850, he was elected district attorney of his county, and from that time forth took high rank as an able, careful , conscientious lawyer.  He allied himself with the Democratic party, and from time to time was prominent in its councils, when, in 1858, he was elected to the State Senate from Schuylkill County.  During the last year of his term, he filled the chair of Speaker of the Senate, and acquitted himself with honor and dignity.  His grandfather occupied the same position half a century before.  In the spring of 1861, he was appointed by President Lincoln as Minister to the Argentine Republic, South America, and sailed for that country in May of the same year.  His health began gradually to fail after a short residence there and his physician advised a change.  He resolved to return home before the end of the year, but on the thirteenth day of his voyage, 26 Apr 1862, he died, and his remains were buried beneath the waves of the sea.  He left a widow, , and Isabella [Seitzinger] Palmer, and six children, three of whom still survive, the second eldest being Dr. Charles T. Palmer, a well-known Eye and Ear specialist of Pottsville.
The story of Robert M. Palmer during Lincoln's presidency could be followed by readers of the Philadelphia Inquirer, beginning on 31 Dec 1860.  On that date, Gen. Simon Cameron was called to Springfield, Illinois, to meet with Lincoln regarding a rumored appointment as Secretary of War.  In the same dispatch, it was reported that Robert M. Palmer of Pottsville would probably be elected as Speaker of the Pennsylvania Senate.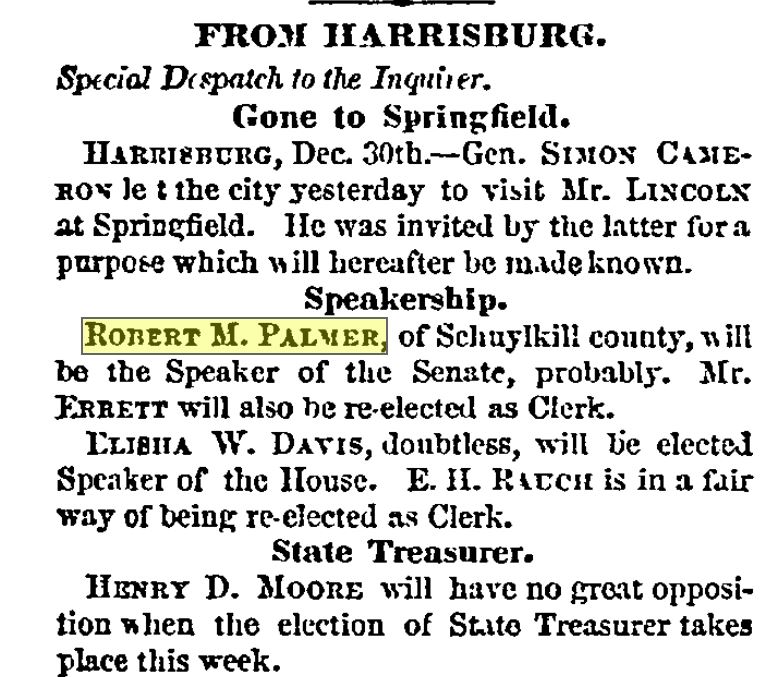 After Lincoln's inauguration, Robert M. Palmer was appointed "Minister Resident of the United States" to the Argentine Confederation.
From the Inquirer, 9 Apr 1861, we learn of his departure: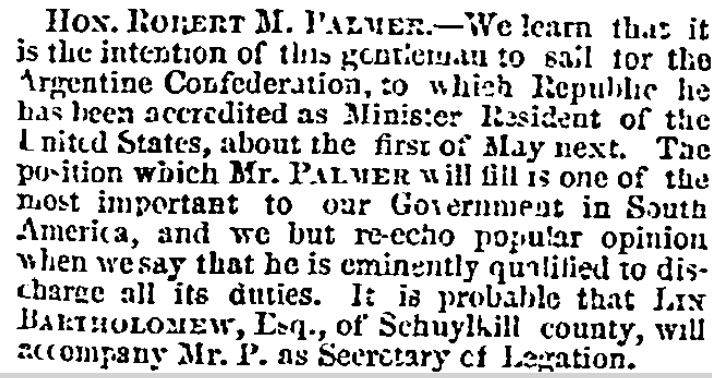 HON. ROBERT M. PALMER – We learn that it is the intention of this gentleman to sail for the Argentine Confederation, to which Republic he has been accredited as Minister resident of the United States, about the first of May next.  The position which Mr. Palmer will fill is one of the most important to our Government in South America, but we re-echo popular opinion when we say that he is eminently qualified to discharge all its duties.  It is probable that Lin Bartholomew, Esq., of Schuylkill County, will accompany Mr. P as Secretary of Legation.
In the "en route" article appearing in the Inquirer on 19 August 1861, it is mentioned for the first time that Ambassador has been ill, but improving:

HON. ROBERT M. PALMER — A letter has been received at Pottsville, from the Hon. Robert M. Palmer dated on board the barque "L. D. Carver", at sea, 24 June, in which he says, we are now at latitude 70 degrees N., longitude 29 degrees W., and my health is improving.
According to the Inquirer, 19 October 1861, Palmer arrived in Buenos Aires on 6 August and reported the following to his family by letter: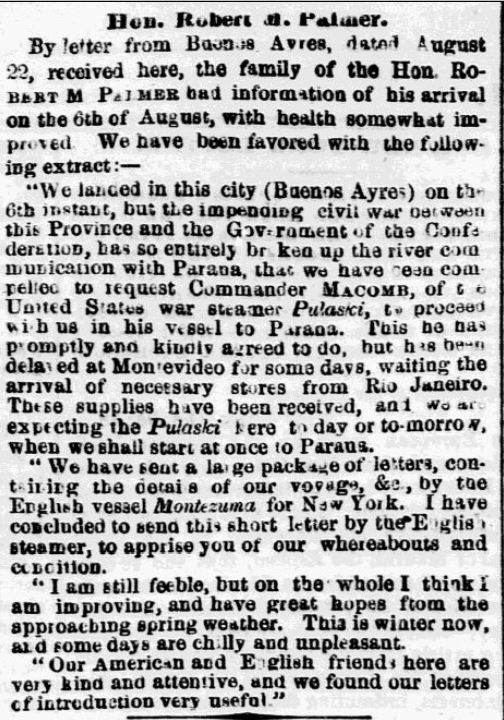 Hon. Robert M. Palmer

By letter from Buenos Ayres, dated 22 August, received here, the family of the Hon. Robert M. Palmer had information of his arrival on the 6 August, with health somewhat improved.  We have been favored with the following extract. 

"We landed in this city (Buenos Ayres) on the 6th instant, but the impending Civil War between the Province and the Government of the Confederation, has so entirely broken up the river communication with Panama, that we have been compelled to request Commander Macomb, of the United States war steamer "Pulaski, to proceed with us in his vessel to Panama.  This he has promptly and kindly agreed to do, but has been delayed at Montevideo for some days, waiting the arrival of necessary stores from Rio Janiero.These supplies have been received, and we are expecting the "Pulaski" here today o tomorrow, when we shall start at once to Panama. 

"We have sent a large package of letters, containing the details of our voyage, &c., by the English vessel "Montezuma" for New York.  I have concluded to send this short letter by the English steamer, to apprise you of our whereabouts and condition. 

"I am still feeble, but on the whole I think I am improving, and have great hopes from the approaching spring weather.  This is winter now, and some days are chilly and unpleasant.  "Our American and English friends here are very kind and attentive, and we found our letters of introduction very useful."
Then, without further notice, the Inquirer reported on 5 March 1862, that Palmer had resigned:

Argentine Confederacy.

Robert M. Palmer, of Pennsylvania, Minister to the Argentine Confederacy, has resigned on account of ill-health.  ex Governor Kirk, of Ohio, has received the appointment.
The Inquirer of 14 April 1862 reported Palmer's plans to return home: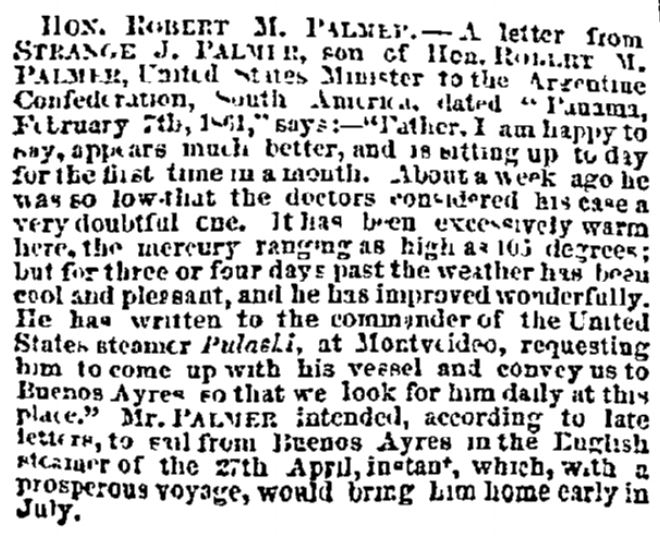 HON. ROBERT M. PALMER – A letter from Strange J. Palmer, son of Hon. Robert M. Palmer, United States Minister to the Argentine Confederation, South America, dated "Panama, 7 February 1861 [sic]," says: "Father, I am happy to say, appears much better, and is sitting up today for the first time in a month.  About a week ago he was so low that the doctors considered his case a very doubtful one.  It has been excessively warm here, the mercury ranging as high as 105 degrees; but for three or four days past the weather has been cool and pleasant, and he has improved wonderfully.  He has written to the commander of the United States steamer Pulaski, at Montevideo, requesting him to come up with his vessel, and convey us to Buenos Ayres, so that we look for him daily at this place."  Mr. Palmer intended, according to late letters, to sail from Buenos Ayres in the English steamer of the 27 April instant, which, with a prosperous voyage, would bring him home early in July.
But, unfortunately, on the way home, Robert M. Palmer died at sea, the fact of which was noted in the Inquirer of 16 June 1862.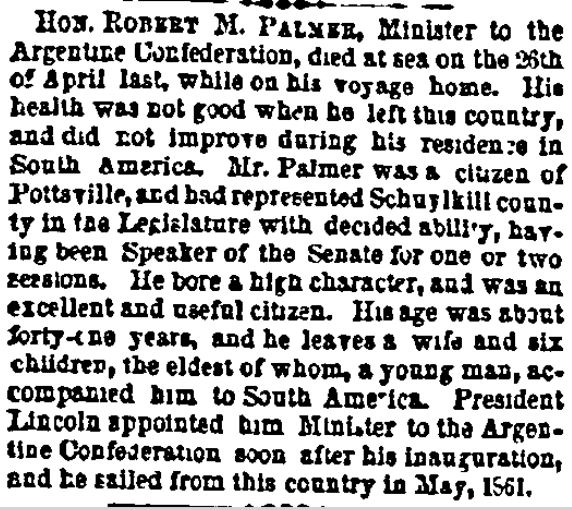 HON. ROBERT M. PALMER, Minister to the Argentine Confederation, died at sea on the 26 April last, while on his voyage home.  His health was not good when he left this country, and did not improve during his residence in South America.  Mr. Palmer was a citizen of Pottsville, and had represented Schuylkill county in the Legislature with decided ability, having been Speaker of the Senate for one or two sessions.  He bore a high character, and was an excellent and useful citizen.  His age was about forty-one years, and he leaves a wife and six children, the eldest of whom, a young man, accompanied him to South America. President Lincoln appointed him Minister to the Argentine Confederation soon after his inauguration, and he sailed from this country in May 1861.
A second article appeared in the same edition of the Inquirer of 16 June 1862, essentially saying the same thing:
The North American & U.S. Gazette, 16 June 1862 added some additional information, including that he "was buried in the ocean the next day [following his death] and that "the sufferings of the sea voyage brought on the final struggle."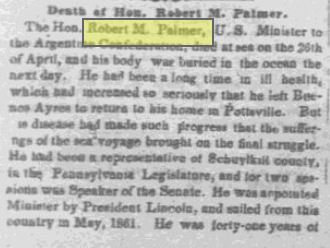 It is possible that because of his prominence in the Pennsylvania Legislature, a picture exists of Robert M. Palmer.  Since his burial place was "at sea," the family plot at Charles Baber Cemetery in Pottsville does not contain his remains.  However, there is a memorial marker to the Palmer family which can be seen at his son's page at the Findagrave website.  Additional information on Robert M. Palmer would be greatly appreciated.  Comments can be added to this post or sent by e-mail to the Civil War Research Project.
In a future post, a brief biographical sketch of Dr. Charles T. Palmer will be given.  As noted in the opening paragraph of this post, he was an Eye and Ear specialist in Pottsville, but he was also a Civil War veteran.
—————————–
A copy of the Biographical and Portrait Cyclopedia of Schuylkill County, Pennsylvania is available as a free download from the Internet Archive (click on book title and follow download instructions at left on page).  News articles were obtained from the on-line resources of the Free Library of Philadelphia.