Posted By Norman Gasbarro on April 25, 2014
A biographical sketch of Charles T. Palmer, M.D., appeared in the Biographical and Portrait Cyclopedia of Schuylkill County, Pennsylvania, published in 1893, and was authored by Samuel T.  Wiley.  It is presented below in slightly modified form.  Previously, a post on this blog featured his father, Robert M. Palmer, who was Abraham Lincoln's Ambassador to Argentina.
Charles T. Palmer, M.D., the well-known Eye and Ear specialist, is a son of Hon. Robert M. Palmer, and Isabella [Seitzinger] Palmer, and was born in Pottsville, Schuylkill County, Pennsylvania, 8 September 1843….

Charles T. received his preliminary education in the public schools of Pottsville, upon completion of which he began reading medicine under Dr. Thomas T. Morton, of Philadelphia, now president of the State Board of the Insane.  He then entered the Medical Department of the University of Pennsylvania, from which he graduated in 1865.  During his course in 1864-1865, he was resident surgeon of the Wills' Eye Hospital of Philadelphia.  Prior to this, in 1862, he had served as medical cadet in the U.S. Army Hospital in Philadelphia, and in 1863, enlisted in Company B, 27th Pennsylvania Volunteers (27th Pennsylvania Infantry, Eme4rgency of 1863), as a Private, went to the front for service and was discharged July 1863.

After his graduation, Dr. Palmer located in Pottsville, where he has since continued to practice, the first eight years in general medicine, and since that time as a specialist of the Eye and Ear.  He has acquired a large and successful practice and is regarded as a professionally learned and skilled practitioner.  He is a member of the State Medical Society, of the County Medical Society, and is one of the board of United States Pension Examiners.  In politics, he is a Republican, active and faithful to his convictions, and in 1872 was elected Coroner of Schuylkill County, for a term of three years, during the Molly Maguire excitement.

Fraternally, he is connected with the following organizations:  Gowan Post, No. 23, G.A.R.; Miner's Lodge, No. 20, I.O.O.F.; Pulaski Lodge, No. 216, F. and A.M.; Mountain City R. A. Chapter, No. 196; Constantine Commandery, No. 41, Knights Templar.

Dr. Palmer married 23 January 1872, Sue Mortimer, a daughter of William Mortimer, a prominent retired merchant of Pottsville, now deceased.  Two children have been born to the:  Sue Palmer, born 30 September 1877; Charles T. Palmer Jr., born 10 February 1881.
Dr. Charles T. Palmer died on 10 December 1893.  His death notice appeared in both the Philadelphia Inquirer and the Harrisburg Patriot on 11 December 1893:
Death of Dr. Charles T. Palmer.

Pottsville, 10 December 1893 — Dr. Charles T. Palmer, an eminent eye and ear specialist and second eldest son of the late Robert N. Palmer [sic], United States Minister to the Argentine Confederation during President Lincoln's administration, died at his home here to-day, aged 50 years.  His death was caused by congestion of the lungs.
Dr. Palmer is buried in Charles Baber Cemetery in Pottsville.  See:  Findagrave.
The military service record of Dr. Palmer is summarized on the Pennsylvania Veterans' File Card, available from the Pennsylvania Archives: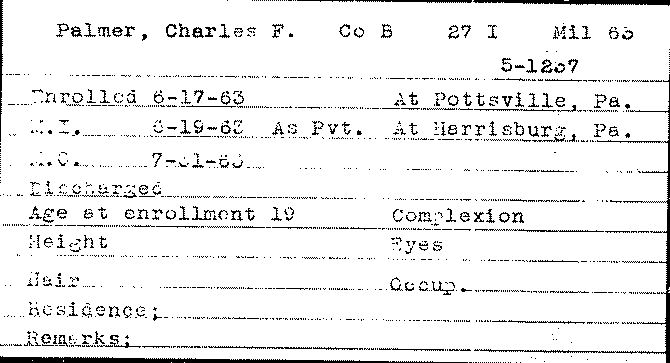 The card notes that a Charles F. Palmer [sic] entered the Emergency Service (Militia) on 19 June 1863 as a Private at Harrisburg and served until his discharge on 31 July 1863, when the Emergency Militia was no longer needed.  At the time, he was 19 years old.  No other personal information is given about him.
Additional information is sought about this physician who served in a Pennsylvania militia regiment during the Civil War, who was a resident surgeon at Wills' Eye Hospital in the later days of the war, and who, after the war, served as a pension examiner and county coroner.  Add comments to this post, or send an e-mail.  Pictures and news articles are especially welcome!
—————————–
A copy of the Biographical and Portrait Cyclopedia of Schuylkill County, Pennsylvania is available as a free download from the Internet Archive (click on book title and follow download instructions at left on page).  News articles were obtained from the on-line resources of the Free Library of Philadelphia.