Posted By Norman Gasbarro on March 22, 2014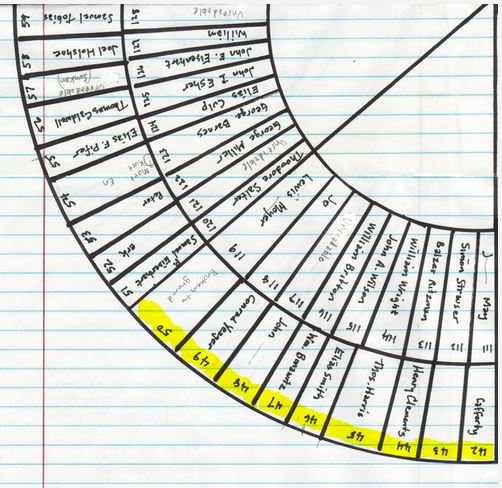 Today's post on the Shamokin Cemetery's Soldiers' Circle features nine graves in the outer circle, third quadrant, beginning with photograph 42.  The photographs in this segment are numbered 42 through 50.  All of the stones in this section are sequenced in the order of the death of the veteran.  For each of the veterans, the best determination of the name is given and where possible some information about the military record.  Some errors may be noted where the information on the stone may not match other records.  Each grave photograph may be enlarged by clicking on it, and in some cases, readers may be able to identify or clarify some of the unknown information.  Comments can be added to this post or sent by e-mail to the Civil War Research Project.  The collected information on soldiers buried in the circle (including some military records, pension files, photographs, etc.) is available free-of-charge to veterans organizations, historical societies, and other non-profit groups.  Inquiries may be sent by e-mail or by regular mail, to the attention of Norman Gasbarro, P.O. Box 523, Gratz, PA  17030.
For all four quadrants of the map, click here.
——————————-
#42 – John McCafferty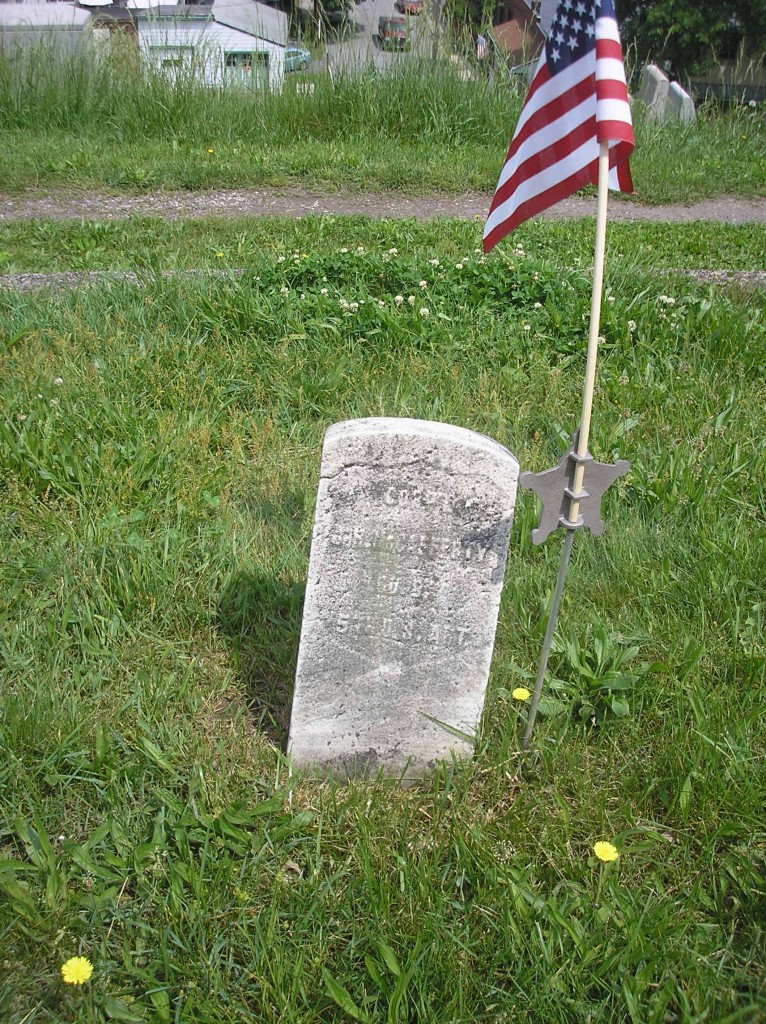 John McCafferty (or John McClaferly as he is found in one record), was born about 1844 in New Castle, Delaware, and died about 1890, although there is some conflicting information in the records that gives a death date as early as 1889 and as late as 1891.  His service was in the 5th U.S. Artillery, Company B, as a Corporal.  However, he is found in the records as serving in Nield's Battery of Delaware (Light Artillery) as a Private (mustered in on 26 October 1864, no muster out date found) as well as the 5th Delaware Infantry, Company B, as both a Private and Corporal, from 25 October 1862 through 12 August 1864.  His age was recorded as either 18 or 19 at his enrollment and his occupation was laborer.  The Pension Index Card states that John applied for a pension on 18 September 1891 (this date could be in error) and that he received the pension.  It also indicates that a "next friend" applied or his minor children on 17 September 1903 and that pension was also received.  Both of these applications were made from Delaware.  It is possible that the Delaware "John McCafferty" is not the same person who is buried in Shamokin, but only one person of this name has been found in the records of the 5th U.S. Artillery, Company B, the regiment and company noted on the stone, and the Pension Index Card matches the information given above.
—————————–
#43 – ?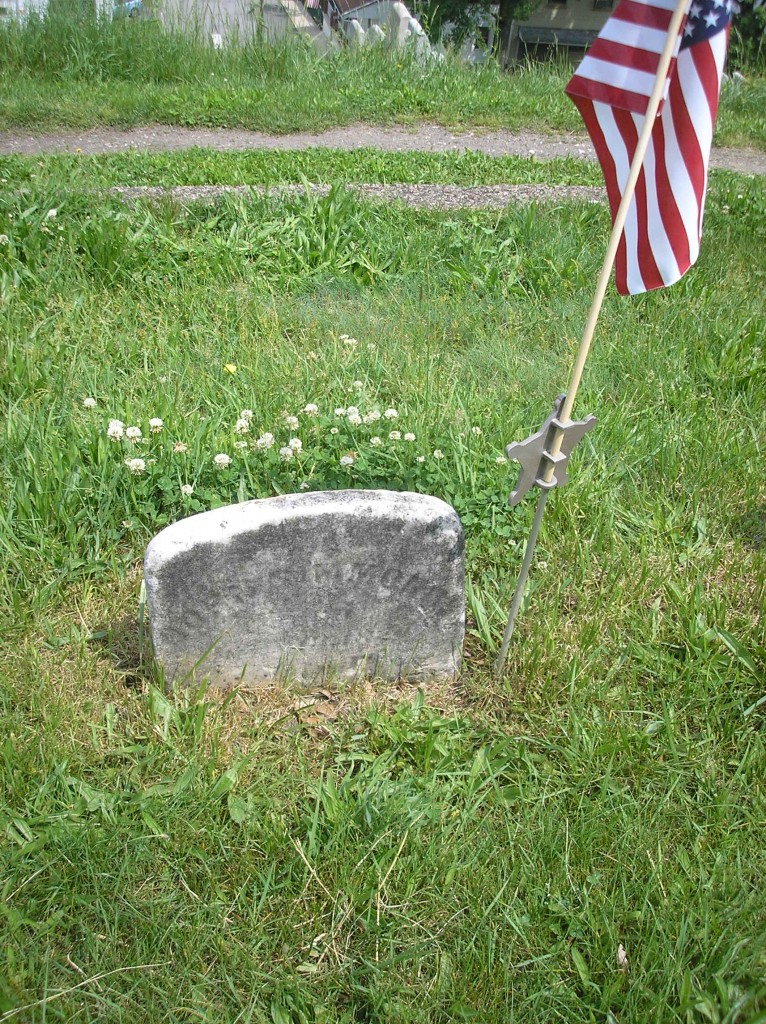 This stone is sunken in the ground and difficult to read, although some of the lettering is visible.  Help is needed to identify the veteran who died around 1890 and who is buried here.
—————————–
#44 – Henry Clements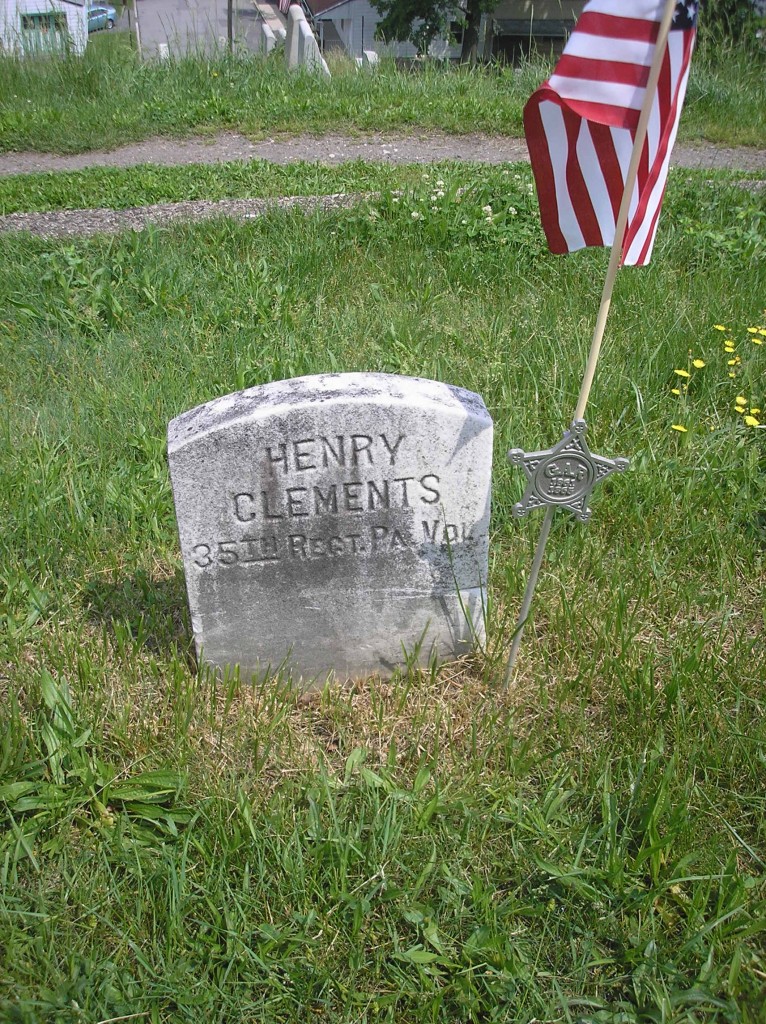 Henry Clements was born about 1833 in Schuylkill County and died about 1890.  The stone reads "35th Pennsylvania Infantry" but his service was located in the 95th Pennsylvania Infantry, Company E, where he was mustered in at Pottsville on 16 February 1864 as a Private, and served until his discharge on 17 July 1865.  At the time of his enrollment, he was a laborer.  His widow, Emma Clements, applied for pension benefits on 30 July 1890.  Her name was possibly Harriet Emma Clements and Henry is also found in the records as Henry Clemens.
——————————
#45 – Thomas Harris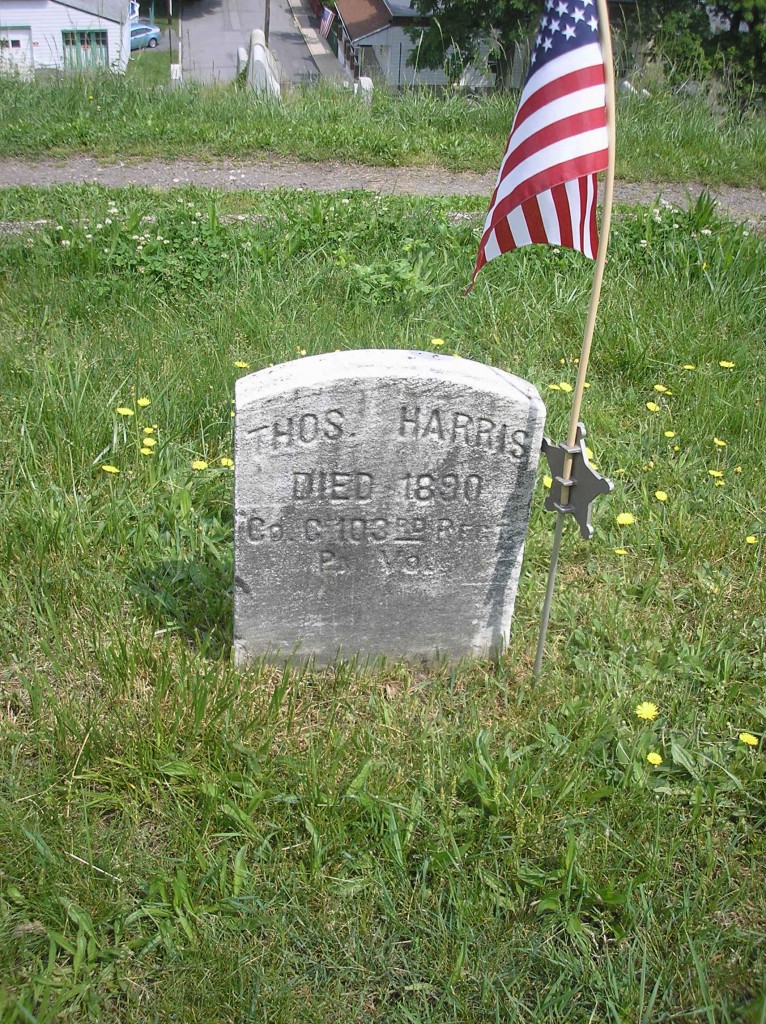 Thomas Harris was born in Schuylkill County in October 1835, and died in Shamokin on 5 March 1890.  He served in the 103rd Pennsylvania Infantry, Company C, as a Private and Corporal from 9 March 1865 through discharge on 25 June 1865.  He had enrolled and was mustered into service at Harrisburg, giving his occupation as miner, his age as 30, and his residence as Little Mahanoy Township, Northumberland County.  Post-war censuses show him living in Shamokin in 1870 and 1880 where he was working in the coal mines.  His widow applied for pension benefits on 5 July 1890.  There is a unanswered question whether he was married once or twice.  In one record his wife's name was given as Susan Harris and in another record it was given as Sarah A. Harris.
—————————–
#46 – Elias Smith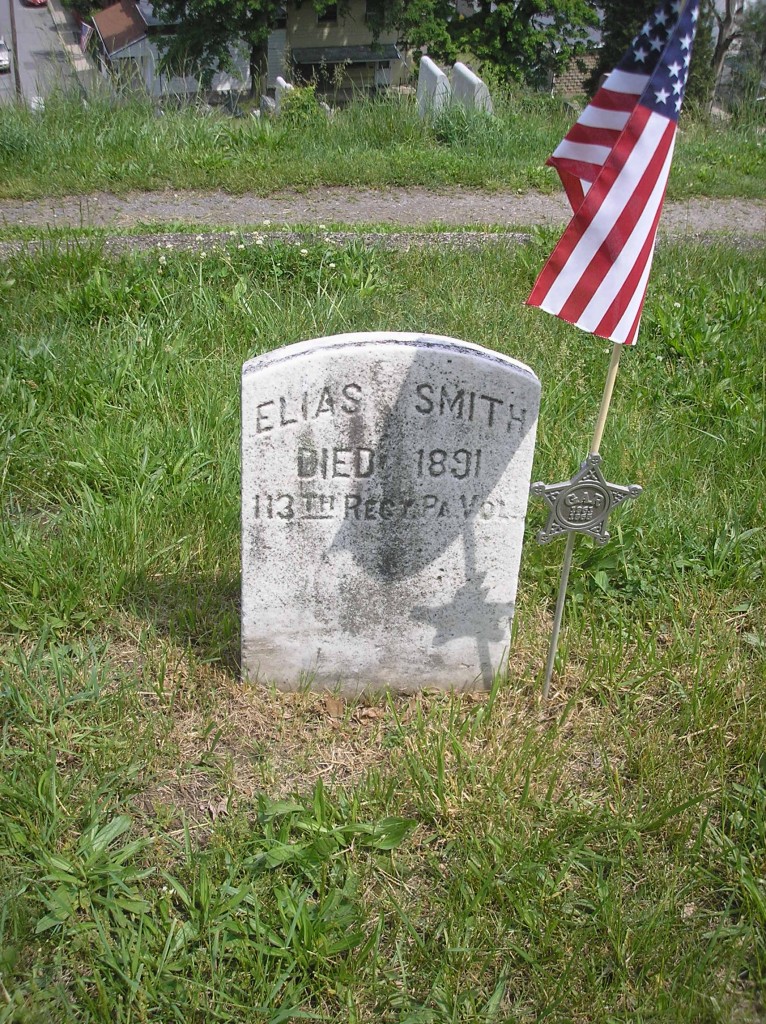 Elias Smith possibly served in the 12th Pennsylvania Cavalry (the stone gives the other name of the regiment as 113th Pennsylvania Volunteers), from 9 September 1864, but he is not on the muster out roll of that regiment.  Another possibly is that he served in the 119th Pennsylvania Infantry, Company H.  More information is needed to clarify this veteran's service.  According to the grave marker, he died in 1891.  The Elias Smith who served in the 12th Pennsylvania Cavalry died on 9 March 1891 and had a wife named Flora [Rider] Smith.
—————————–
#47 – William Bonawitz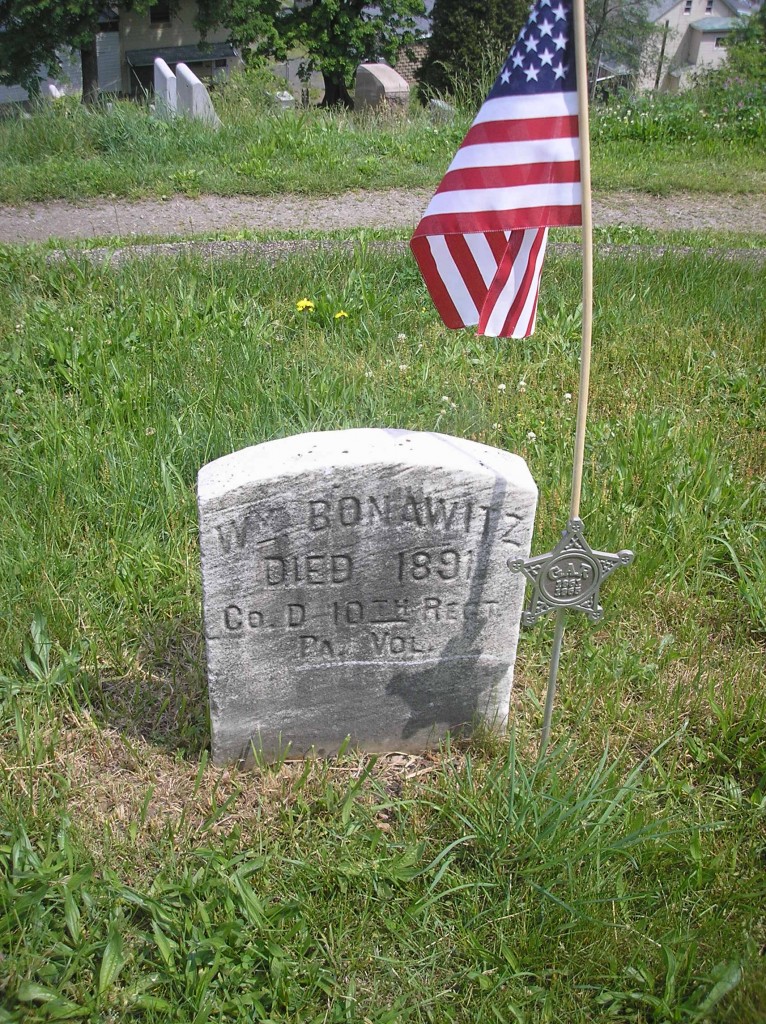 William Bonawitz (also found as William Bonewitz) was born 14 May 1832 and died on 21 May 1891 in Shamokin.  His Civil War service was in the 10th Pennsylvania Infantry, Company D, as a Corporal, from 23 April 1861 through 24 May 1861.  At the time of his enrollment, he was living in Pine Grove, Schuylkill County, and was working as a laborer.  In 1891, he applied for and received an invalid pension, although his war service was only for one month.  This was highly unusual as he would have had to serve for at least three months and it may indicate that he proved a disability that was war-related.  His widow, Susan [Doebler] Bonawitz, applied and received benefits until her death.
—————————–
#48 – John ——–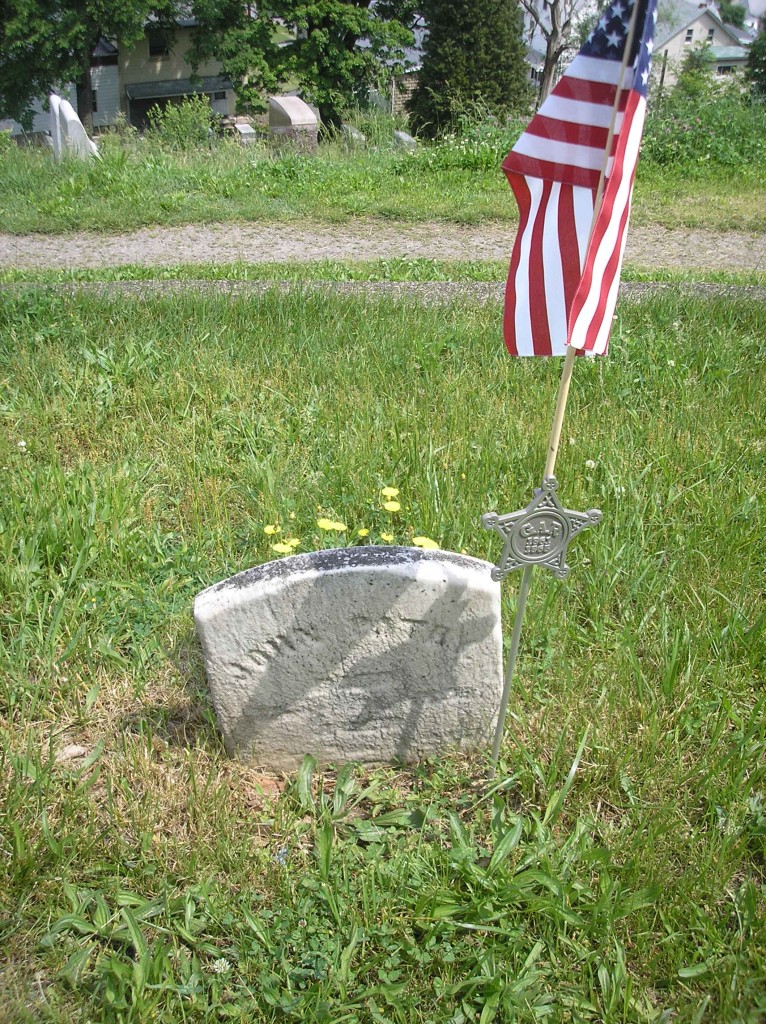 More information is sought on the veteran buried here.  He died around 1891 (assumed from his position in the circle), and his first name was John.  The surname could be Gatby.  There is also information about the regiment which is weather-worn and very difficult to read and the stone is partially sunken in the ground.
—————————–
#49 – Conrad Yeager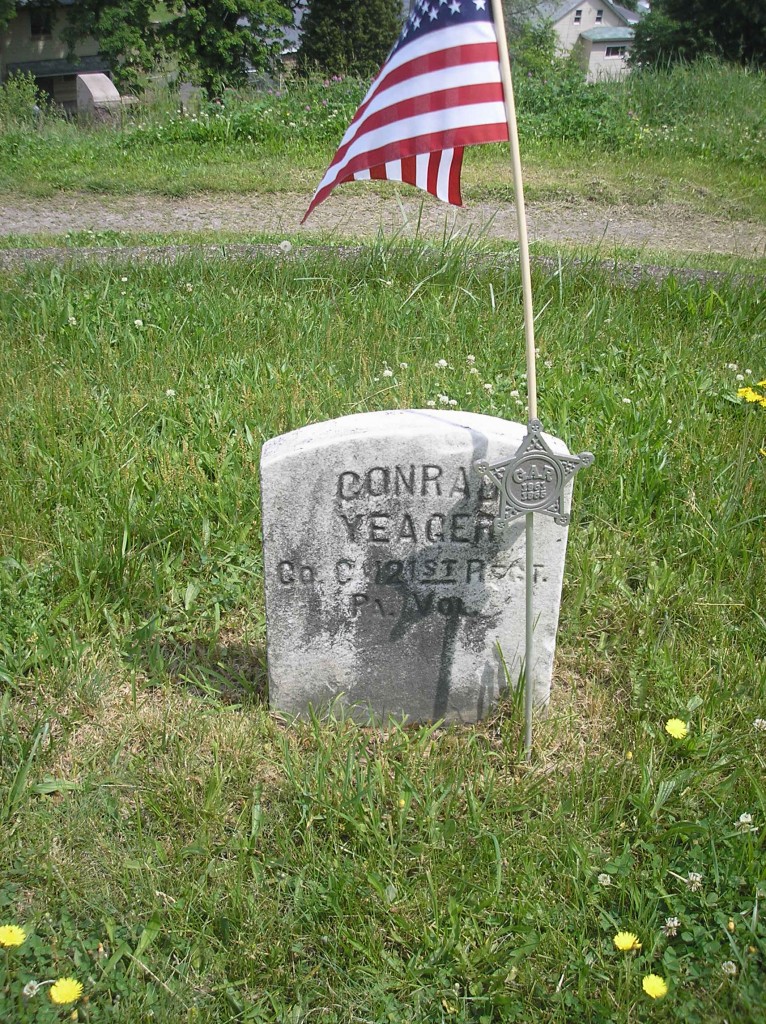 Conrad Yeager, born about 1833 in Northumberland County, and died in Shamokin on 25 August 1891, served in the 131st Pennsylvania Infantry, Company C, as a Wagoner, from 14 August 1862 through 23 May 1863, and then in the 104th Pennsylvania Infantry, Company F, as a Private, from 10 March 1865 through 25 August 1865.  The grave marker incorrectly gives his regiment and company as the 121st Pennsylvania Infantry, Company C, when in fact no person of that name served in that regiment and company. The Pension Index Card confirms his service in the 131st and the 104th as well as his death date of 1891, the widow applying about one month after his known death date.  Conrad was a laborer residing in Northumberland County at the time of his enrollments.  He was mustered into service at Harrisburg.  His widow was Mary J. [Kennedy] Yeager.
—————————–
#50 – Stone Broken at Ground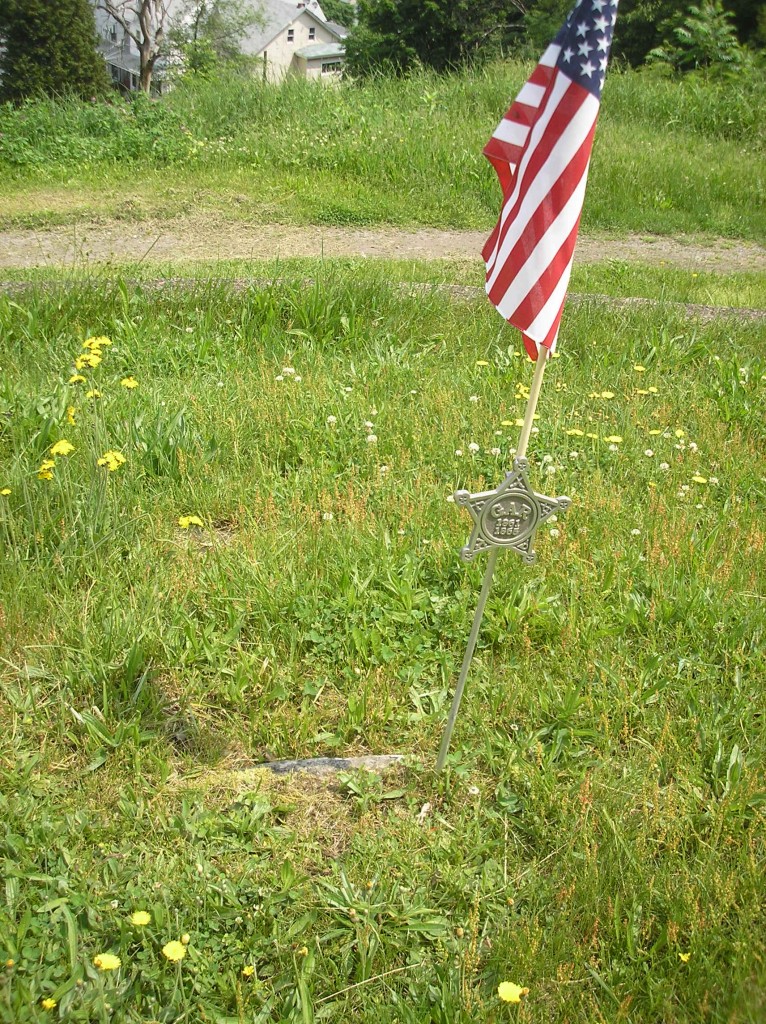 The stone at this grave site is broken off at the ground.  At this time it is impossible to tell what Civil War soldier was buried here.  The death date, according to burial position, would either be late 1891 or early 1892.
——————————
For all posts in this series, click on ShamokinSoldCircle.