Posted By Norman Gasbarro on March 18, 2014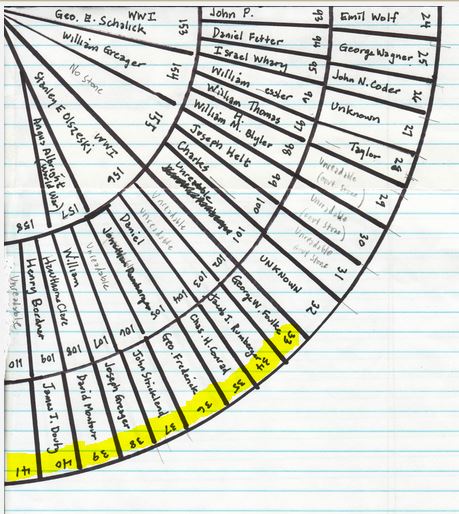 Today's post on the Shamokin Cemetery's Soldiers' Circle features nine graves in the outer circle, second quadrant, beginning with photograph 33.  The photographs in this are numbered 33 through 41.  All of the stones in this section are fairly easy to read, but not all are identifiable by regiment and company.  All of the stones in this section are sequenced in the order of the death of the veteran.  For each of the veterans, the best determination of the name is given and where possible some information about the military record.  Some errors may be noted where the information on the stone may not match other records.  Each grave photograph may be enlarged by clicking on it, and in some cases, readers may be able to identify or clarify some of the unknown information.  Comments can be added to this post or sent by e-mail to the Civil War Research Project.  The collected information on soldiers buried in the circle (including some military records, pension files, photographs, etc.) is available free-of-charge to veterans organizations, historical societies, and other non-profit groups.  Inquiries may be sent by e-mail or by regular mail, to the attention of Norman Gasbarro, P.O. Box 523, Gratz, PA  17030.
For all four quadrants of the map, click here.
——————————
#33 – George W. Foulke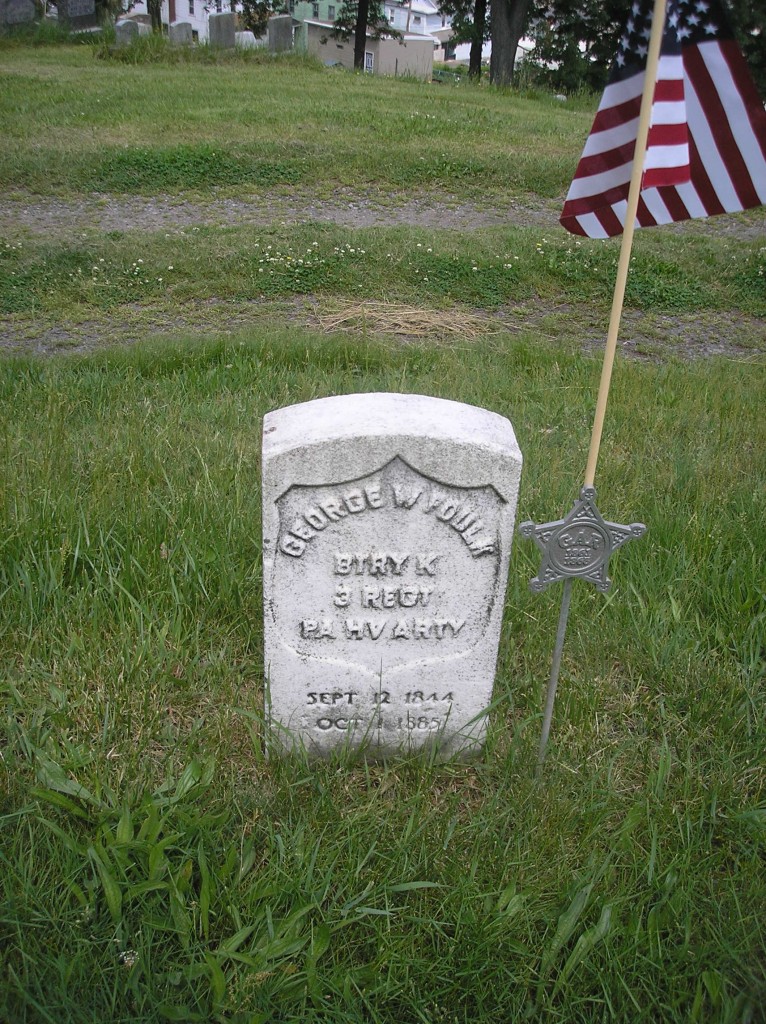 This government issue stone is for George W. Foulk (also known as George Fulk or George Folk), who was born on 12 September 1844 in Northumberland County and died either on the 1 October or 4 October 1885.  It is possible that from this point in the circle, all the stones and graves were placed in the order of death – making it somewhat easier to determine the names, regiments and death dates on the badly worn stones.  Foulk served in the 3rd Pennsylvania Artillery (Heavy), Battery K, as a Private, from 26 February 1864 through his honorable discharge on 9 November 1865.  He had enrolled and was mustered in at Harrisburg giving his occupation as farmer and his residence as Berks County.  No Pension Index Card has been located for him and it is likely that he never applied.
—————————-
#34 – Jacob J. Rumberger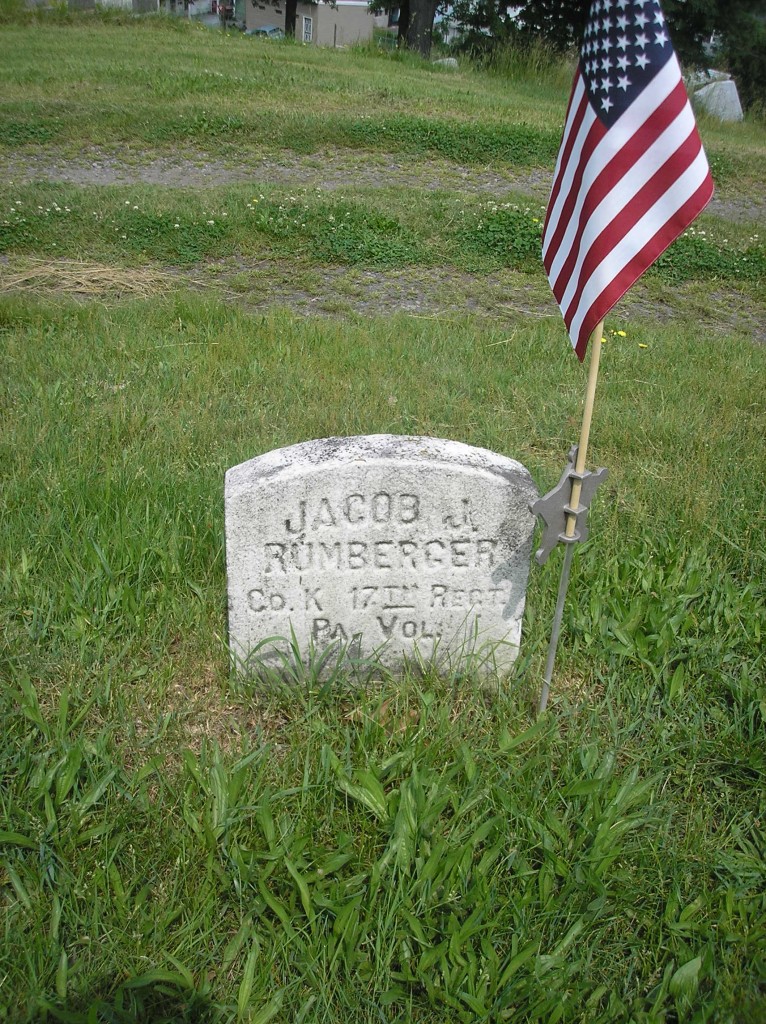 Jacob J. Rumberger was born about 1840 and died about 1886.  He is also found in the records as Jacob Romberger and Jacob Rumbarger.  The stone states he served in the 17th Pennsylvania Infantry, when in fact he served in the 173rd Pennsylvania Infantry, Company K, as a Private, where he was mustered into service on 2 November 1862 and discharged on a Surgeon's Certificate of Disability on 10 March 1863.  On 17 April 1883, Jacob applied for a pension but did not receive one, probably because he died before the application process was completed.  His widow, Harriet Elizabeth [Reed] Rumberger, then applied on 23 October 1891, but she also did not receive a pension.  Not much more is known about Jacob J. Rumberger at this time except that he is not the same person of that name who served in the 103rd Pennsylvania Infantry.
—————————-
#35 – Charles H. Conrad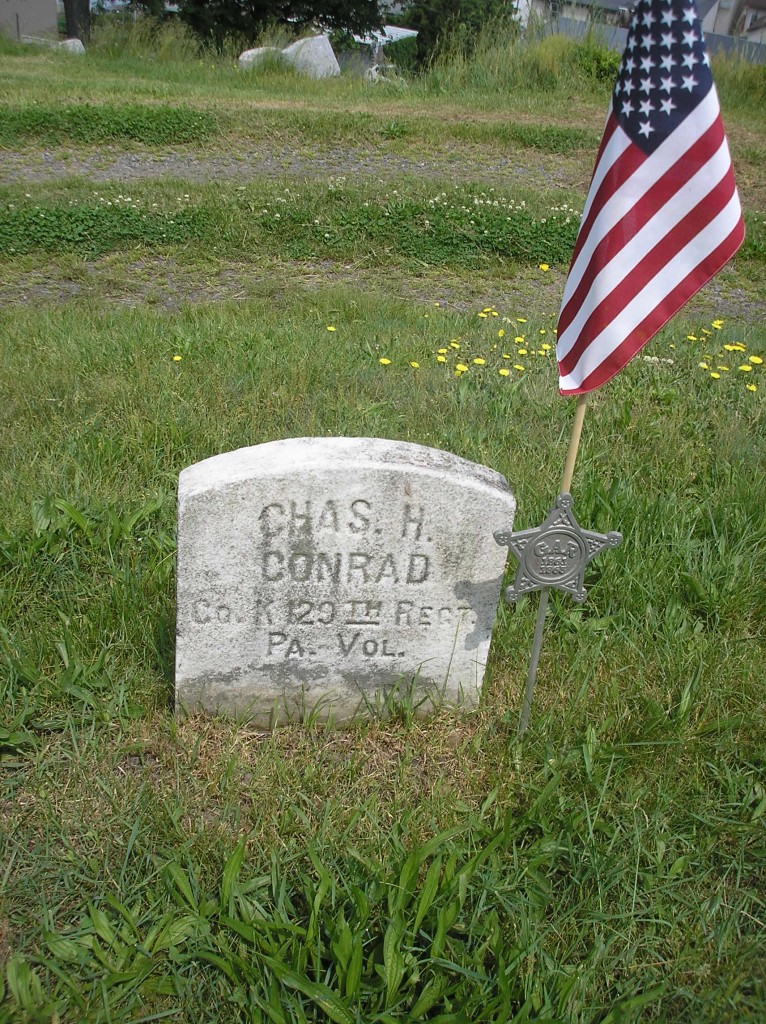 Charles H. Conrad, born about 1835, and died in Shamokin on 20 Jul 1886, was a carpenter who served three enlistments although only one is noted on his grave marker.  He was also known by the alias, Charles H. Conard.  His first enlistment was in the 8th Pennsylvania Infantry, Company A, as a Private, for three months from 22 April 1861 through 29 Jul 1862.  At the time he gave his age as 24 and his residence as Shamokin.  Following this, claiming to be 28 years old, he served in the 129th Pennsylvania Infantry, Company K and Company G, also as a Private, from 13 August 1862 through honorable discharge on 18 May 1863.  Finally, he enrolled in Harrisburg and was mustered into the 46th Pennsylvania Infantry, Company K, as a Private, 29 February 1864 to 16 July 1865.  In this latter enlistment, he claimed he was 30 years old and was from Montgomery County, all-the-while still a carpenter.  Following the war his application for pension was submitted on 13 July 1877, but he did not receive the pension.  An application was made for support for his minor children on 26 July 1890, which was approved, and much later, his widow, Catherine [Honecker] Conrad, applied for benefits, which she received.  These pension application files are available at the National Archives in Washington, D.C.
—————————–
#36 – George Frederick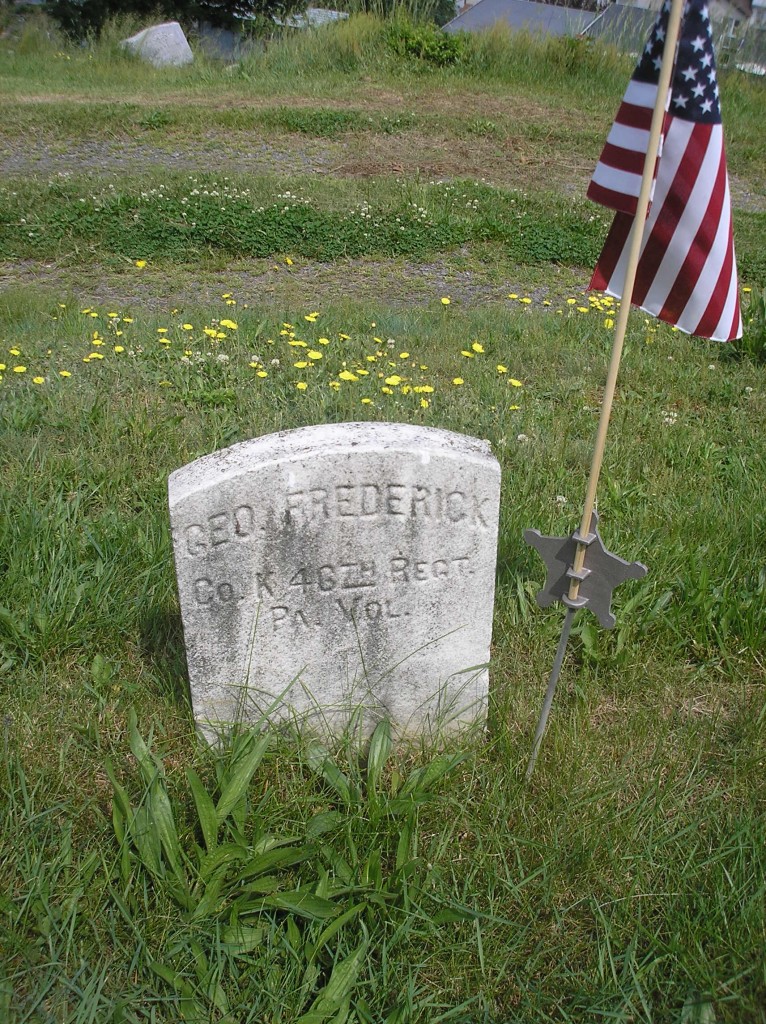 Born about 1844, George W. Frederick served in the 46th Pennsylvania Infantry, Company K, as a Private from 29 February 1864 through his discharge, but the records show that on 25 April 1865, he was "absent sick."  He had enrolled and was mustered in at Harrisburg claiming he was a resident of Lebanon County who was employed as a miner.  George W. Frederick died about 1886. Neither he nor his widow were able to obtain a pension, but both applied, he on 21 October 1871 and his widow on 19 May 1888.  The widow's name has not yet been found in the records.
—————————–
#37 – John Strickland
John Strickland only served in the 36th Pennsylvania Infantry (Emergency of 1863), Company K, according to his tombstone, but at least one record may have him serving in the 4th U.S. Infantry, Company C, as a Private.  John was born around 1845 and died 6 December 1886.  He also applied for a pension as the record shows on 29 May 1876, which was never awarded.  There is no record of a widow, but a possible wife's name of Mary Persing has been found in one record.
—————————–
#38 – Joseph Greager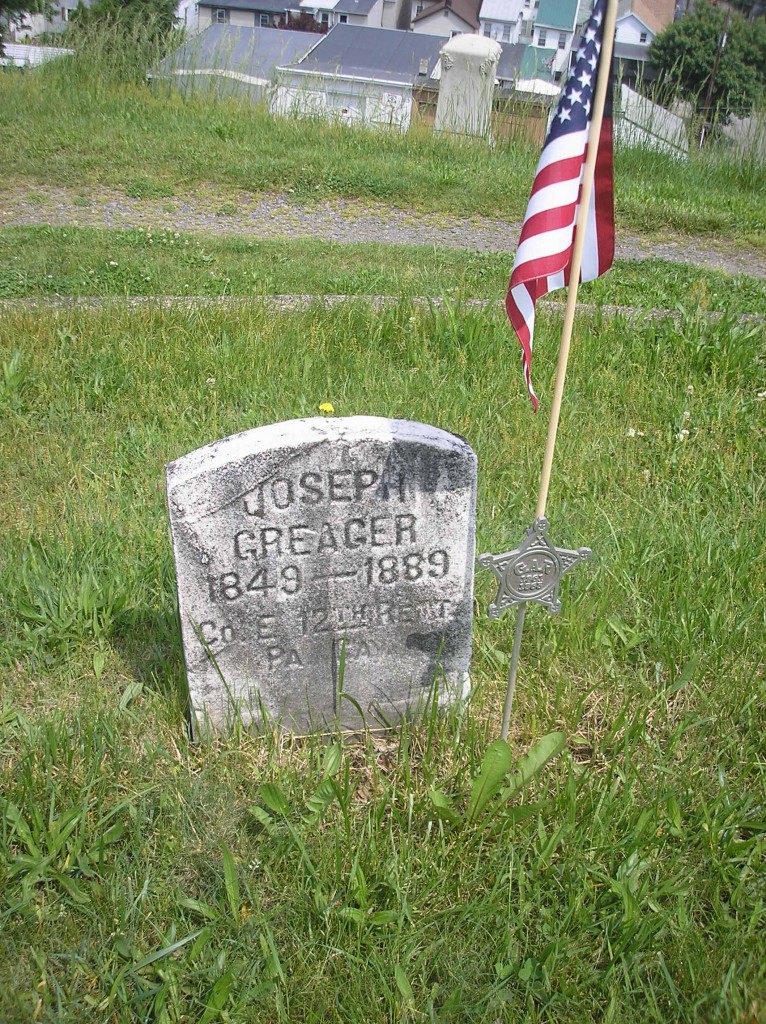 Joseph Greager served in the 12th Pennsylvania Cavalry from 20 March 1864 through 20 July 1865. He enrolled and was mustered into service at Harrisburg on 20 March 1864 and was discharged at the end of service on 20 July 1865.  At the time of his enrollment, he said he was 18 years old, but his stone says he was born in 1849, which would have made him only 15.  Two widows applied for his pension, the first, Clara Greager, applied on 21 December 1889 (she received a widow's pension), and the second, Emma C. Greager, who applied on 17 January 1907 (she was denied).  One of the pension application files can be found with the records of Daniel Toy who served in the 101st Pennsylvania Infantry, Company A.
—————————
#39 – David Montour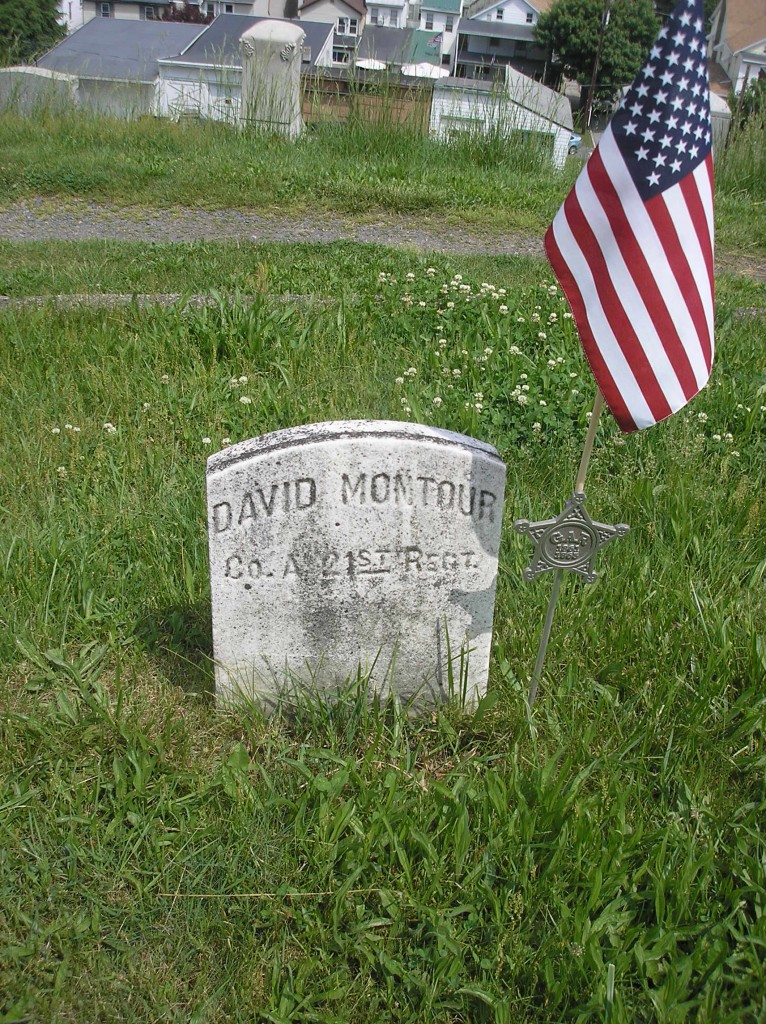 Help is appreciated on identifying this soldier, David Montour. He was not located in Company A of the 21st Pennsylvania Infantry.  It is possible that he may have served in the 21st U.S. Infantry, Company A.   According to his position in the circle, he probably died in 1889.
—————————-
#40 – James J. Douty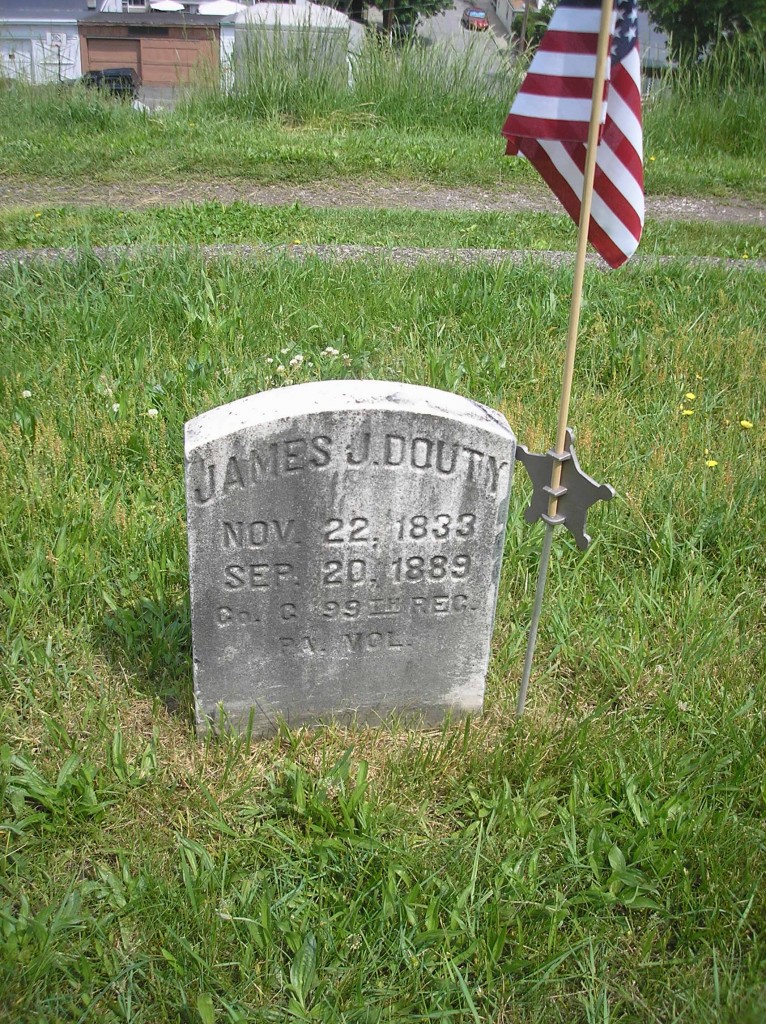 James J. Douty was born in Pottsville, Schuylkill County, on 22 November 1833, and died at Shamokin on 20 September 1889.  He is found in the records as Duddy, Doty, Todd, Toddy, and James I. Douty.  The stone indicates he served in the 99th Pennsylvania Infantry, Company C, as a Private.  The Pennsylvania Veterans' File Card states that he originally enrolled in Company D of that regiment on 17 August 1861, and then transferred to Company C, date unknown.  At the time of enrollment, his residence was given as Philadelphia, his occupation was engineer, and his age was either 27 or 30. He then re-enlisted on 1 January 1864, at Brandy Station, Virginia, and honorably completed his service on 1 July 1865.   There is also a record that a James Douty enrolled in Reading in the 32nd Pennsylvania Infantry (3rd Pennsylvania Reserves), Company C, as a Private, on 7 June 1861, but deserted on 9 December 1862 at Falmouth, Virginia.  That James Douty was a shoemaker who resided in Berks County and was 19 years old.  Another James Douty enrolled in Company G of that regiment, but was recorded as "died at Fredericksburg, Virginia," on 13 December 1862.  The James J. Douty who is buried in the Soldiers' Circle applied for an invalid pension on 6 February 1883, but did not receive one.  His widow, Mary E. Douty, applied on 9 July 1890, and received a pension based on service in Companies C and D of the 32nd Pennsylvania Infantry as well as the 99th Pennsylvania Infantry, thus confirming that the shoemaker (aged 19) who was reported as deserted, and the engineer (aged 27 or 30) were the same person.  All of this confusion can be clarified in the pension application files of James J. Douty and his widow; the files are available at the National Archives in Washington, D.C.
—————————–
#41 – Government Stone – Unreadable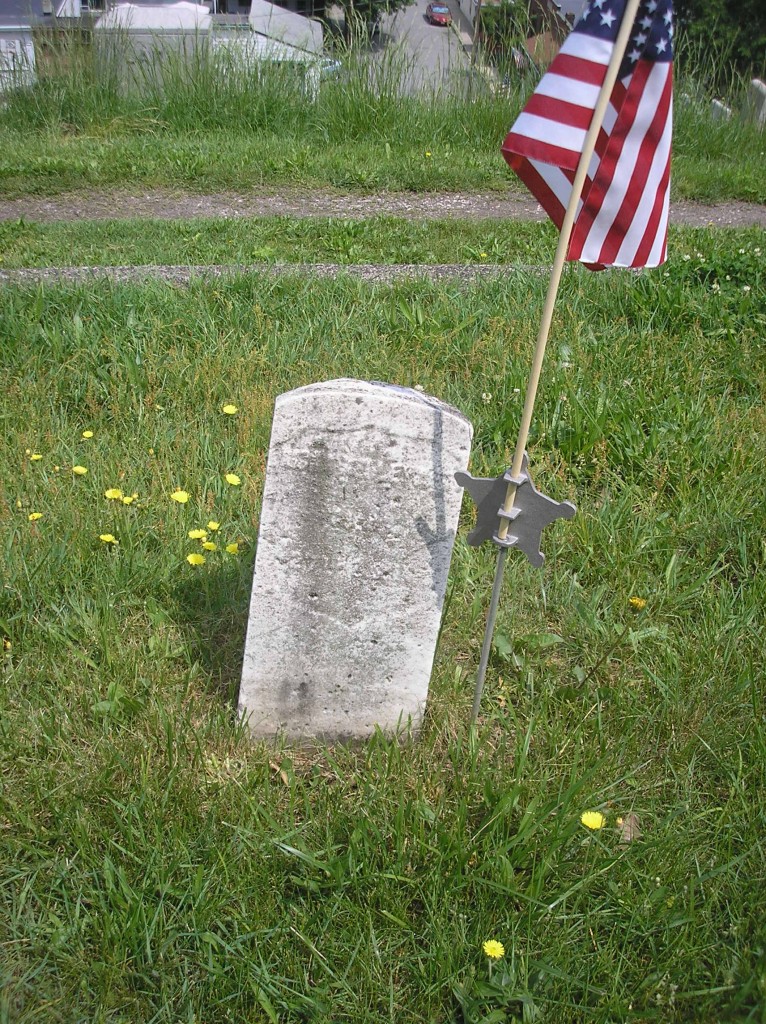 This government issued grave marker is partially readable and is for a soldier who died around 1889.  Some patience is needed to interpret the lettering.  It is possible that a reader has a high resolution picture of the stone taken before it was eroded by the weather – or has some other records that indicate who is buried here.
—————————–
For all posts in this series, click on ShamokinSoldCircle.