Posted By Norman Gasbarro on March 25, 2014
A major suspicious fire which started at the corner of Third Street and Strawberry Alley in Harrisburg on 15 June 1865 destroyed a good portion of a city block.  Two weeks later, another suspicious fire broke out and was described in a brief article which appeared in the Philadelphia Inquirer on 30 June 1865: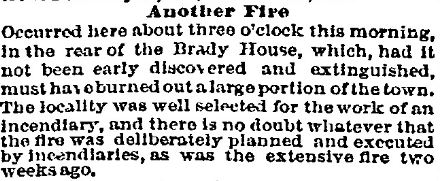 Another fire occurred here about three o'clock this morning, in the rear of the Brady House, which, had it not been early discovered and extinguished, must have burned out a large portion of the town.  The locality was well selected for the work of an incendiary, and there is no doubt whatever that the fire was deliberately planned and executed by incendiaries, as was the extensive fire two weeks ago.
——————————-
For the article on the fire which occurred two weeks prior to this one, see Harrisburg Burning.
News articles are from the on-line resources of the Free Library of Philadelphia.