Posted By Norman Gasbarro on February 18, 2014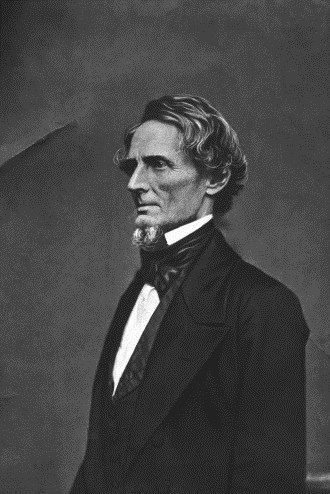 Jefferson Davis, President of the Confederate States of America, was born 3 June 1808 in Christian County (now Todd County), Kentucky.  What is not well-known about him is that his family had roots in Pennsylvania.
Samuel Emory Davis, the father of Jefferson Davis, was born in Philadelphia, Pennsylvania in 1756, and served in the Revolutionary War.  The mother of Jefferson Davis was Jane Cook, a niece of Revolutionary War General Nathanael Greene (1742-1786), a descendant of Quakers from Rhode Island.  Quakers also played an important part in the early history of Pennsylvania.  Samuel Emory Davis took his family westward to Kentucky around 1793, later to Louisiana, and eventually settled in Warren County, Mississippi, where he died in 1824.
Evan Davis, the paternal grandfather of Jefferson Davis, was born in Philadelphia about 1725, but later moved to Augusta, Georgia, where he died in 1758.  Evan married Lydia Mary Emory Williams, who had two sons by a previous marriage.  Those two sons, who were half-brothers of Jefferson Davis' father, also served in the Continental Army during the Revolutionary War.
The paternal great-grandfather of Jefferson Davis was John Davis, who emigrated from the region of Snowdonia in North Wales in 1701 and settled in Philadelphia.
Jefferson Davis was married twice.  His first marriage was to the daughter of U.S. President Zachary Taylor who died in office in 1850.  Sarah Knox Taylor (1814-1835) died of malarial fever at Locust Grove, Louisiana and is buried there.  They had no children.
Davis married second to Varina Anne Howell, the granddaughter of Richard Howell (1754-1802), the third governor of New Jersey, who was also a soldier in the Continental Army.  Varina, although she was born in the South, went to school in Philadelphia where she attended the Madame Deborah Grelaud's French School, a prestigious ladies' academy.  While in Philadelphia she became well acquainted with her northern Howell relatives through visits and correspondence. This northern upbringing helped fuel controversies about her while living in Richmond during the Civil War and serving as the First Lady of the Confederacy.  After the death of Jefferson Davis, Varina wrote and published a biography of him in 1890.  In her later years she moved north and settled in New York City where she wrote for the New York World.  She died in New York City's Hotel Majestic on 16 October 1906.
For more detailed information about the life of Varina [Howell] Davis, see the Wikpedia article.
For a blog post on the Pennsylvania roots of Alexander Stephens see:  Was Confederate Vice President Alexander H. Stephens from Pennsylvania?