Posted By Norman Gasbarro on January 24, 2014

The name of Benjamin Huff appears on the Millersburg Soldier Monument, but very little is known about him other than some general information about his military record.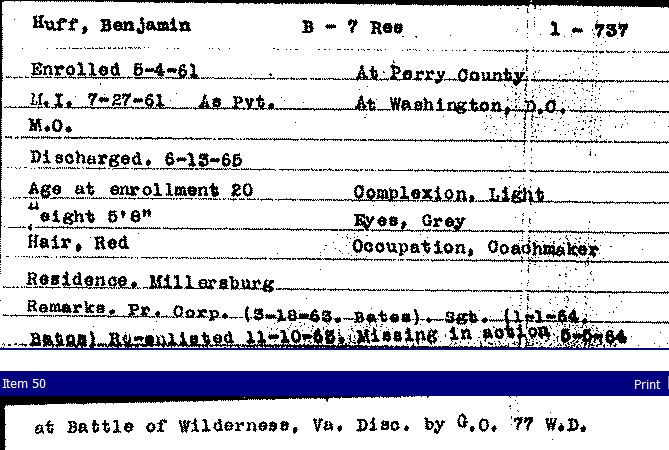 According to information on the Pennsylvania Veterans' Index Card, available from the Pennsylvania Archives, Benjamin Huff was 20 years old when he enrolled in the 7th Pennsylvania Reserves (also known as the 36th Pennsylvania Infantry) on 4 June 1861, making his year of birth about 1841.  The enrollment took place at Liverpool, Perry County, Pennsylvania.  On the 27 July 1861, he was mustered into service at Washington, D.C., as a Private in Company B.  The descriptive physical information states he was 5 foot, 8 inches tall, had red hair, grey eyes, with a light complexion.  His occupation was coachmaker and his residence was Millersburg.
On 12 March 1863 he was promoted to Corporal and on 1 January 1864 he was promoted to Sergeant.  On 5 May 1864 he was reported missing in action at the Wilderness.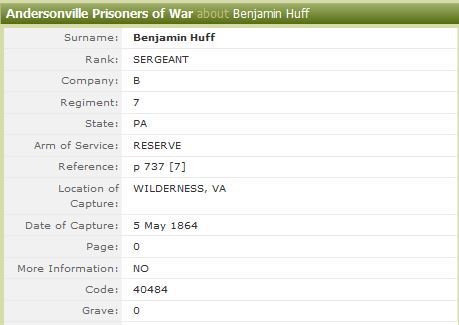 A summary record available on Ancestry.com (pictured above) references another source which states that he was captured as a prisoner of war and taken to Andersonville Prison in Georgia.  No grave number is given is the summary record.  It is likely therefore that he survived Andersonville and was released sometime afterward.  At this time, it is not known when that occurred.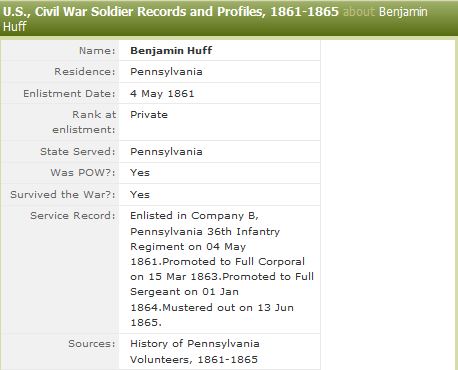 The summary record of his military service from Ancestry.com is given in the database, U.S. Civil War Soldier Records and Profiles.  This information, primarily from Bates, History of Pennsylvania Volunteers, confirms that he was a prisoner of war, that he survived the war, and that he was mustered out of service with his company on 13 June 1865, per General Order #77 of the War Department (as stated on the Veterans' Index Card, at top).  There is no indication on when he returned to his regiment from prison, or in what condition he was in at the time he returned.
In checking with another secondary source, the Registers of Pennsylvania Volunteers, also available at the Pennsylvania Archives (36th Pennsylvania Infantry, Company B), the name of Benjamin Huff appears with the confirming information that he enrolled at Liverpool and that he was mustered into service at Washington, D.C.  However, it is not possible to tell from the specified age of Benjamin Huff whether he was 20 or 30.  If he was thirty at enlistment, that would suggest a birth year of about 1831.
At this point, the research comes to multiple dead ends.  No Pension Index Card has been located for him. There is no good match for any census from 1850 onward.  There are no burials in Oak Hill Cemetery for anyone named Huff which could be even close to Benjamin in age.  And, a search of the available on-line newspapers from the 19th century produced some results, one of which is a match, and the other of which is a remote possibility.
The match was a list of those from the 7th Pennsylvania Reserve who were killed and wounded at the Battle of South Mountain, 14 September 1862:
In the list, which was printed in the Philadelphia Inquirer's 2 September 1862 edition, there is a Benjamin Huff, Company B, who was wounded.  This information was not previously known.
The remote possibility connection is from an article that appeared in the Philadelphia Inquirer on 2 July 1896 and is as follows:
Shoots His Daughter-in-Law and Then Kills Himself

LAPORTE, Indiana, 1 July 1896 — Benjamin Huff of Bootjack, this county, while temporarily insane, shot and fatally wounded his daughter-in-law and then instantly killed himself by shooting through the temple.  The tragedy occurred at the family home this morning, the woman being shot from behind while washing dishes.

Huff was aged 58 and was an old soldier. He was eccentric and had often threatened to kill himself and wife by poison, last week being refused a purchase, at a neighboring drug store.

Cora Huff, the daughter-in-law, was shot in the small of the back, near the spine, and fell across the threshold, completely paralyzed.  She is expected to die at any time.  Huff leaves a widow and four children.
There are persons named Benjamin Huff who served in Indiana regiments during the Civil War – so they would have to be researched to be eliminated if this Benjamin Huff could be considered to be a match with the Millersburg one who is the subject of this blog post.  One possible elimination is that there was a Clara Huff who applied for widow's pension in August 1896 based on the service of her deceased husband, Benjamin Huff, who served in the Indiana Light Artillery.
The one curious, possible connection to this Indiana incident is that there is another man named Huff, also from Millersburg, who re-located in Indiana after the war – George W. Huff – whose Veterans' Index Card is shown below: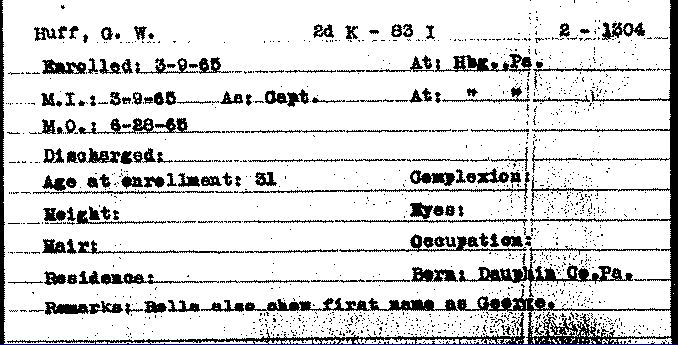 This George W. Huff, who served as a Captain in the 83rd Pennsylvania Infantry, has been located in the 1860 Census for Millersburg, where he is listed as a 28 year-old boatman.  It is a documented fact that he moved to Indiana after the Civil War.  As a boatman residing in Millersburg in 1860, he would have had a direct connection with Perry County (just across the Susquehanna River) – which is where Benjamin Huff enrolled. At this point in the research, there is too much speculation and conjecture.  Hard facts are needed to confirm a relationship, if one exists, between George and Benjamin.  George did not die until 1915 – one year after the Millersburg Soldier Monument was dedicated.  Strangely, his name does not appear on the monument – but the name of Benjamin Huff does appear – and other than the residence reference found on the Pennsylvania Veterans' Index Card, no other connection has been found with Benjamin and Millersburg.
This mystery is presented here in the hope that some reader has the missing information.  Who was Benjamin Huff and was he related to anyone of that surname from Millersburg?  What happened to Benjamin Huff after the war?  Did he move to Indiana and was he the "old soldier" described in the 1896 article?  Why is his name not on the Millersburg Soldier Monument?
Comments may be added to this blog post or information may be sent via e-mail.