Posted By Norman Gasbarro on January 11, 2014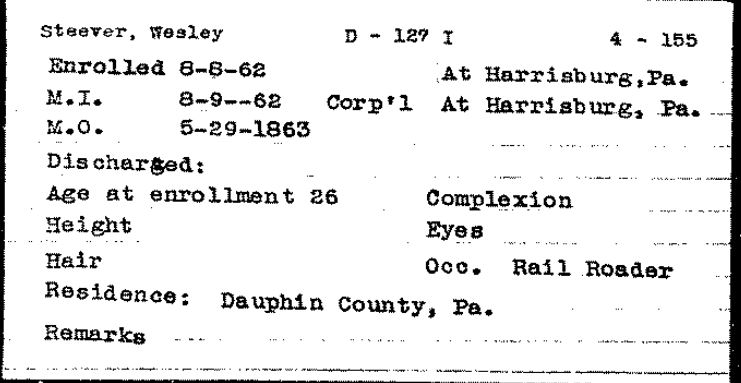 In today's post, Wesley Steever (1835-1895) will be profiled.

On the Millersburg Soldier Monument there are three Steever brothers who are honored as Civil War soldiers.  Initially it was difficult to identify them as brothers and construct a genealogy.  However, a biographical sketch was located of a younger brother, Aaron M. Steever, a pharmacist born in Millersburg, which clarified the relationship.  That information was given in the post of two days ago, part 1 of 4 of this series.
At the time of his enlistment on 8 August 1862 at Harrisburg, Wesley Steever was 26 years old.  No other personal information is available about him on the Pennsylvania Veterans' Index Card (see top of this post) at the Pennsylvania Archives.  He was mustered into service at Harrisburg on 9 August 1862 as a Private in Company D of the 127th Pennsylvania Infantry.  He did give his occupation as "rail roader" and his residence as Dauphin County.  Ironically, the enlistment of Wesley occurred less than a month before the death of his next younger brother John Jefferson Steever at the Second Battle of Bull Run.
According to information available at pacivilwar.com, the 127th Pennsylvania Infantry was organized at Harrisburg on 16 August 1862 and moved to Washington on 17 August, where they remained until 1 December when they moved to Falmouth, Virginia, arriving on 9 December.  It is not known whether Wesley learned of his brother's death while still at Washington or while on the march to Falmouth.  He surely must have known at the time of Battle of Fredericksburg, 12-15 December 1862.  Just prior to his regiment moving south from Washington, Wesley received a promotion to Corporal.  On the second day of the Battle of Fredericksburg, Wesley was wounded and taken from the battlefield.  While the regiment took part in several battles up through its discharge in May 1863, it is not known at this time where Wesley was located – whether at a hospital or whether returned to his company.  He did receive an honorable discharge with his company on 29 May 1863.
In July 1863, after his service was completed, he registered for the federal draft – noting that he had served in the 127th Pennsylvania Infantry, 9 months service. At that time he was married, working as a laborer and living in Millersburg.  No other Civil War service has been located for him.
Just prior to the war, Wesley Steever appeared in the 1860 Census for Millersburg as a 24 year old laborer with a personal estate of $100.  Presumably, the 23-year old woman in the household, Susanna Steever was his wife.
No census record has been located for Wesley for 1870.  However, in the 1880 Census for Hudson, Summit County, Ohio, he is found as a 45 year-old farmer with wife Margaret A. Steever, age 44, and children as follows: John W. Steever, age 17; George A. Steever, age 15; Henry C. Steever, Age 14, Andrew F. Steever, age 5; and James Steever, age 2.  at this time it is not known whether Margaret was a second wife or whether she was the same woman who appeared in the 1860 Census, this time using a different name.  The Ohio location seems to confirm the information in the Commemorative Biographical Encyclopedia of Dauphin County, which states that Wesley was "residing in Ohio."
Strangely, at the time of the 1890 Census, he reported his service as a Private (not mentioning his promotion to Corporal) and gave no indication that he had any Civil War-related disabilities.  The pension application date of 6 January 1875, when he was not yet 40 years old, is an indication that his war wounds may have been more serious than Wesley later admitted in 1890.  Wesley Steever was living in Cleveland, Cuyahoga County, Ohio in 1890.  Although it is believed by some researchers that he died in 1895, no specific document confirms this.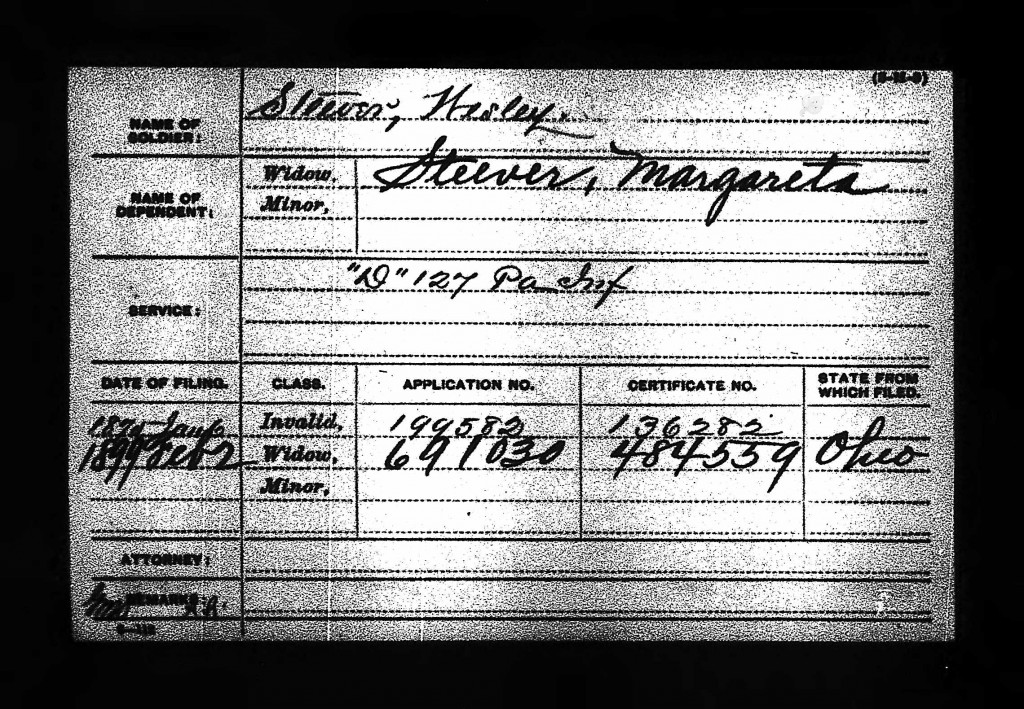 The widow, Margareta Steever did not apply for a pension until 2 February 1899, and she did so from Ohio.  A conclusion that can be drawn from this is that Wesley died in Ohio and is buried in Ohio – but no grave has yet been located there.  While there are a number of persons with the surname "Steever" buried in Oak Hill Cemetery in Millersburg, including one named Wesley Steever, none of the birth or death dates are a match.
Perhaps a reader who has seen the pension application file of Margareta Steever can clarify the death date of Wesley and provide some information as to where he is buried.  There is also the possibility that some family stories and pictures may exist of Wesley Steever, as this is the soldier-brother who lived the longest, although all three of the brothers died before the beginning of the 20th Century.  With five known sons, it is also more likely that the family name may have been carried forward from him – although in Ohio, not in Pennsylvania where he was born.
In tomorrow's post, the series on the Steever brothers concludes with William Leonard Steever, who appears on the Millersburg Soldier Monument as "W. L. Steever."
—————————-
The Pension Index Card is from Ancestry.com and references the pension application files in the National Archives in Washington, D.C.