Posted By Norman Gasbarro on January 14, 2014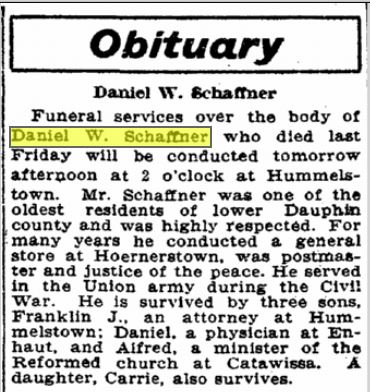 Previously on this blog the story of Daniel Schaffner was presented.  See:  Daniel Schaffner, General Store Merchant.  Early in his life, he learned the trade of store and tavern keeper in Gratz Borough.
His Civil War service included the following: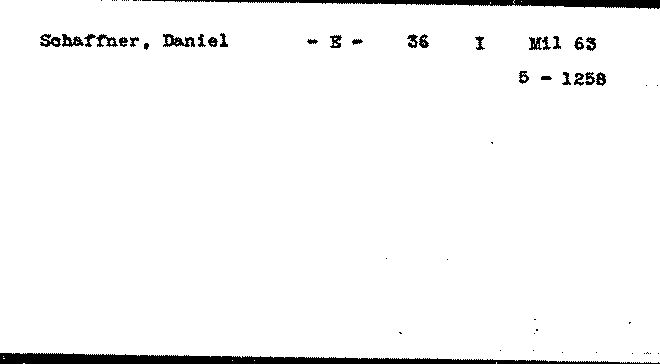 36th Pennsylvania Infantry (Emergency of 1863), Company E, Private.   served from 4 July 1863 through 11 August 1863.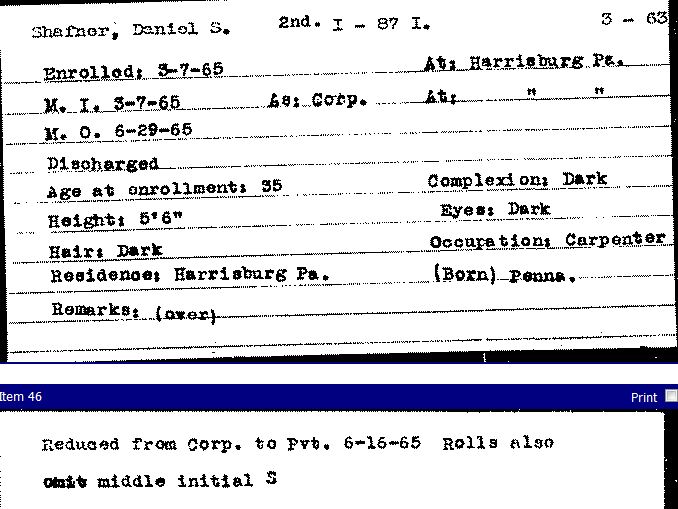 87th Pennsylvania Infantry, Company I, Private.  Served from 7 March 1865 through 29 June 1865.  At the time of his enrollment in this regiment, he was 35 years old, had a dark complexion and dark hair, and was 5 foot-6 inches tall.  He was born in Pennsylvania, was a carpenter by occupation, and gave his residence as Harrisburg.  A note on the back of the Pennsylvania Veterans' Index Card (from the Pennsylvania Archives) mentions that he was "reduced from Corporal to Private, 16 June 1865."
As mentioned in the prior post on Daniel Schaffner, the Commemorative Biographical Encyclopedia of Dauphin County, notes that "at times he acted as Corporal in his company."
An obituary for Daniel Schaffner appeared in the Harrisburg Patriot, 24 June 1910, three days after his death:
Daniel W. Schaffner

Funeral services over the body of Daniel W. Schaffner who died last Friday will be conducted tomorrow afternoon at 2 o'clock in Hummelstown.  Mr. Schaffner was one of the oldest residents of lower Dauphin County and was highly respected.  For many years he conducted a general store at Hummelstown, was Postmaster and Justice of the Peace.  He served in the Union Army during the Civil War.  He is survived by three sons:  Franklin J. Schaffner, an attorney at Hummelstown; Daniel Schaffner, a physician at Enhaut; and Alfred Schaffner, a minister of the Reformed Church at Catawissa.  A daughter, Carrie Schaffner, also survives.
Daniel Schaffner is buried at Hummelstown Cemetery, Hummelstown, Dauphin County, along with his wife Salome who preceded him in death.  The obituary of Salome [Hoerner]Schaffner appeared in the Patriot on 14 November 1908:
Death of Mrs. Daniel Schaffner

On Sunday evening Mrs. Daniel Schaffner, wife of a prominent citizen of South Hanover Township, died.  The funeral will be held at 9:30 a.m. on Thursday at the family residence.  Interment and services at Hummelstown.

Mrs. Schaffer was well and favorably known by a large circle of relatives and friends and is survived by her husband and five children: F. J. Schaffner, Esq., Hummelstown; H. C. Schaffner, Hoernerstown; Dr. D. W. Schaffner, Enhaut; Rev. A. M. Schaffner, Catawissa; and Miss Carrie Schaffner, at home.
—————————-
Obituaries are from the on-line resources of the Free Library of Philadelphia.