Posted By Norman Gasbarro on January 2, 2014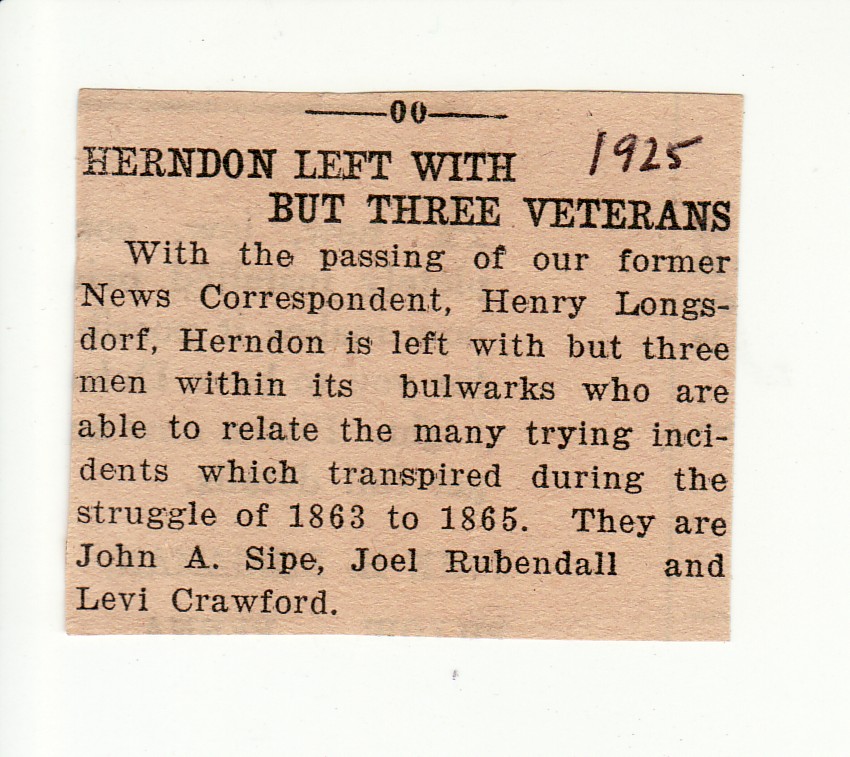 Two news clippings have located telling of John A. Sipe, who was previously featured here on this blog in a post entitled, John A. Sipe – Tailor of Herndon.
The first clipping (shown above), dated 1925, is from an unknown local newspaper:
HERNDON LEFT WITH BUT THREE VETERANS

With the passing of our former News Correspondent, Henry Longsdorf, Herndon is left but with three men within its bulwarks who are able to relate the many trying incidents which transpired during the struggle of 1863 [sic] to 1865.  They are John A. Sipe, Joel Rubendall and Levi Crawford.
The second clipping (shown below), was dated 29 September 1932, also from an unknown local newspaper, reported on an automobile accident involving John A. Sipe: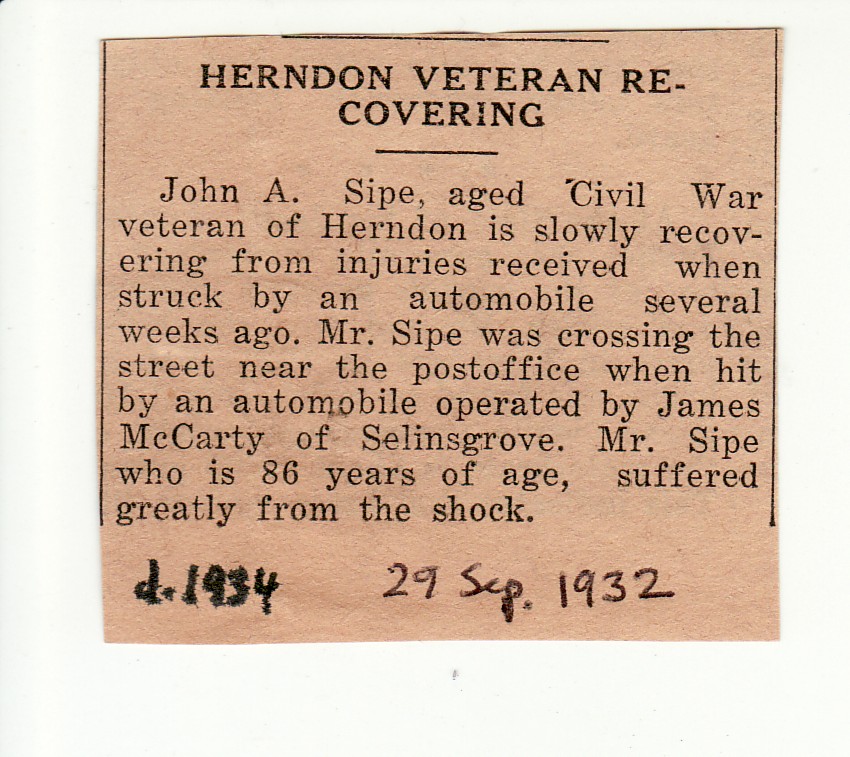 HERNDON VETERAN RECOVERING

John A. Sipe, aged Civil War veteran of Herndon is slowly recovering from injuries received when struck by an automobile several weeks ago.  Mr. Sipe was crossing the street near the post office when hit by an automobile operated by James McCarty of Selinsgrove.  Mr. Sipe who is 86 years of age, suffered greatly from the shock.
These news clippings point out the urgency in collecting information on soldiers and sailors before their passing and can be related to current efforts to document the stories of World War II veterans, few of whom remain among us.
A picture has still not been located of John A. Sipe.  Perhaps a reader is aware of where one can be found?  The fact that he died on 21 September 1934 and had a large family makes it highly probable that a photograph of him has survived – somewhere.
Previous blog posts telling of relatives of John A. Sipe who were Civil War veterans include the following:  The Brothers of John A. Sipe in the Civil War and The Husbands of the Sisters of John A. Sipe – Monroe Chronister and Hiram M. Jacobs.
Henry B. Longsdorf was also previously featured in a post entitled: Henry B. Longsdorf – Teacher, Railroad Track Foreman, and Newspaper Contributor.