Posted By Norman Gasbarro on January 3, 2014
A short news item located while researching Major Henry Jackson Sheafer revealed that the Lykens-Wiconisco G.A.R. Post, called Heilner Post No. 232, originally applied for a different name.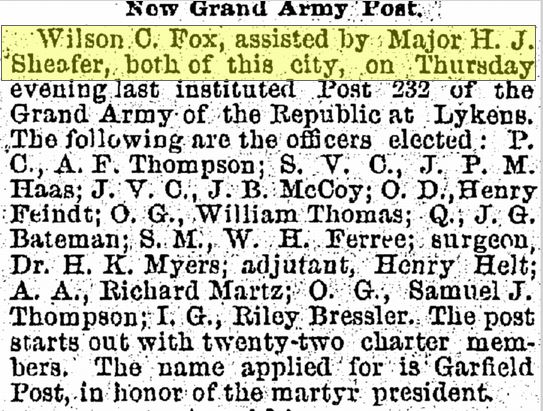 New Grand Army Post

Wilson C. Fox, assisted by Major H. J. Sheafer, both of this city, on Thursday evening last instituted Post 232 of the Grand Army of the Republic at Lykens.  The following are the officers elected:  P. C., A. F. Thompson; S. V. C., J. P. M. Haas; J. V. C., J. B. McCoy; O. D., Henry Feindt; O. G., William Thomas; Q., J. G. Bateman; S. M., W. H. Ferree; Surgeon, Dr. H. K. Myers; Adjutant, Henry Helt; A. A., Richard Martz; O. G., Samuel J. Thompson; I. G., Riley Bressler.  The post starts out with twenty-two charter members.  The name applied for is Garfield Post, in honor of the martyr president.
President James Garfield was fatally wounded by an assassin on 2 July 1881.  He died as a result of the wound on 19 September 1881.  During the Civil War he had served as commander of the Ohio forces in the 20th Brigade under Gen. Don Carlos Buell at the Battle of Shiloh.  It is not known how many other G.A.R. Posts applied to use Garfield's name – or if the Lykens Post ever used the name.  In any event, "Heilner Post" was a least a second choice and the name that the post was always known by.
News articles generally cannot be relied upon to be 100% accurate.  In this case, the article points out that there were 22 charter members.  The "charter members" section of the G.A.R. plaque in front of the G.A.R. Hall in Lykens is shown below:
It is noted that 20 charter members are named on the monument – not 22.  In checking the officers list against the plaque, it can be stated that two men who were first elected as officers are not named as charter members on the plaque – Henry Helt and Samuel J. Thompson.  Are these the two missing men to make up the difference?  There is also a misrepresentation of one name – that of J. P. M. Haas – who appears in the article as J. P. M. Hess.
A complete list of all men honored on the Lykens G.A.R. Monument can be found in the blog post entitled: Best of 2011 – Lykens G.A.R. Monument.
H. J. Sheafer, who helped install the post, was Henry Jackson Sheafer (1826-1900) who had served in the 107th Pennsylvania Infantry, Company I, as Captain.  He was severely wounded at Gettysburg on 1 July 1863.  In 1850, he lived in Wiconisco Township, Dauphin County, where he was an innkeeper.  He is not named on the Lykens Monument, but should be because of his early connection to the area.
More research needs to be done to determine whether Post 232 in Lykens was ever known as the Garfield Post – or whether this was just a proposed name that was rejected because another post applied for and received the name.
The news clipping is from the on-line resources of the Free Library of Philadelphia.