Posted By Norman Gasbarro on January 26, 2014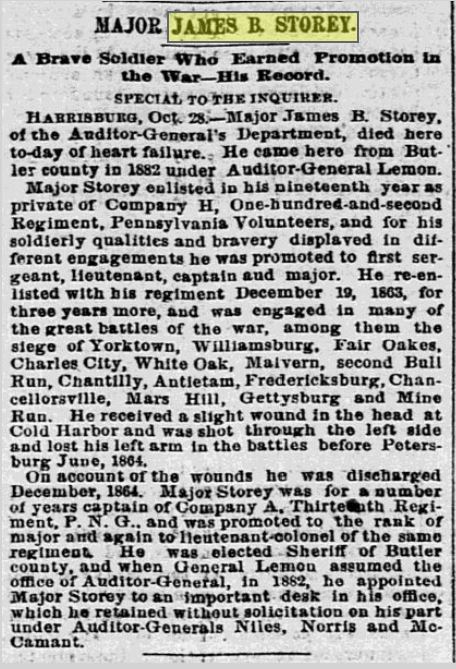 The war record of James B. Storey was spelled out in the notice of his death which appeared in the Philadelphia Inquirer on 29 October 1889:
MAJOR JAMES B. STOREY

A Brave Sodier Who Earned Promotion in the War – His Record

HARRISBURG, 28 October 1889 — Major James B. Storey, of the Auditor-General's Department, died here to-day of heart failure.  He came here from Butler County in 1882 under Auditor-General Lemon.

Major Storey enlisted in his nineteenth year as Private in Company H, One-hundred-and-second Regiment, Pennsylvania Volunteers [102nd Pennsylvania Infantry] and for his soldierly qualities and bravery displayed in different engagements he was promoted to First Sergeant, Lieutenant, Captain and Major.  He re-enlisted with his regiment 19 December 1863, for three years more, and was engaged in many of the great battles of the war, among them the Siege of Yorktown, Williamsburg, Fair Oaks, Malvern, Second Bull Run, Chantilly, Antietam, Fredericksburg, Chancellorsville, Mars Hill, Gettysburg, and Mine Run.  He received a slight wound in the head at Cold Harbor and was shot through the left side and lost his left arm in the battles before Petersburg, June 1864.

On account of the wounds he was discharged December 1864.  Major Storey was for a number of years Captain of Company A, 13th Regiment, Pennsylvania National Guard, and was promoted to the rank of Major and again to Lieutenant-Colonel of the same regiment.  He was elected sheriff of Butler County, and when General Lemon assume the office of Auditor-General, in 1882, he appointed Major Story to an important desk in his office, which he retained without solicitation on his part under Auditor-Generals Niles, Norris and McCamant.
Slightly different information about the military service of Col. Storey was presented in the obituary which appeared in the Harrisburg Patriot on the same day.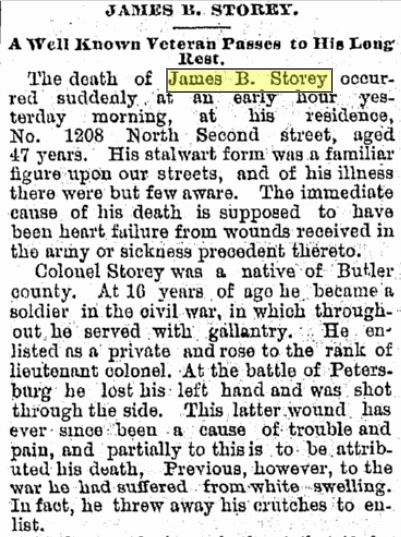 JAMES B. STOREY

A Well-Known Veteran Passes to His Long Rest

The death of James B. Storey occurred suddenly at an early hour yesterday morning at his residence, No. 1208 North Second Street [Harrisburg], aged 47 years.  His stalwart form was a familiar figure upon our streets, and of his illness there were but few aware.  The immediate cause of his death is supposed to have been heart failure from wounds received in the army or sickness precedent thereto.

Col. Storey was a native of Butler County.  At 16 years of age he became a soldier in the Civil War, in which throughout he served with gallantry.  He enlisted as a Private and rose to the rank of Lieutenant-Colonel.  At the Battle of Petersburg he lost his left hand and shot through the side.  This latter wound has ever since been a cause of trouble and pain, and partially to this is to be attributed his death.  Previous , however, to the war he had suffered from white swelling [tuberculosis of the bones and joints, in this case probably the knee].  In fact, he threw away his crutches to enlist.

At the conclusion of the civil strife he was elected sheriff of Butler County at the age of 24 years, the youngest man ever elected to that position in that county.

In 1881 he was appointed to a position in the auditor general's office under General John A. Lemon, and ever since has been retained in that department.  At the time of his death he was a bank clerk under Auditor-General McCamant.  He was an industrious, efficient and intelligent official, and enjoyed the respect of every one connected with the department.

In Grand Army circles he was prominent.  He was Past Commander of Post 105 of Butler, from which he withdrew his card to become a member of Post 58 of this city.

Two or three years ago he became senior member of the mantle works of J. B. Storey and Company on Market Street, beyond the canal.  His partner was his eldest son.

He leaves a wife and three children.  His funeral will take place on Thursday next, at 2 o'clock p.m., and the interment will be at the Harrisburg Cemetery.
For his service at the Battle of Gettysburg, James B. Storey was recognized on the Pennsylvania Memorial plaque for the 102nd Pennsylvania Infantry, Company H, at the rank of Sergeant.

An interesting question results from the examination of the Pension Index Cards available on-line (Fold3 and Ancestry.com).  In referencing first the military record card found at the Pennsylvania Archives, it is seen that James B. Story was discharged for wounds received at Cold Harbor, 3 June 1864.  There was also a James H. Storey in the same company and regiment, serving as a Private, who was killed at the Wilderness on 6 May 1864.  It is noted that this latter James H. Storey does not appear in the list of Privates on the Pennsylvania Memorial (pictured above).  Then, it is noted that the widow of James H. Storey who died at the Wilderness applied for a pension on 30 May 1864, and later for her minor children.  This James H. Story (or Storey) is buried at Fredericksburg National Cemetery.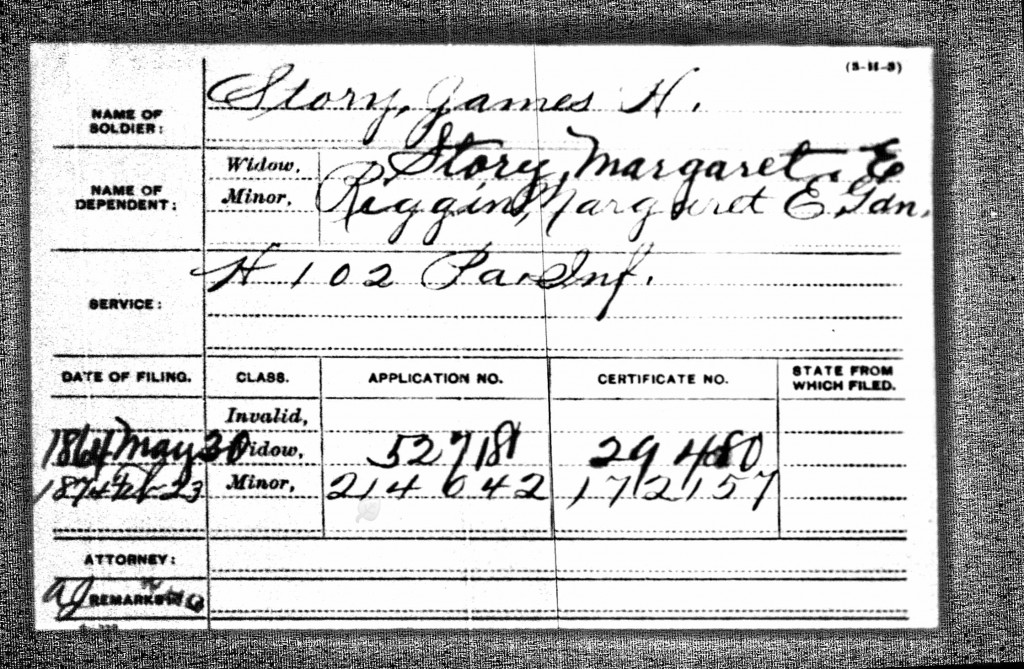 The Pension Index Card (above) gives the name of Margaret E. Story as the widow and Margaret E. Riggins as the guardian of the minor children (possibly the same person, who later re-married).
The Pension Index Card for James B. Storey (below) indicates that he applied for an invalid pension on 21 January 1865 – his pension for loss of a limb in the war – but there is no widow's application noted on the card.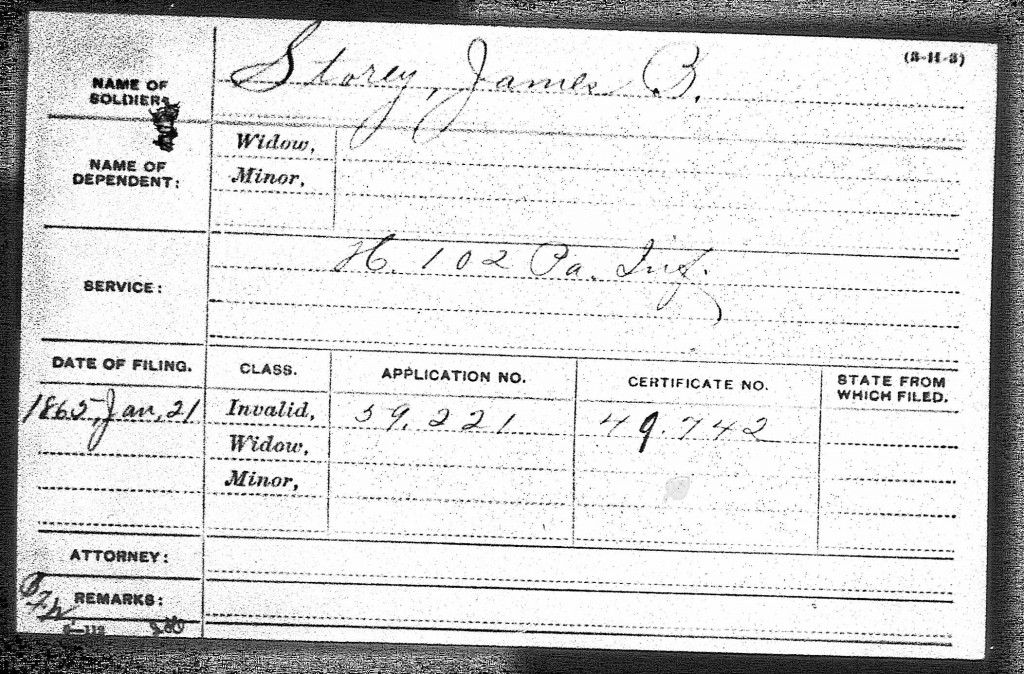 Was James B. Storey survived by a widow as was stated in the Harrisburg Patriot obituary?  Information in Ancestry.com family trees gives her death date as 31 October 1905.  So, why didn't she apply for a widow's pension?
Another Pension Index Card, found on Fold3, shows that a widow did apply (see below) but was not awarded a pension.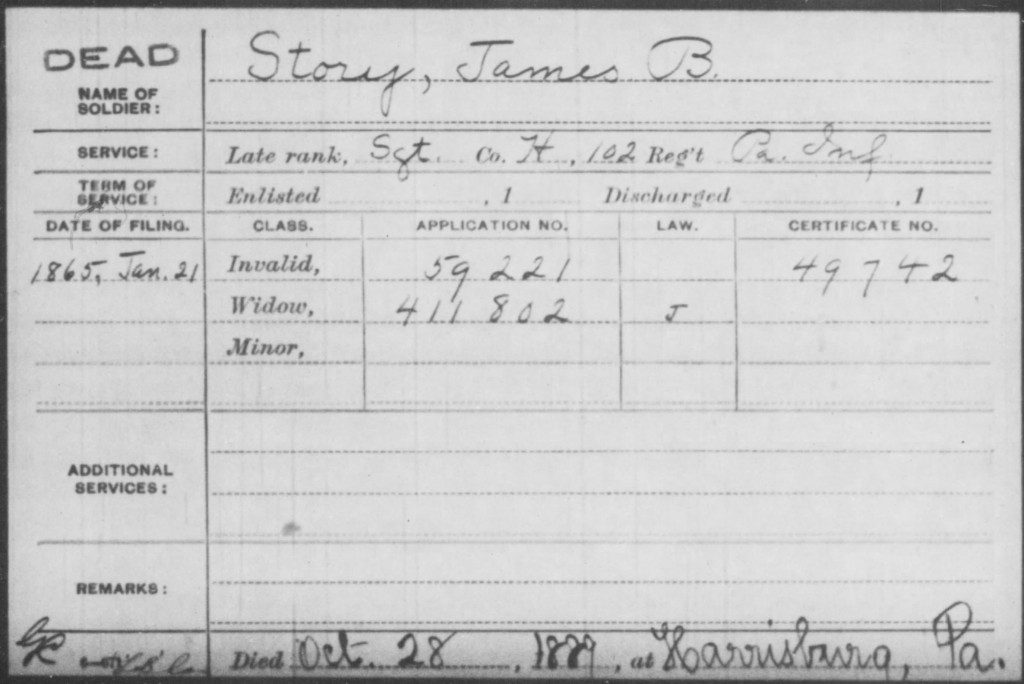 Widow's names are found on the Pension Index Cards available at Ancestry.com.  But the card on found on Ancestry.com does not indicate that a widow applied.  The application number on the Fold3 card (#411802) does not match any of the numbers on the card for James H. Storey (or Story), so this clearly a different application and one that was most likely made by Ada Storey.  Why didn't she get a pension?
The final confusing data that need to be examined are the grave markers.  At the Harrisburg Cemetery, there is a marker for James B. Storey:
James B. Storey is buried at Harrisburg along with his wife Ada and son.  See: Findagrave.
Then there is the previously-mentioned stone at Fredericksburg National Cemetery:
So there it is – there were two different persons named James Storey (or Storey) – one was wounded at Cold Harbor and is buried at Harrisburg – and the other died at the Wilderness and is buried at Fredericksburg.  The man who died in Harrisburg in 1889 was the same man who was the Sergeant in the 102nd Pennsylvania Infantry, not the one who was a Private and was killed in the war.  If there were two different persons, then why is there a third grave stone (below) in North Side Cemetery, Butler County, for James B. Storey who was a Sergeant in the 102nd Pennsylvania Infantry?  See:  Findagrave.
According to the application for the stone (see below) to the War Department, it was not placed at the North Side Cemetery until 1936.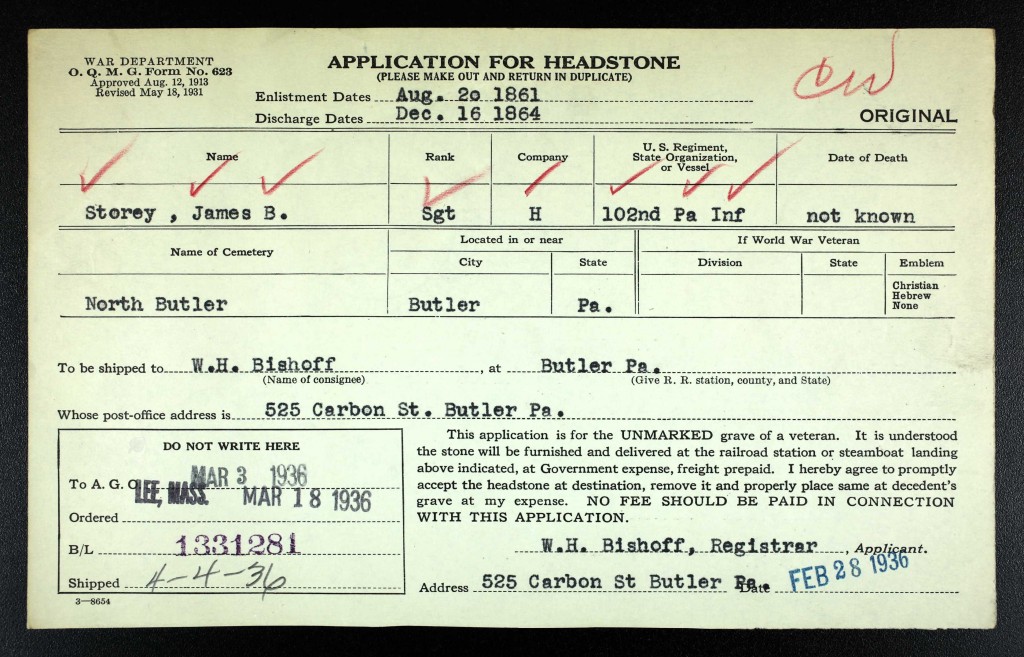 The stone at Harrisburg is for the Sergeant who died in 1889.  The stone at Fredericksburg is for the Private who died in 1864 in the war.  Who then is the stone at Butler for? And is there someone buried there?
An examination of pension records may help clarify this mystery. Were there two persons with the same name – or only one?  And who ordered the military-issue stone for the North Side Cemetery in Butler County in 1936 – and why?
Perhaps someone who has obtained all the above pension application files can clear up this mystery.
—————————–
News clippings are from the on-line resources of the Free Library of Philadelphia.  The headstone application is from Ancestry.com.