Posted By Norman Gasbarro on December 16, 2013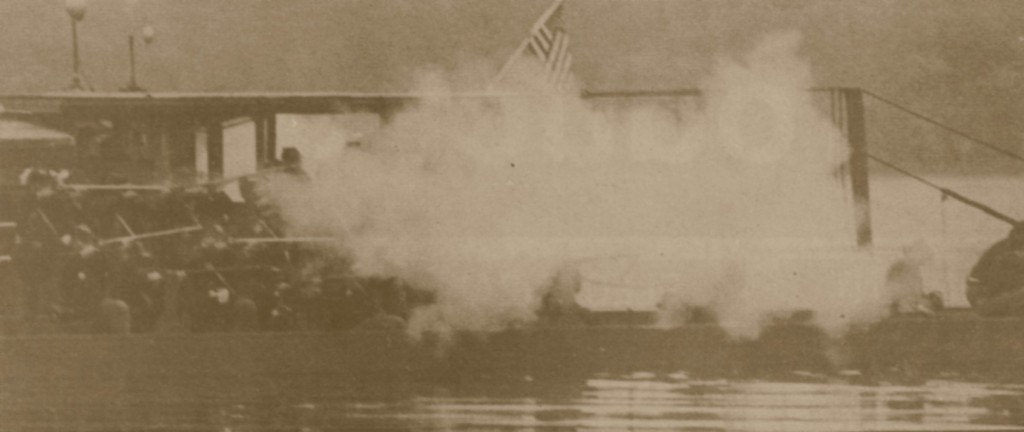 In 1992, in recognition of the 175th Anniversary of the Millersburg Ferry, Civil War re-enactors assembled at Millersburg's Riverfront Park to conduct a mock battle between two ferry boats – the Roaring Bull and Falcon.  During the Civil War, no actual battle took place in the Susquehanna River area surrounding Millersburg, but if one had taken place, it may have looked something like what was reported in the Citizen Standard's 3 June 1992 edition.
According to the article, "smoke flew and cannons blasted in the misty afternoon as the two sides carried out an authentic looking confrontation." The two sides, Yankee and Confederate each boarded one of the two ferry boats which headed out into the Susquehanna to do battle.  Some of the re-enactors came from as far away as Ontario, Canada.  At the conclusion of the battle, the Yankees were successful in preventing the seizure of "Fort Millersburg."
A previous blog article discussed the origins of the Millersburg Ferry and its importance in both the pre-Civil War and Civil War periods.  Many of the boatmen on this ferry, as well as from other ferries that plied the Susquehanna River, ended up volunteering for military service, and while the re-enactment presented in 1992 was a fiction, it is not too far fetched of an idea that the war could have come as far north as Millersburg.  Harrisburg was the primary target for Lee's army when he invaded Pennsylvania in late June 1863 and had he been successful in capturing the Northern Central Railroad line south of Harrisburg, it may have been only day before Pennsylvania's capital fell to the rebels  – and the first major stop north of Harrisburg – which was Millersburg – could have been attacked by both water and land.
Interesting also is the historical marker at Herndon – previously discussed here in the post entitled Did Confederates Enter Trevorton Junction (Herndon) in 1863?  Herndon is just north of Millersburg and the site of a railroad bridge over the Susquehanna River.  There is some element of truth to the claim on the marker that Confederates did cross the river on the bridge and ride into Herndon.
The article on the battle of the ferry boats was accompanied by a 10 picture photo essay by Michael J. Hutchins.  A portion of two of those pictures are shown here in this blog post.