Posted By Norman Gasbarro on December 14, 2013
The obituary of William W. Wallace appeared in the Lykens Standard on 23 October 1914: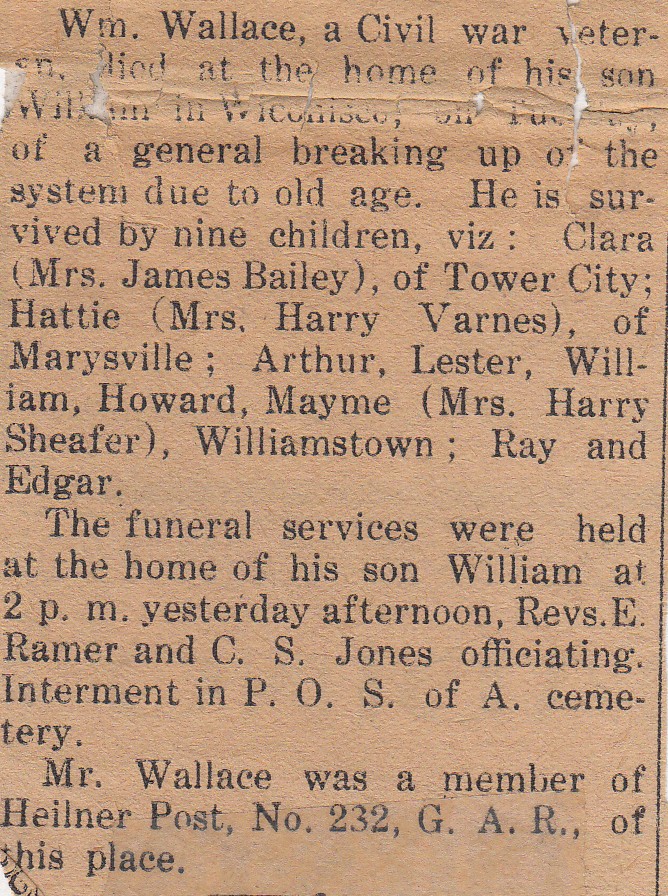 William Wallace, a Civil War veteran, died at the home of his son William Wallace in Wiconisco on Tuesday, of a general breaking up of the system due to old age.  He is survived by nine children, viz: Clara Wallace (Mrs. James Bailey), of Tower City; Hattie Wallace (Mrs. Harry Varnes) of Marysville; Arthur Wallace, Lester Wallace, William Wallace, Howard Wallace, and Mayme Wallace (Mrs. Harry Sheafer) of Williamstown; Ray Wallace and Edgar Wallace.

The funeral services were held at the home of his son William Wallace at 2 p.m. yesterday afternoon, Rev. E. Ramer and S. S. Jones officiating.  Interment in P.O.S. of A. Cemetery.

Mr. Wallace was a member of Heilner Post, No. 232, G.A.R. of this place.
No Pension Index Card has yet been located for William W. Wallace.  However, indications are that he served in the 16th Pennsylvania Cavalry, Company H, as a Private, as shown below on the entry from the 1890 Veterans' Census for Lykens Borough, where he was living in that year.
The 1890 census record notes the dates of service as 17 February 1865 through 11 August 1865, a period of 5 months and 24 days.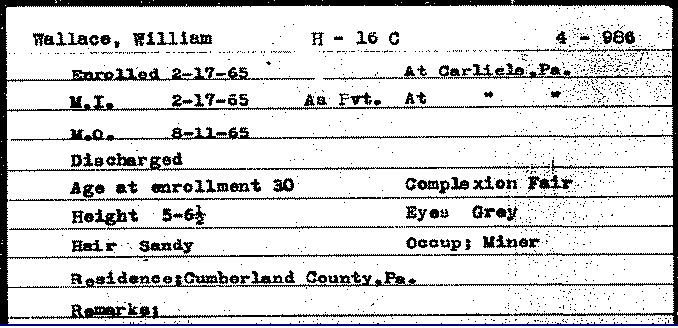 The Pennsylvania Veterans' Card File, available from the Pennsylvania Archives (shown above), confirms the dates of service.  At the time of his enlistment, William Wallace was a resident of Cumberland County, Pennsylvania, was a miner by occupation, was 30 years old, stood 5 foot and 6.5 inches tall, had fair complexion, gray eyes and sandy hair.
Genealogical records from Ancestry.com and other sources point to the marriage of William W. Wallace to Priscilla Spangler in or around 1864 and the birth of their first child, Clara (also known as Caroline), in the same year.  Thus, when William went to war, Priscilla was left to care for a young baby.  The other children were all born in the years after the war.
Later in life, William resided in at least two Soldiers' Homes.  Records available on Ancestry.com show that he was at Dayton, Ohio, in 1909, and at Johnson City, Tennessee, in 1912.  After his wife's death in 1912, he apparently chose to return to the Lykens-Wiconisco area – which is where he died in 1914.
For his Civil War service, William W. Wallace is recognized on the Lykens G.A.R. Monument:

.
At this time, not much more is known about William W. Wallace.  Further information is sought – including if anyone has a picture of him and/or his wife Priscilla.  Comments are always appreciated to blog posts and e-mails are welcome as well!