Posted By Brian Tomlin on December 30, 2013
December 1. First steam passenger railway opens in New Zealand.
December 4. A storm causes major damage to the coast of the Netherlands
December 8. Fire at the Church of the Company (Jesus Church of La Compana) in Santiago, Chile. It is the largest fire ever to have affected the city of Santiago. Between 2,000 and 3,000 people died, probably the most people to die in an accidental fire in any one building anywhere in the world.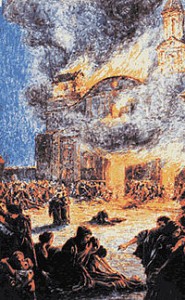 December 15. The fist mountain railway opens in Romania. It runs from Anina to Orvita.
December 15. Gerard Adriaan Heineken buys a brewey in Amsterdam. Gerard Adriaan's emphasis on quality was soon rewarded with Heineken beer winning important international prizes. Heineken was the world's first brewer to found his own laboratory for quality control. Heineken also became the first beer imported to the US, arriving in the 1880s.
December 19. Linoleum is patented in the UK.
December 25. Henry Wadsworth Longfellow writes the poem, "Christmas Bells," also called "Heard the Bells on Christmas Day"