Posted By Norman Gasbarro on December 31, 2013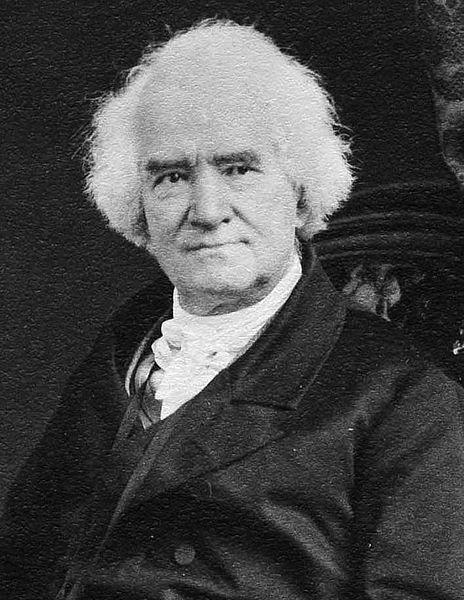 George Mifflin Dallas, born 10 July 1792 in Philadelphia, who had served as Vice President under James K. Polk, died at his home in Philadelphia of a heart attack, 31 December 1864 – one hundred forty-nine years ago today.
In addition to serving as Vice President of the United States (1845-1849), Dallas also was Mayor of Philadelphia (1828-1829), United States Senator from Pennsylvania (1831-1833), and a diplomat who served as Minister to Russia (1837-1839) and to Great Britain (1856-1861), the latter service begun under the presidency of Franklin Pierce and continued through May 1861 of the Lincoln administration.
Dallas' well-known rivalry with James Buchanan led to some interesting policy disputes before and during the Buchanan presidency.  After retirement from the foreign service, Dallas returned to Philadelphia where he took no active part in government and spoke publicly primarily in condemnation of secession.
In an obituary which appeared in the Philadelphia Inquirer on 2 January 1865, the following was noted:
On 31 January 1856, Mr. Dallas was renominated to the United States Senate as Minister to the Court of St. James, on Mr. Buchanan signifying his desire to be recalled from that position.  The nomination was confirmed, and Mr. Dallas represented the United States at that Court with credit to himself and satisfaction to the country.  After the election of Mr. Lincoln, Mr. Dallas, in a speech in this city, proclaimed his unaltered attachment to the Union and detestation of the Rebellion.  Mr. Dallas was a lawyer of great ability, and in all the important positions held by him under the National Government, he displayed marked statesmanship and diplomatic skill.
The Philadelphia Daily Age began its obituary with these words:
The last day of the old year was marked by the death of one of the eminent statesmen whose wisdom guided the councils of our country in its era of prosperity and greatness.
And, in conclusion, the Daily Age stated:
While our city mourns her most distinguished son in civil life, while our country loses a patriot and a statesman, those near and dear to him sustain a loss that is, in this world, irreparable.
Philadelphia-based historian, genealogist and researcher, Ricardo Ben Safed, is currently studying the life and career of George M. Dallas and has written a blog post on him which can be found at Philadelphia's Vice President Geo M. Dallas.  Ric is seeking further information including documents and pictures and can be contacted through his blog.
—————————
The portrait of George M. Dallas is from a daguerreotype and is in the public domain because its copyright has expired (see Wikipedia).  Newspaper quotations are from the on-line resources of the Free Library of Philadelphia.