Posted By Norman Gasbarro on November 16, 2013
Two men, not previously identified as Civil War veterans, were buried in Williamstown with reference to the Chester Post 280, G.A.R. in their obituaries or death notices.
In the 15 Apr 1887 edition of the Lykens Register, in the column entitled "Williamstown Waifs," the following appeared:
An old man by the name of Carpenter, hailing from Perry County, was buried by the Chester Post of the Grand Army.  He was a soldier of the late war and had lived in Williamstown but a short time.
In the 26 August 1891 edition of the Harrisburg Patriot, in the column entitled "Williamstown Items – Doings in a Mining Town in the Upper End of Dauphin County," this appeared: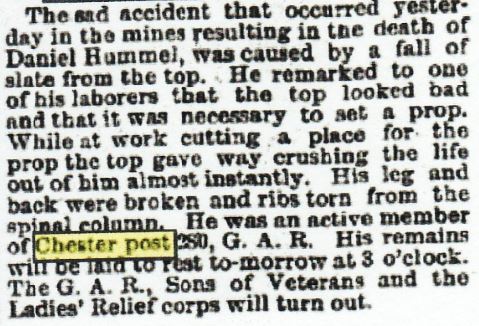 The sad accident that occurred yesterday in the mines resulting in the death of Daniel Hummel, was caused by a fall of slate from the top.  He remarked to one of his laborers that the top looked bad and that it was necessary to set a prop.  while at work cutting a place for the prop the top gave way crushing the life out of him almost instantly.  His leg and back were broken and ribs town from the spinal column.  He was an active member of Chester Post 280, G.A.R.  His remains will be laid to rest to-morrow at 3 o'clock.  The G.A.R., Sons of veterans and the Ladies' relief corps will turn out.
Additional information is sought on "Carpenter" and on Daniel Hummel – as to their regiments and service record and any other information that would be helpful to the Civil War Research Project.  Send by e-mail or add comments to this post.