Posted By Norman Gasbarro on November 19, 2013
The obituaries of two Civil War veterans, John Kauffman and Daniel Harman, as published in the West Schuylkill Herald of 1904, are presented in today's post, along with some additional information about these veterans from the files of the Gratz Historical Society.
—————————
John Kauffman (or Kaufman)
Kauffman's obituary appeared in the West Schuylkill Herald, 11 February 1904:
John Kauffman

John Kauffman age 64 a veteran of the Civil War died in Wiconisco leaving a widow, one son and four daughters.
Previously, John Kaufman was profiled in the post entitled:  Calvary United Methodist Church and Cemetery Wiconisco (Part 5 of 6).  His widow was the former Mary C. Heisler who died in 1932.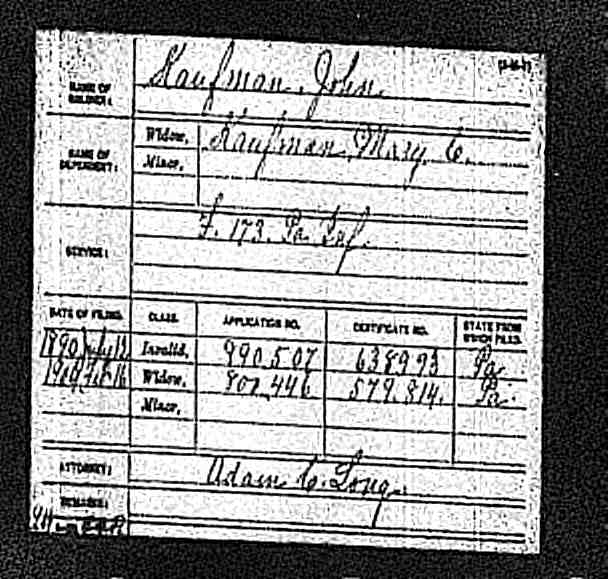 As can be seen from the Pension Index Card (shown above and available through Ancestry.com), John Kaufman applied for and received a Civil War pension and after his death, his widow applied and received benefits until her death.  Adam C. Long, whose name appears on the card, was a noted and popular pension attorney who worked out of Lykens Borough.
In recognition of his Civil War service and noting his membership in the G.A.R., the name of John Kauffman appears on the Lykens G.A. R. Monument.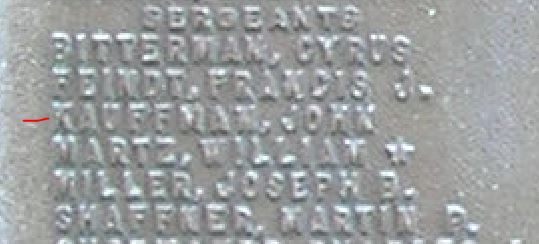 —————————–
Daniel Harman (or Herman)
Daniel Harman's obituary appeared in the West Schuylkill Herald on 12 March 1904:
DANIEL HARMAN

Daniel Harman a veteran of the Civil War died at his home two miles west of town [Gratz Borough] on Sunday May first.  His funeral was at the Hoffman's Church.  He was the father of C. F. Harman and J. A. Harman of Enterline and Berrysburg.
A much more extensive obituary of Daniel Harman appeared in the Lykens Standard and was featured here in the post entitled Death of Daniel Harman.  Also, his gravestone picture and a brief biographical sketch was part of the post entitled Civil War Burials in the Hoffman Church Cemetery (Part 2 of 2).
In 1890, a Daniel Harman was living in Lykens Township and he noted his service in the 177th Pennsylvania Infantry, Company F as a Sergeant.  He also stated that he had developed rheumatism as a disability as a result of that service.
One difficulty here is that two men of the same name may be confused.   Other records show that a Daniel Herman (or Harman) only served in the 36th Pennsylvania Infantry (Emergency of 1863), Company C.
——————————
These two men (and their families) are still being researched as part of the Civil War Research Project.  Help is requested from family members who may have information or pictures to contribute to the Project.