Posted By Norman Gasbarro on November 12, 2013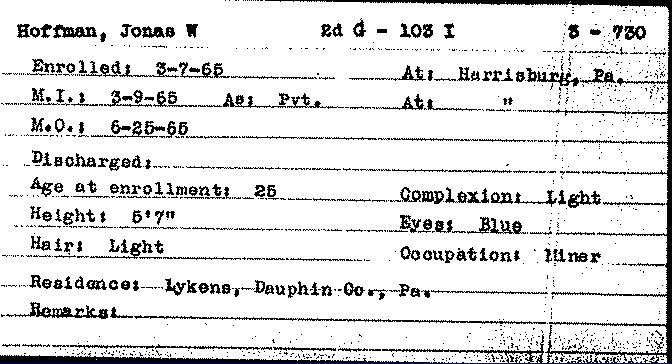 Jonas Hoffman enlisted in the 103rd Pennsylvania Infantry at Harrisburg on 7 March 1865 and was mustered into the 2nd Company G, two days later, 9 March 1965.  Previously some of the wartime activities of this 2nd Company G, 103rd Pennsylvania Infantry, were noted here.  See:  The Second Company G of the 103rd Pennsylvania Infantry.  Jonas served until his discharge at New Berne, North Carolina on 25 June 1865.  At the time of his enrollment, he was a miner living in Lykens Township, Dauphin County, Pennsylvania.  He was 25 years old, was 5'7″ tall, had light hair, light complexion and blue eyes. The Pennsylvania Veterans' Index Card (above), from which this information was taken is from the Pennsylvania Archives.
Jonas Hoffman's obituary appeared in the Millersburg Sentinel, 18 February 1887.
Jonas Hoffman Dead

Last week we announced the death of John Peter Hoffman, father of Col. H. B. Hoffman and this week we are pained to chronicle the death of his brother, Jonas Hoffman of Lykens Township.  The Hoffmans have been prominent in that section for years.  Peter Hoffman settled at the end of Short Mountain in 1749.  John Nicholas Hoffman, Peter's son, was a Captain in the Revolutionary War.  Peter Hoffman, John Nicholas Hoffman's son was a soldier in 1812.  He was the father of John Peter Hoffman.  Jonas was the youngest son and pursued the occupation of miner all his life except when in the army.
A report of his funeral appeared in the 21 February 1887 edition of the Millersburg Sentinel:
Jonas Hoffman

The funeral of Jonas Hoffman on Friday last at the Reformed Church was very large.  The deceased was a soldier in the late war.  He leaves a wife and family.
No picture has yet been located of Jonas Hoffman, but one exists of his wife, Sarah [Rickert] Hoffman, and is shown below.  Considering that since he left a very large family it is possible that there is a picture of him that has been passed down in one branch of the family.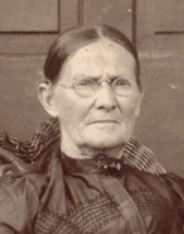 Jonas and his wife are buried at St. Peter's (Hoffman's) Cemetery in Lykens Township.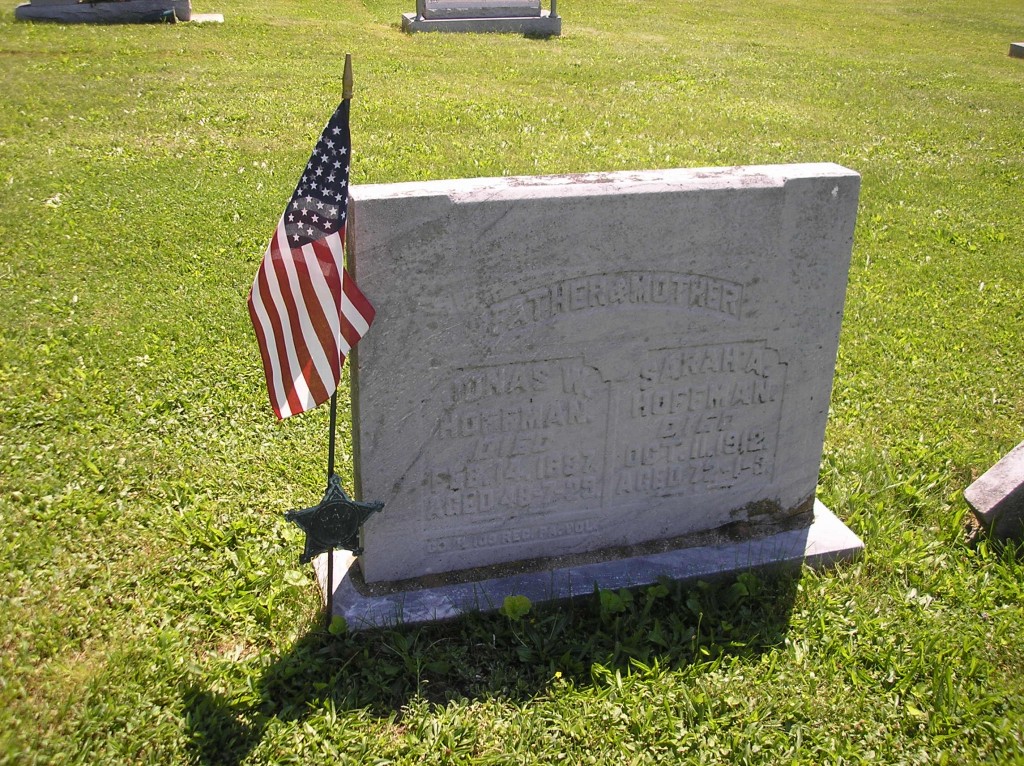 Transcribed obituaries are from the collection of the Gratz Historical Society.  The portrait of Sarah [Rickert] Hoffman is cropped from a picture in the author's private collection.