Posted By Norman Gasbarro on November 7, 2013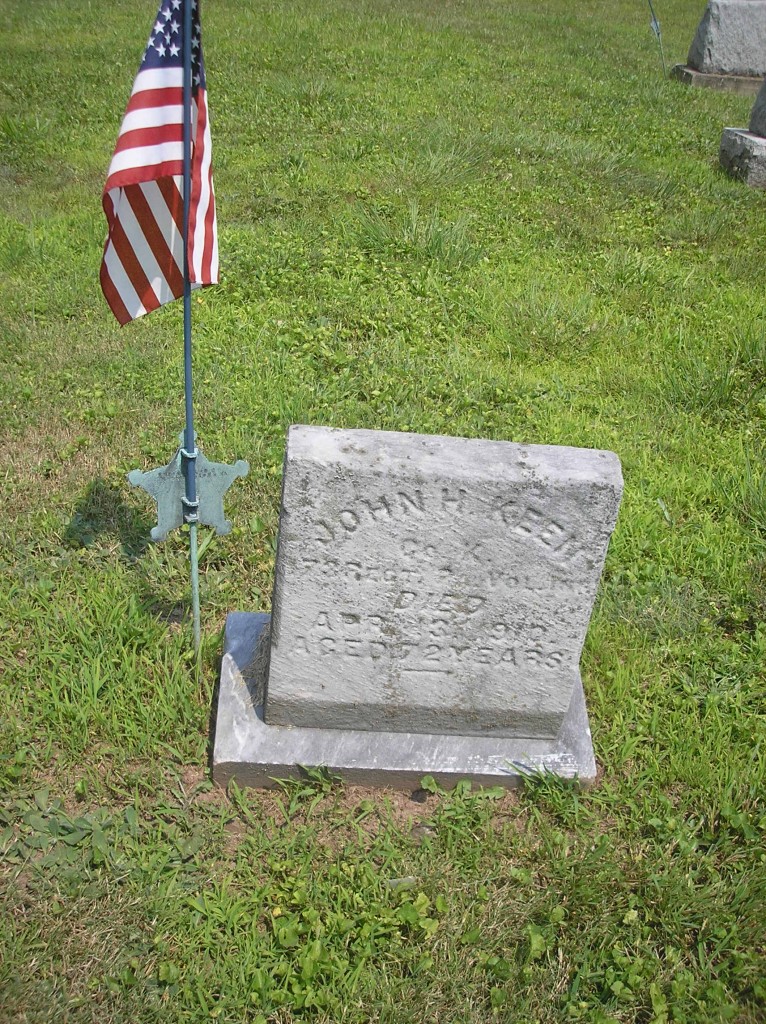 John Henry Keen, also known as Henry Keen or John H. Keen, died in Williamstown, Dauphin County, Pennsylvania, on 13 April 1910.
Previously on this blog, a brief biographical sketch of John Henry Keen was given:
John Henry Keen (1837-1910).  John first served in the 173rd Pennsylvania Infantry, Company K, as a Private.  He mustered in on 3 November 1862 and mustered out 18 August 1863.  During this term of service he got bitten by a horse near Richmond, Virginia.  He then joined the 11th Pennsylvania Cavalry, Company D, as a Private, and served from 12 February 1864 through 13 August 1865.  It must be noted that there are two persons named John Keen who lived in Wiconisco at about the same time.  They were about the same age and their records may be co-mingled.  The one of this burial is believed to the one who was not the blacksmith.  There are records of a John Keen marriage to Catherine Snodgrass and records of a John Keen marriage to Ann M. Poticher. This John Keen worked as an outside laborer at the mines.
Since that information was posted some facts have come to light which clarify some of the confusion evident in that sketch. Four newspaper entries give the following:
From the Harrisburg Patriot of 15 April 1910:
Henry Keen, a life-long resident of this place [Williamstown] and a veteran of the Civil War, died last evening shortly after six o'clock after a lingering illness.  Chester Post G.A.R. will have charge of the funeral.
From the Harrisburg Patriot of 20 April 1910:
Williamstown – The funeral of Henry Keen took place from his home on Saturday forenoon.  His remains were interred in the Wiconisco Cemetery.  The funeral was in charge of the Chester Post, G.A.R.  Among the other organizations were the members of the [Women's] Relief Corps and the General J. P. S. Gobin Camp, Sons of Veterans.  A delegation of the Patriotic Sons of America formed the firing squad.  Rev. W. N. Boyer officiated.  Mr. Keen was a member of the One Hundred and Seventy-Third regiment [173rd Pennsylvania Infantry] , and after his enlistment expired re-enlisted in a cavalry company.
From the Lykens Standard, 22 April 1910:
HENRY KEEN

Henry Keen of Williamstown died at 8 p.m. on Wednesday last week of paralysis age 72 years.  He was a Civil War veteran of Company D, 11th Regiment Pennsylvania Volunteer Cavalry from 14 February 1864 to 13 August 1865, discharged in Richmond, Virginia.  He was twice married.  Two daughter of the first wife survive:  Mrs. James Miller and Mrs. Charles Shell.  One brother William Keen of Dayton, one sister Mrs. Mary Kellman of Tower City.  He married Ann Poticher, 22 March 1897, and she and these children survive:  Katie Keen, Rosie Keen, Ellen Keen, Margaret Keen, Joseph Keen and John Keen.  He was buried in Wiconisco.
Finally, from the Harrisburg Patriot, 12 May 1910:
Arrangements are being made to send the children of the late Henry Keen to the Soldiers' Orphan Home.  This has been done chiefly through the efforts of the members of the Grand Army of the Republic.
While some things are clarified by these articles – for one, that Ann Poticher was the second wife of Henry Keen and they were married in 1897 – other things are now more confused.  Of the names of the children that appear in the obituary, there are only two matches with names that appear in Ancestry.com family trees – Kate and Joseph.  It appears from those family trees that Kate was a child of the first marriage (born about 1860) and Joseph (born about 1897), a child of the marriage with Ann.  New information is that the children (assuming to be those under 16) were sent to the Soldiers' Orphan Home – but which children and of which wife?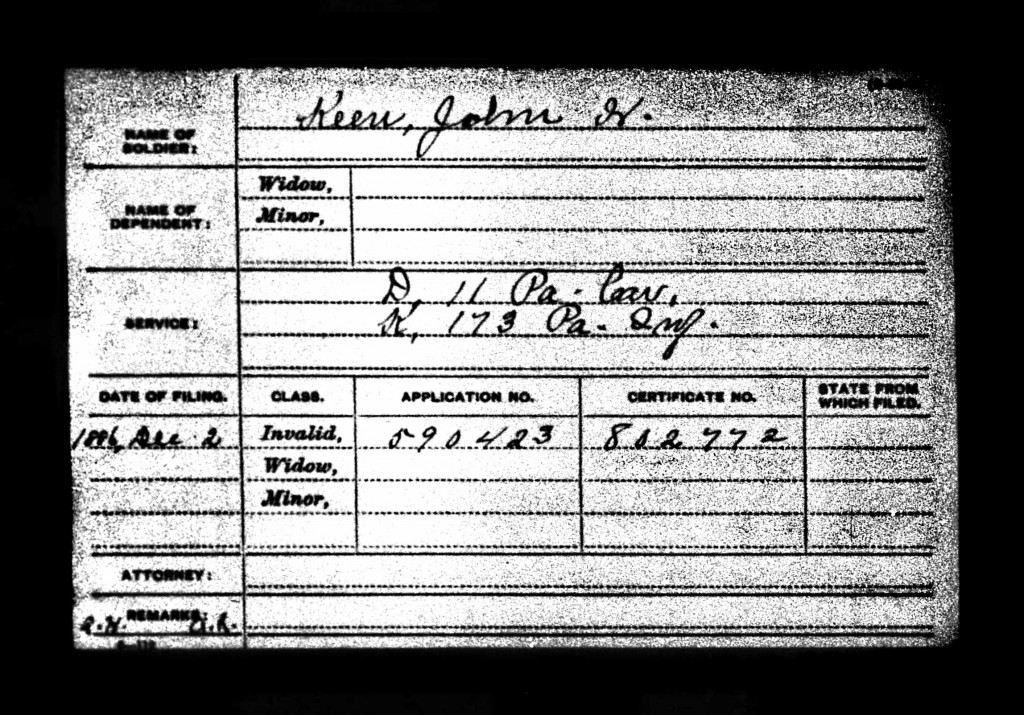 The Pension Index Card (shown above) is from Ancestry.com.  It shows that John H. Keen applied for an invalid pension in 1886, which (if the information on the Ancestry.com family trees is correct, is about 5 years before his first wife died – and eleven years before his second marriage).  The pension was awarded and presumably was collected until his death in 1910.  Noticeably absent from the Pension Index Card is any reference to a widow's application or minor's application – surprising because copies of papers from the pension file do indicate that Ann [Poticher] Keen did apply.  However, she was rejected.
In the pension file there is a statement of how Henry Keen received his disability:
[H]e was disabled by a strain in the back resulting from the bite of a horse, near Richmond, Va., latter part of February or beginning of March 1865.
Henry Keen did receive a pension; after he died, Ann Nora [Poticher] Keen submitted her paperwork.  She proved she was married to Henry Keen, but she could not prove anything about the previous marriage of Henry Keen although she stated the date of death of Henry's first wife.

Her marriage to Henry Keen had taken place on 22 March 1897 in Williamstown and his first wife had died 11 June 1891.  After extensive attempts to prove that Henry was legally married before she married him, she withdrew her pension application with the following statement sent through Justice of the Peace William Blanning:
The above name Annie N. Keen, could not get all the proofs required especially witness to her husband's first marriage.  So now she will bother no more; she has gone to the county poor house.
Research on this veteran is on-going.  The Gratz Historical Society only has copies of some parts of the pension application file.  Perhaps another researcher can tell the rest of the story.  Was Henry Keen really married to his first wife?  Was Ann [Poticher] Keen entitled to a widow's pension?  Did she end up in the county poor house?  And, what happened to the children?  Comments can be added to this post or e-mailed to the Civil War Research Project.