Posted By Norman Gasbarro on November 5, 2013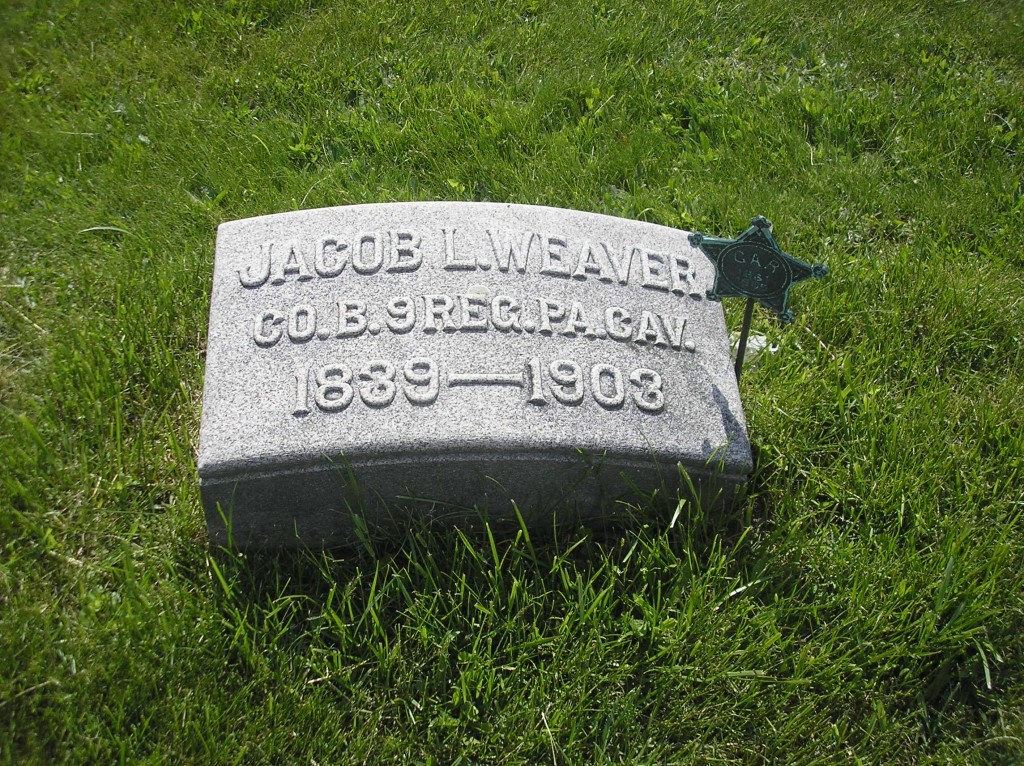 Additional information has been located on Jacob L. Weaver of Elizabethville, Dauphin County, who served in the 9th Pennsylvania Cavalry during the Civil War.
The obituary of Weaver appeared in the Harrisburg Patriot on 22 January 1903:

Jacob L. Weaver, who died of pneumonia on Friday, was buried in the Maple Grove Cemetery on Monday.  Services were held in the Reformed Church and the sermon was preached by Rev. Mr. Zimmerman.
The next day, the Lykens Standard published the following information:
JACOB L. WEAVER

Jacob L. Weaver died of inflammation of the lungs in Elizabethville will be buried in Maple Grove Cemetery.  He was a son of the late Jacob Weaver, brother of Josiah Weaver of Killinger.  He was 63.  He was brought up in Lykens Valley, lived there except while he was in the Civil War.  He was a Private in Company B, 9th Pennsylvania Cavalry.
According to information found on the Pennsylvania Veterans' Index Card (available from the Pennsylvania Archives), Jacob L. Weaver enrolled in the 9th Pennsylvania Cavalry on 19 September 1861 at Berrysburg.  He was mustered into service as a Private in Company B at Harrisburg on 7 October of the same year.  He was 22 years old, 6'1″ tall, had brown hair, dark eyes and dark complexion.  He was born in Dauphin County and at the time he enrolled was living in Dauphin County and working as a farmer.  On the 1 January 1864, he re-enlisted at Mossy Creek, Tennessee, for three years or the duration of the war.  His honorable discharge came on 18 July 1865.
Jacob was married to Elizabeth Hassinger who survived him.  According to records at the National Archives, he never applied for a Civil War pension.  However, his widow Elizabeth did apply and she received benefits until her death in 1926.
The name of Jacob Weaver appears on both the Lykens G.A.R. Monument and the Soldier Memorial in Millersburg:


Jacob is buried at Maple Grove Cemetery in Elizabethville and his wife Elizabeth is buried next to him.  The grave marker (show at the top of this post) recognizes his service in the 9th Pennsylvania Cavalry.
Additional information is sought about Jacob L. Weaver and his service in the Civil War as well as family information.  Add comments to this post or send by e-mail.  Does anyone have a picture of Jacob L. Weaver that they would be willing to contribute?
The pictured news clipping is from the on-line resources of the Free Library of Philadelphia.  The transcribed obituary is from the collection of the Gratz Historical Society.