Posted By Norman Gasbarro on October 6, 2013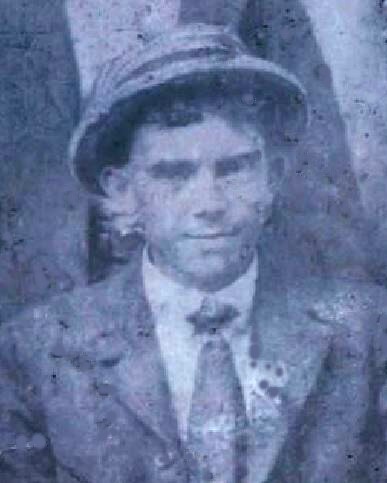 Israel Seiders was born on 1 September 1838 in Matamoras, Dauphin County, Pennsylvania, the son  Henry Seiders (also known as Zeiders) and Mary [Miller] Seiders,  His mother was a descendant of the Enders family, early pioneer settlers of the area near Halifax Township.  He died on 4 May 1904, and the next day, his obituary appeared in the Harrisburg Patriot: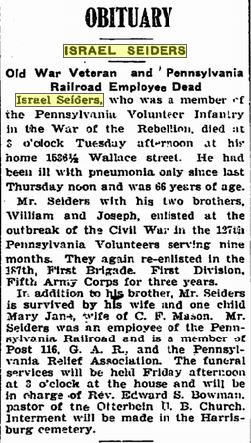 OBITUARY
ISRAEL SEIDERS
Old War Veteran and Pennsylvania Railroad Employee Dead
Israel Seiders, who was a member of the Pennsylvania Volunteer Infantry in the War of the Rebellion, died at 3 o'clock Tuesday afternoon at his home 1536 1/2 Wallace Street.  He had been ill with pneumonia only since Thursday noon and was 66 years of age.

Mr. Seiders with his two brothers William Seiders and Joseph Seiders, enlisted at the outbreak of the Civil War in the 127th Pennsylvania Volunteers [sic, 172nd Pennsylvania Infantry] serving nine months.  They again re-enlisted in the 187th  [187th Pennsylvania Infantry], First Brigade, First Division, Fifth Army Corps for three years.

In addition to his brother, Mr. Seiders is survived by his wife and one child, Mary Jane, wife of C. S. Mason.  Mr. Seiders was an employee of the Pennsylvania Railroad and is a member of Post 116, G.A.R., and the Pennsylvania Relief Association. The funeral services will be held Friday afternoon at 3 o'clock at the house and will be in charge of Rev. Edward S. Bowman, pastor of the Otterbein U.B. Church.  Interment will be made in the Harrisburg Cemetery.
Israel Seiders' war record was described in detail in Captain Enders Legion:
He served with Company A, 172nd Pennsylvania Drafted Militia from 22 October 1962 to 31 July 1863.  On 2 Dec 1862, the regiment proceeded to Washington and after a halt of two days moved by transports to Newport News, Virginia.  It remained for a week, busily engaged in drill, at the end of which, they marched to Yorktown and relieved the 52nd Pennsylvania [52nd Pennsylvania Infantry] at the fort.  Here the 172nd was soon settled in quarters where it spent the greater part of its term of service.  The troops were kept employed in garrison duty and drill in infantry, light and heavy artillery practice.  Early in July 1863, it was ordered to Washington and then proceeded to Hagerstown, Maryland where it was attached to the Eleventh Corps.  It joined in pursuit of the Confederate Army to Williamsport and after the escape of the enemy across the Potomac, marched with the Eleventh Corps to Warrenton Junction.  Its term of service then expired and the regiment returned to Harrisburg where it was mustered out on 1 Auustg 1863.

On 29 March 1864, Israel reenlisted in Company H, 187th Pennsylvania Volunteer Infantry.  His military records describe him as being 5′ 6″ tall, with gray eyes, dark hair and a dark complexion.  Like most of the men written about in this book, Israel suffered hardships during his military service.  Upon arriving at the lines of Petersburg, Virginia, on the night of 16 Jun 1864, the 187th Pennsylvania had the following experience as described in History of the First Battalion Pennsylvania Six Months Volunteers and 187th Regiment Pennsylvania Volunteer Infantry by James M. Gibbs:

"Here was the first experience of a water famine.  The fatiguing march was accomplished by the accustomed growling and word went along the line that the Division would halt as soon as water was reached.  At last it was found, fit probably, for thirsty soldiers, but certainly for none else.  A green slime floated on the surface, a skillful but sudden movement with the bottom of the tin cup, opened the scum, and then a hurried dip before it closed again, supplied a cupful.  So urgent was the thirst that the foul, slimy liquid was swallowed with avidity, regardless of taste or consequence.  With the daylight an attempt to wash in this swampy bayou was speedily abandoned.  It revealed hosts of forbidding animalculae, tadpoles, 'zig-zaggers,' and every squirming insect that found life and comfort in such repulsive quarters.  The flavor of the morning coffee disappeared in galling bitterness.  Rather than fill canteens, the men moved on in hopes of finding something better.  They soon discovered their mistake, instead of finding better, there was none at all.  In the section the Army was approaching, and that was long to be its home, there was no water on the surface during the hot season just at hand.  At every change of position it was first to dig for cover then dig for water."

On 18 Jun 1864, Israel participated in the fierce charge led by Colonel Joshua Chamberlain at Petersburg.  Both Chamberlain and Israel's brother Joseph were seriously wounded in the engagement.  The regiment was next in action on the Jerusalem Plank Road and Weldon Railroad 21-23 June and held in reserve during the Battle of the Crater on 30 July.  They then fought in the battle for the Weldon Railroad, 18-21 August.  The 187th remained at Petersburg until 22 September 1864 when they were ordered to Philadelphia for garrison and escort duty at Camp Cadwalader.  They also served as Guard of Honor over remains of President Lincoln in Independence Hall, Philadelphia and escort to the funeral cortege in May 1865.  Israel was mustered out as a Private on 3 August 1865.
In September 1860, in Buchanan County, Missouri, Israel married Elizabeth Francis Williams, born 20 June 1840.  The couple had a child, Mary Jane Seiders who was born 6 September 1860.  However, Elizabeth died on 9 June 1862, and Israel returned to Dauphin County with his daughter.  Israel's connection with Missouri was through his Enders family cousin Daniel Seal Jr. [Daniel's mother and Israel's mother were sisters], a resident of Missouri who spent summers in Enders, Dauphin County.  But when the war broke out, Daniel Seal Jr. joined the Confederate Army and was later mortally wounded at the Battle of Kennesaw Mountain.  On 24 March 1864, Israel married Mary Jane Heinkel.  No children were born of this second marriage.  Mary Jane [Heinkel] Seiders died 15 August 1914 in Harrisburg.  Mary Jane Seiders, Israel's daughter of the first marriage, eventually married a man named C. S.Mason, who is mentioned in the obituary.
Additional information about Israel Seiders is sought.  Comments can be added to this post or sent by e-mail to the Civil War Research Project.
—————————
The portrait of Israel Seiders at the top of this post was adapted from one of the Seiders' brothers found attached to an Ancestry.com tree.  The obituary is from the on-line resources of the Free Library of Philadelphia.