Posted By Norman Gasbarro on October 22, 2013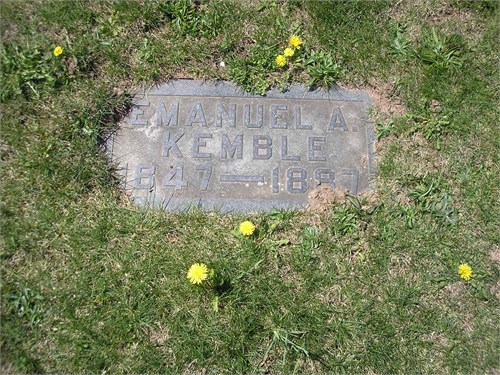 Emanuel Kembel, also found in the records as Emanuel A. Kemble, was a veteran of the Civil War, having served in the 36th Pennsylvania Infantry (Emergency of 1863), Company C, as a Private, from 4 July 1863, through his discharge at the end of the emergency on 11 August 1863.  This militia regiment was formed from the Gratztown Militia which was previously described here in the post entitled The Gratztown Militia and the Home Guards.  Since this militia service was his only known wartime service, the six weeks were not enough to qualify him for a veterans' pension; no pension application file has been located.
Emanuel Kemble is buried in the Gratz Union Cemetery, Gratz, Dauphin County, Pennsylvania, and it was previously noted here that he is recognized as a Civil War veteran by the local veterans' organization.  See:  Gratz During the Civil War – Cemeteries (Part 2).  His grave is decorated on each Memorial Day and Veterans' Day by the local Veterans of Foreign Wars Post.
An obituary of Emanuel Kembel appeared in the Millersburg Sentinel of 13 May 1887 and is reproduced below as found in the transcribed records of the Gratz Historical Society:
Emanuel A. Kemble

Emanuel A. Kemble, a respected citizen [of Gratz] died on Sunday of miner's asthma.  The funeral was well attended by several lodges.
The cause of death, miner's asthma, was related to his work in the local mines – first as a laborer, and then in the 1880 census as a miner.  It is not known at this time which lodges Emanuel may have been a member of.  There were several in Gratz in the period after the Civil War.
Emanuel was married to the former Fietta Maurer who survived him and lived until 1937.  In 1890, she was living in Upper Mahantongo Township, Schuylkill County, as Mrs. John Martz.  Records at the Gratz Historical Society indicate that she married John Martz and later moved to Shamokin, Northumberland County.
More information is sought on Emanuel A. Kembel.  Readers are asked to comment to this post or to submit information by e-mail.