Posted By Norman Gasbarro on October 24, 2013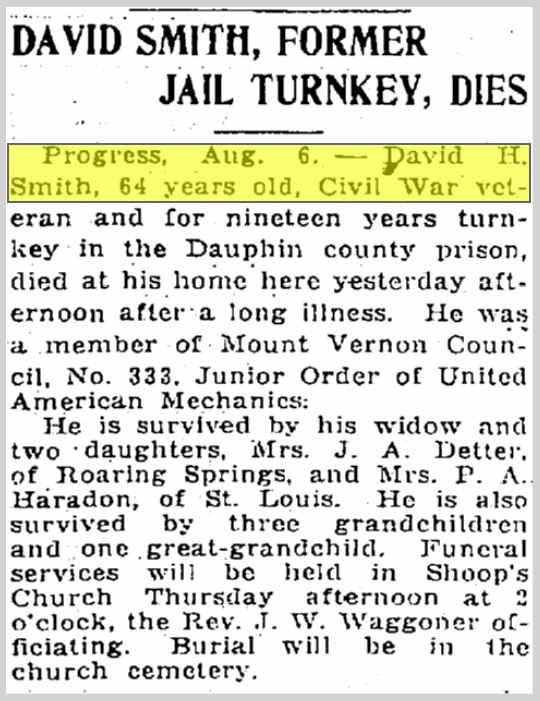 DAVID H. SMITH, FORMER JAIL TURNKEY DIES

Progress [Dauphin County, Pennsylvania], 6 August 1917 — David H. Smith, 64 years old, Civil War veteran, and for nineteen years turnkey in the Dauphin County Prison, died at his home her yesterday after a long illness.  He was a member of Mount Vernon Council, No. 333, Junior Order of United American Mechanics.  He is survived by his widow and two daughters, Mrs. J. A. Detter of Roaring Springs, and Mrs. P. A. Haradon of St. Louis.  He is also survived by three grandchildren and one great-grandchild.  Funeral services will be held in Shoop's Church [Harrisburg], Thursday afternoon at 2 o'clock, the Rev. J. W. Waggoner officiating.  Burial will be in the church cemetery.
On his gravestone in Shoop's Cemetery, the regiment and company of David H. Smith is identified as the 47th Pennsylvania Infantry, Company H.  The result of the search in the Pennsylvania Veterans' Card File (Pennsylvania Archives) is the following: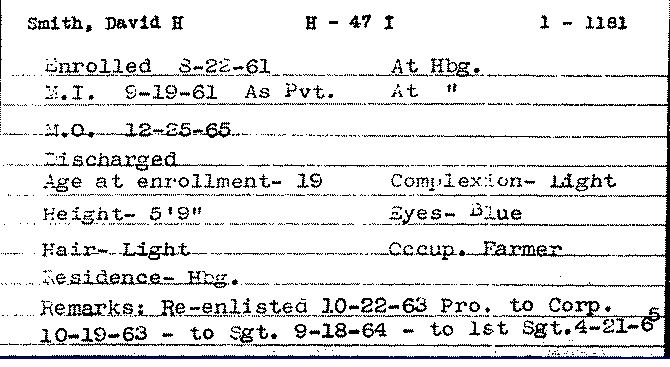 David H. Smith enrolled at Harrisburg on 22 August 1861 as a Private in Company H of the 47th Pennsylvania Infantry.  He was mustered into service on 19 September 1861, also at Harrisburg.  At the time, he was 19 years old, stood 5′ 9″ tal, had a light complexion, light hair and blue eyes.  He gave his occupation as "farmer" and his residence as Harrisburg.  During the course of his service he re-enlisted on 22 October 1863 three days after receiving a promotion to Corporal and about a year later received a promotion to Sergeant.  His final promotion came on 21 April 1865 when he achieved the rank of 1st Sergeant and later that year, on Christmas Day, he was discharged.
The 1880 Census for Progress has David H. Smith working in a car shop.  Presumably, he was working at the Dauphin County Prison when the Halifax Bank robbers were taken there for trial and when they were executed in the yard of the jail.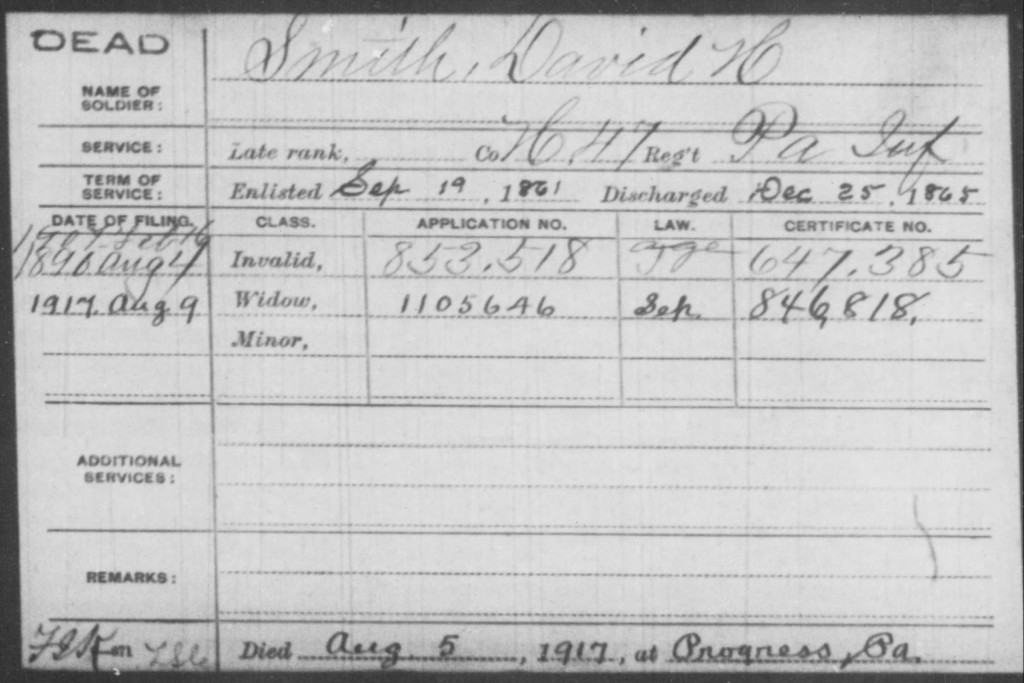 For his Civil War service, David H. Smith was eligible for a pension (Pension Index Card, above, from Fold3), which he applied for in 1890, and later applied for an increase in 1907.  After his death in 1917, his widow Matilda applied for benefits, which she collected until her death in 1926 (her death year from grave marker, pictured above).
More information is needed on David H. Smith (1843-1917), particularly stories about his Civil War service and his time as the turnkey in the Dauphin County Prison.  Also needed are pictures of him and his family.  Add comments to this post or send via e-mail.