Posted By Norman Gasbarro on October 8, 2013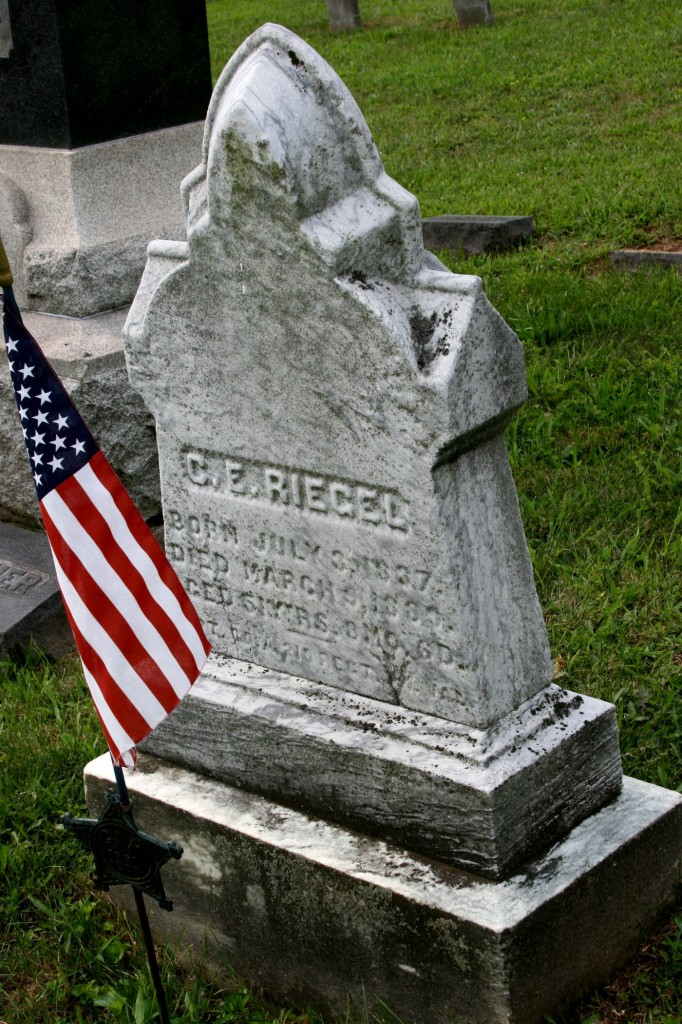 Previously on this blog, a brief sketch of Civil War veteran Charles E. Riegel was presented.  See:  Riegel Family Veterans of Pennsylvania Civil War Regiments (Part 1 of 7).  Capt. Riegel is buried Messiah Lutheran Church Cemetery in Fisherville, Dauphin County, Pennsylvania.
An obituary for Captain Riegel has now been located in the Millersburg Herald of 15 March 1889 and is presented here:
DEATH OF CHARLES E. RIEGLE

At midnight Saturday, Capt. Charles E. Riegle, Clerk to the County Commissioners died at his residence at East Harrisburg after an illness of several weeks, and by a stroke of paralysis.   From the first it was feared by friends that the stroke would prove fatal, but Mr. Riegle did not share in this idea, and insisted that he would get well.  His vigorous constitution however broke down and during Saturday it was seen that the end was near.  His wife and two sons were with him when he died.  Capt. Riegle was born near Gratztown in 1837 and learned the trade of coachmaking with the late R. J. Fleming in Harrisburg.  Subsequently, he engaged in farming near Fisherville and during the war he an commissioner Bixler organized Company A, 210th Pennsylvania Volunteers [210th Pennsylvania Infantry], he being Captain and Mr. Bixler Lieutenant.   After the war he and Mr. Bixler engaged in coach making, but when the latter was elected commissioner he succeeded in having Mr. Riegle made clerk, a position he held to his death.  His second wife and six children by his first wife survive.  The deceased was a member of the Odd Fellows, G.A.R. Post Fisherville, and Mt. Vernon Fire Company of Harrisburg which organization will attend his funeral.  The funeral took place yesterday (Thursday) afternoon.
Based on information found in the obituary in the Millersburg Herald, a search was made of the Harrisburg Patriot for their obituary of Charles E. Riegle, with the following result which was printed in the 11 March 1889 edition of that paper: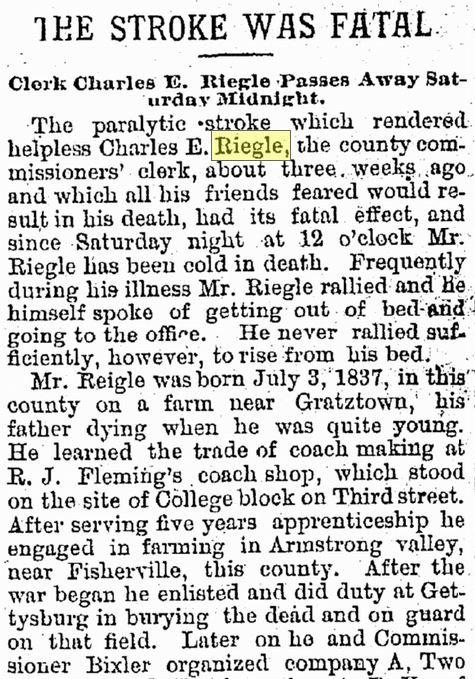 THE STROKE WAS FATAL

Clerk Charles E. Riegle Passes Away Saturday Midnight

The paralytic stroke which rendered helpless Charles E. Riegle, the county commissioner's clerk, about three weeks ago and which all his friends feared would result in his death, had its fatal effect and since Saturday night at 12 o'clock Mr. Riegle has been cold in death.  Frequently during his illness Mr. Riegle rallied and he himself spoke of getting out of bed and going to the office.  he never rallied sufficiently, however, to rise from his bed.

Mr. Riegle was born 3 July 1837 in this county on a farm near Gratztown, his father dying when he was quite young.  He learned the trade of coach making at R. J. Fleming's coach shop, which stood on the site of College Block on Third Street.  After serving five years apprenticeship he engaged in farming in Armstrong Valley, near Fisherville, this county.  After the war began he enlisted and did duty at Gettysburg in burying the dead and on guard on that field.  later on he and Commissioner Bixler organized Company A, Two Hundreth and Tenth Regiment, P. V., of which Mr. Riegle afterward became Captain and Commissioner Bixler first Lieutenant.  After the rebellion had ended Mr. Riegle engaged in the coach making business, for a time on his own account, and later with Mr. Bixler, who has always been his most intimate friend.  Four years ago he was appointed chief clerk to the county commissioners, a position he retained at the time of his death.  He was a member of the Odd Fellows and the G.A.R. post at Fisherville.  Six children, four of whom live in Minnesota and two in Harrisburg survive him.  He was married twice, his first wife dying three years ago; his second wife lives to mourn his death.

Mr. Riegle was an efficient clerk, faithful in his duties and always true to his friends, whom he counted by the hundreds.  His death will be generally regretted.

The Mt. Vernon Fire Company, of which deceased was a member, will attend the funeral in a body.
The obituary that appeared in the Harrisburg Patriot mentioned Charles E. Riegle's service in the militia which helped clean up and patrol the Gettysburg battlefield after the battle and his service in the 210th Pennsylvania Infantry.  It ignored one other regiment in which Capt. Riegle participated, namely the 6th Pennsylvania Infantry, Company E (he served as a Private).   Pennsylvania Archives Veterans' Index Cards for the 6th Pennsylvania Infantry and the 210th Pennsylvania Infantry are pictured below: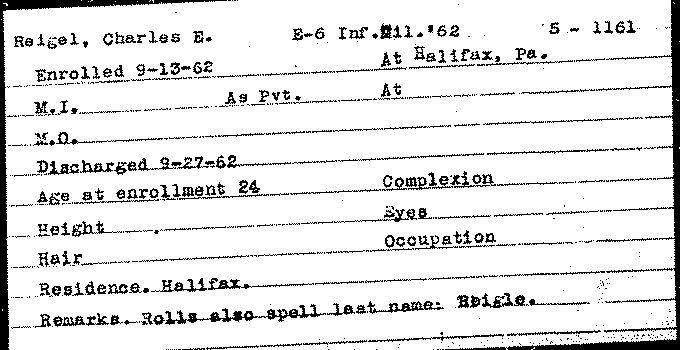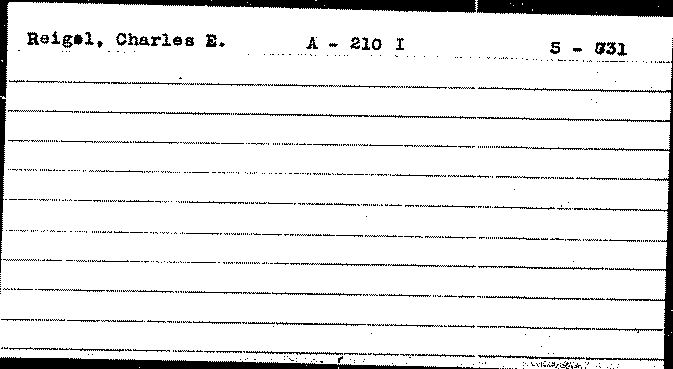 No record has been located that indicates Charles E. Riegle applied for a pension, nor is there any record that his second wife applied for widow's benefits.  This would seem to suggest that he did not have any war-related injuries or disabilities.  He died before the rules were relaxed in 1890 after which veterans were eligible based on old age.
In addition to the Riegle Family post mentioned above, the following prior blog posts also mention Charles E. Riegel (spelling of the surname may vary – Riegel, Riegle, Reigle, Reigel, etc.):   History of the Dauphin County Civil War Monument – Part 2, The 1863 Draft for Upper Dauphin County and The Gratztown Militia and the Home Guards.
The Civil War Research Project is seeking additional information about Charles E. Riegel [CW#R098] for its files.  Of particular interest are pictures and stories.  Submissions may be sent by e-mail or information may be added in the comments section below.
—————————–
The first obituary of Charles E. Riegel is from a collection of transcribed obituaries at the Gratz Historical Society.  The obituary from the Harrisburg Patriot is from the on-line resources of the Free Library of Philadelphia.