Posted By Norman Gasbarro on October 26, 2013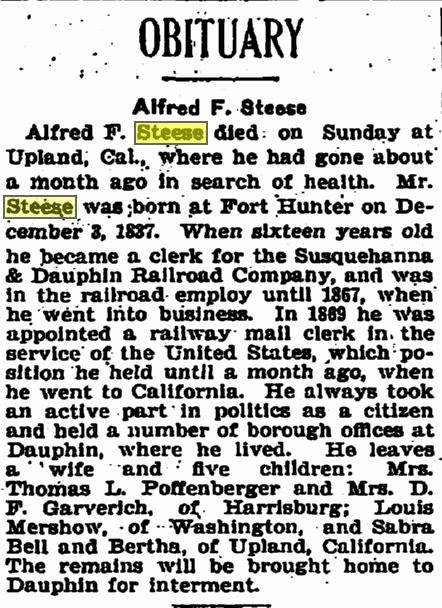 The obituary of Alfred David Frederick Steese appeared in the Harrisburg Patriot on 10 March 1903.  While it stated that he was active in local politics, it failed to note his role during the Civil War – that of boatman and railroad engineer, working for the United States Government.  Also, he was twice captured and held as a prisoner of war.  Although he was not a veteran of the military, he did register for the draft, but he was not called to serve.  Two of his brothers did serve in the military and one of his wife's brothers was killed at the Battle of Missionary Ridge and another of his wife's brothers participated in Sherman's March to the Sea, and a third of his wife's brothers served in the Union Army for nine months.
OBITUARY

Alfred F. Steese

Alfred F. Steese died on Sunday at Upland, California, where he had gone about a month ago in search of health.  Mr. Steese was born at Fort Hunter on 3 December 1837.  When sixteen years old he became a clerk for the Susquehanna and Dauphin Railroad Company, and was in the railroad employ until 1867, when he went into business.  in 1869, he was appointed a railway mail clerk in the service of the United States, which position he held until a month ago when he went to California.  He always took an active part in politics as a citizen and held a number of borough offices at dauphin, where he lived.  He leaves a wife and five children:  Mrs. Thomas L. Poffenberger and Mrs. D. F. Garverich, of Harrisburg; Louis Mershow Steese, of Washington; and Sabra Bell Steese and Bertha Steese of Upland, California.  The remains will be brought home to Dauphin for interment.
Alfred F. Steese was buried in the Dauphin Cemetery in Dauphin Borough, Dauphin County, Pennsylvania.
When the Commemorative Biographical Encyclopedia of Dauphin County was published, a sketch of Mr. Steece's life was included on pages 873-874:
Alfred David Frederick Steece, railway postal clerk, was born at Fort Hunter, Susquehanna Township, Dauphin County, 4 December 1837.  He is a son of Frederick Steece and Catherine [Hassinger] Steece.  His grandfather, Frederick Steese, was married three times and had a family of eighteen sons and three daughters.  Frederick Steese Jr., father of Alfred D. F. Steece died aged 67 years.  His wife was born in 1800 and died 19 August 1876.  They had nine children: Reuben H. Steece; Josiah G. Steece; Julia A. Steece, wife of James Reed; Aaron W. Steece; Sabra M. Steece, widow of Augustus Bell; Jane Steece, wife of Thomas Milliken Esq.; Catherine Steece; Elizabeth Steece; Barbara Steece; and Alfred D. F. Steece.  The family removed to Dauphin, Pennsylvania, 1 April 1838.

Alfred D. F. Steece attened the borough school during the winter and worked on the farm during the busy seasons until he was sixteen.  He was for three months in the employ of the Susquehanna and Dauphin Railroad as a brakeman on a freight train, and was then promoted to be a conductor on a passenger train.  He served one year in that capacity.  He then voluntarily became brakeman on a passenger train, was afterwards made fireman, and so continued for one year.  At the solicitation of his parents he left the railroad service when he was eighteen and they started him at boating on the Pennsylvania Canal from Pittsburgh to Columbia over the Allegheny Mountains on cars, and thence by water to Columbia.  He carried on this business one season, and then became locomotive fireman on the Northern Central Railway on the first locomotive run over the Susquehanna Division under engineer Preston Hall.  He held this position fifteen months and was then promoted to engineer on the old "camel back" Engine No. 31.  He ran the first locomotive into Sunbury on the Northern Central Railroad.  His parents again prevailed upon him to abandon the railroad, and fitted him out with a boat on the Pennsylvania Canal.  He made four trips from Wilkes-Barre to Baltimore, and then sold his boat to the United States Government, being taken into government service and sent with his boat to Washington, D.C.  His boat was loaded with munitions of war and sent to Acquia Creek, where he remained six months and then returned to Dauphin.  He was subsequently prostrated with typhoid fever and was attended to by Dr. J. R. Umberger.  Recovering from this critical illness he returned to Alexandria, Virginia, and took charge of a locomotive on the Orange and Alexandria Railroad in the service of the United States Government. He was captured by the Rebels at Vienna, Fairfax County, Virginia, and barely escaped starvation before he reached the Union base.  He was again captured at Fairfax Station, again released, and made his way back to camp.  He was employed by the government as an engineer until the close of the war.  While he was in the service, two of his firemen were killed by the enemy.  After the war he was again in the service of the Northern Central Railroad Company as an engineer until 1 January 1867.  OP 1 April 1867, he embarked in the mercantile business at Dauphin, Pennsylvania, and was in that business for ten years.   He then failed and for one year was engaged in fishing along the Susquehanna River.  On 29 August 1879, he was appointed railway mail agent and given a route on the Elmira and Baltimore Railway Post Office.  He has held that position since that date, and is truly a veteran railway clerk.  His record is without a blemish, and he enjoys the confidence of the department.

Mr. Steese was married 15 February 1858 to Mary Davis.  They had six children:  Elmina Steese, born 4 October 1866;, died 17 November 1866; Julia Frances Steese, born 26 January 1860, wife of Dr. Thomas L. Poffenberger, dentist, Harrisburg; Louis Mershon Steese, born 11 August 1862; Martha Davis Steese, wife of Dr. F. Gerberich; Sabra Bell Steese, 12 December 1875.

Mr. Steese has been president of the Borough Council of Dauphin for three consecutive years.  He is a Republican.  Since 1867 he has been a member of the Perry Blue Lodge, No. 4, F. & A. M..  The family attend the Presbyterian Church.

Christian Dull, grandfather of Mrs. Steese, married Elizabeth Essex.  They had nine children:  Charles Dull; James Dull; Catherine Dull; Mary Dull; Elizabeth Dull; Sarah Dull; Theresa Dull; Hannah Dull, mother of Mrs. Steese; and Helen Dull.  Rev. John W. Davis, the father of Mrs. Steese, was born at Newburyport, Massachusetts.  He was the son of John Davis, and was a Presbyterian minister.  He had charge of the church at Dauphin at the time of his death, which occurred 14 of 15 August 1868.  He resided in New York before coming to Dauphin.  His wife, Hannah Dull, was born in 1808, and died 13 September 1872.  They had seven children:  Charles A. Davis, served nine months in the Union Army; Elizabeth Davis; Mary Davis, Mrs. Steese; Martha A. Davis, widow of William Blerutter; Thaddeus Davis, killed at the Battle of Missionary Ridge; John W. Davis, participate in Sherman's March to the Sea; Sarah Davis, wife of Martin Hiner of Harrisburg.

Josiah G. Steese and Aaron W. Steese, brothers of A. D. F. Steese, both enlisted in the Union Army, were honorably discharged from the same, and returned home.  Their father, Frederick Steese, was one of the defenders of Baltimore in 1814, when General Ross was shot by the two American youths at North Point near Baltimore.
It can be assumed that Alfred D. F. Steese was an engineer for the United States Military Railroad.  The picture below is of the Orange and Alexandria railroad yard at Alexandria, Virginia:
A summary article on the United States Military Railroad (U.S.M.R.) can be found at Wikipedia.  However, this article lacks documentation and needs expansion.  Perhaps someone familiar with the U.S.M.R. can can supply more information and connect the story with the exploits of Alfred D. F. Steese.  There could not be that many railroad engineers of the U.S.M.R. who were captured twice during the war.
—————————-
The obituary is from the on-line resources of the Free Library of Philadelphia.