Posted By Norman Gasbarro on September 13, 2013
Additional information has been discovered about Simon C. Gratz, the son of Theodore Gratz and Ellen [Carson] Gratz of Gratz, Dauphin County, Pennsylvania.  Simon C. Gratz was the brother of John C. Gratz of the 10th Pennsylvania Infantry and the 96th Pennsylvania Infantry, who died of disease during the Civil War.  They were the grandsons of Simon Gratz, the founder of Gratz, Pennsylvania, and the son of the town's first mayor.
Simon C. Gratz was also a Civil War veteran.  At age 20, he first served with the 2nd Pennsylvania Infantry, Company I, as a Private, and was mustered into service at Harrisburg on 11 May 1861.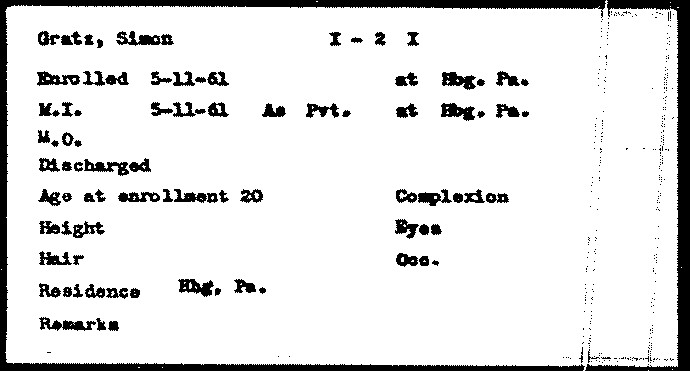 Following this enlistment Simon C. Gratz joined the 127th Pennsylvania Infantry, Company A, as a Corporal, on 16 July 1862 where he served until his discharge on 8 May 1863.  His record in this regiment is under the name of "Samuel Gratz."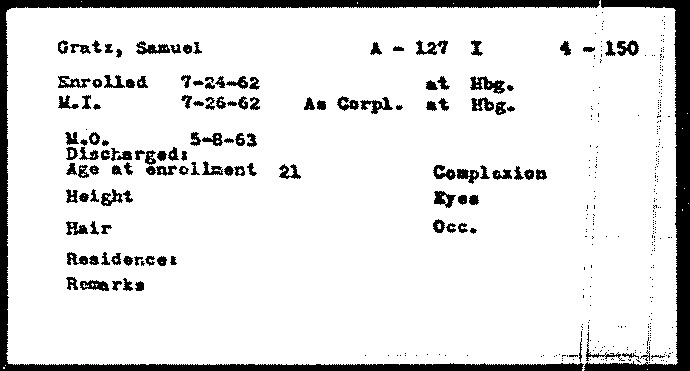 The final Civil War enlistment was with the 4th Arkansas Infantry, Company C, which became the 57th U.S. Colored Troops, where Simon C. Gratz served as Captain through the war's conclusion and beyond into 1866.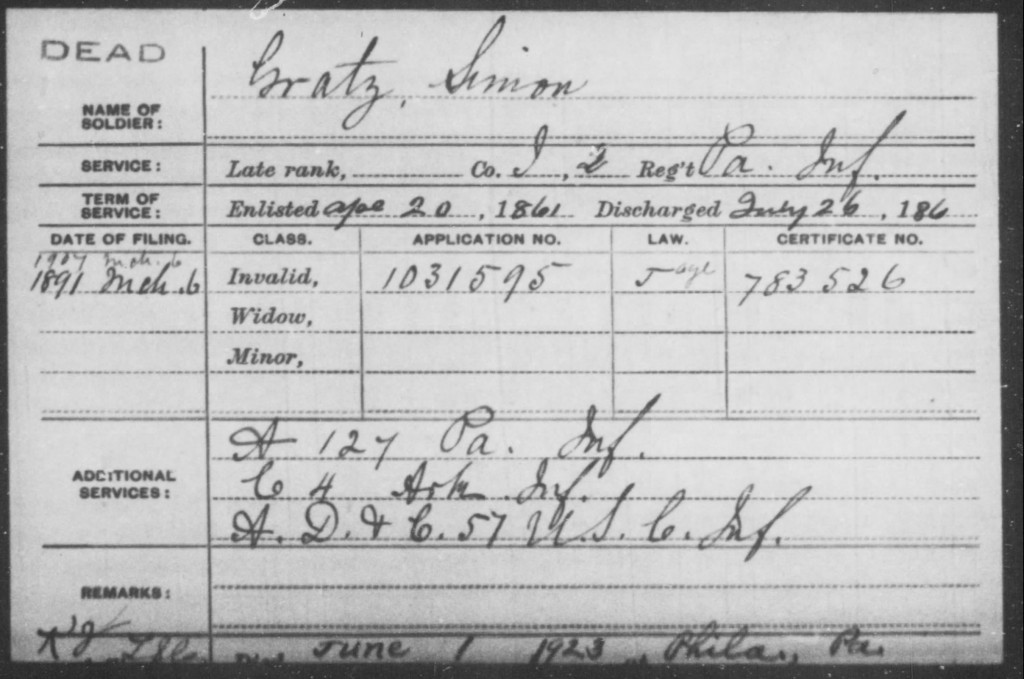 The records of Simon's service in the 57th U.S. Colored Troops along with his prior service, can be found in the Pension Index Cards available through Ancestry.com and Fold3 (one from Fold3 is shown above), and in the actual military records found on Fold3 as well as Returns from Military Posts found on Ancestry.com.  Fold3 has a total of 53 pages from the military records which include information about Simon's arrest and ultimate exoneration while serving as Captain of the 57th U.S. Colored Troops.  Ancestry.com has a total of 11 pages of returns from military posts which cover the immediate period after the Civil War when Simon C. Gratz was serving at Fort Smith, Arkansas, and later at Fort Bascom, New Mexico Territory.
Also found on the Pension Index Card (above) is the fact that Simon C. Gratz died on 1 June 1923 in Philadelphia – a fact not previously known by the Civil War Research Project.
A search of the newspaper files in the on-line resources of the Free Library of Philadelphia produced several articles connecting Simon C. Gratz to the Viginius Affair in 1873. For further information about this international incident, see the Wikipedia article, which gives a good summary of events.  at first, it was thought that Simon C. Gratz was one of those on-board the Viginius who had been executed, but later it was claimed that he may have been the only survivor.
One of the articles gave his birth date as 22 February 1842 (previously only established as "about 1841").  However, his birthplace was given as Harrisburg, whereas information available at the Gratz Historical Society states his birthplace was Gratz [see A Comprehensive History of the Town of Gratz Pennsylvania, p. 13-14] and house where he was born on Market Street in Gratz still stands.  It was not until around 1853 that the family moved to Harrisburg.  Simon was baptized on 27 May 1855, in St. Stephen's Episcopal Cathedral, Harrisburg, after the family moved to Harrisburg.
At this time it is not known if Simon C. Gratz was ever married.  He applied for and received a pension, but when he died in 1923, no widow made claim.  Perhaps if a death record or obituary can be located – or a burial place – additional information about survivors could be obtained.
What was Simon's middle name?  Possibly it was "Carson," which was the maiden name of his mother.  It is also possible that his middle name was "Cameron," which was found in one news article where he was referred to as "Simon Cameron Gratz."
One caution – this is not the same Simon Gratz who was President of the Board of Education of Philadelphia who died in Philadelphia in 1925 and for whom Simon Gratz High School was named – although the two were first cousins (their fathers were brothers).
The additional information gleaned from the above-mentioned documents should lead to more discoveries about this little-known member of the Gratz family.
Anyone with information to add is welcome to do so by adding comments to this post or by sending an e-mail to the Civil War Research Project.