Posted By Norman Gasbarro on September 8, 2013
The obituary of Samuel Byerly appeared in a local newspaper in late February 1923.  It was followed by a brief story indicating that two of the last surviving veterans of Company E of the 131st Pennsylvania Infantry died within a week of each other – Samuel Byerly and Saul Shipman:

SAMUEL BYERLY, VETERAN SUNBURY MERCHANT IS DEAD

PASSED AWAY AT HOME ON ARCH STREET TUESDAY MORNING AFTER AN ILLNESS OF TEN DAYS WITH HEART TROUBLE

Samuel Byerly, of 331 Arch Street, one of Sunbury's oldest and best known residents, died at 10 o'clock Tuesday morning at his home from heart trouble, after an illness of ten days.  At that date he complained of not feeling well and was taken to his bed.  He began to decline rapidly until death ensued Tuesday morning.

On 20 January, Mr. Byerly celebrated his 85th birthday.  In spite of his advanced years he was active and well preserved, and retained full control of his faculties.  He was engaged in active pursuits his entire life, up to the tie of his final illness.

Mr. Byerly was born at Lynnville, Pennsylvania, 20 Jan 1838.  He moved to Danville in early life, and spent the major portion of his boyhood there.  He enlisted in the Union Army during the Civil War in the 131st Regiment Pennsylvania Volunteers [131st Pennsylvania Infantry].  He was wounded in the leg in the Battle of Fredericksburg and was crippled for life by the wound.

He came to Sunbury in 1865 at the close of the war and has lived here ever since.  He became a photographer and pursued that trade for a short time.  Then he entered the grocery business, conducting stands on Third Street where the Y.M.C.A. is now located and elsewhere.  Later he entered the oil business and remained in that until his final illness.

He was a life long member of St. John's Methodist Church.

He married Mary A. Dressler, of Milton, who preceded him to the grave 15 years ago.  Surviving are the following children:  Edward Byerly and Miss Lou Byerly of Sunbury; Mrs. Otto Allen, of Columbus, Ohio; Mrs. Harry H. Wells, of Athens, Pennsylvania; Clarence Byerly of New York and Harry Byerly of Washington.  Two sisters of a family of 14 are still living.  They are Miss Sarah Byerly, aged 87, and Mrs. Julia Oberdorf, aged 82, of Milton.  A number of grandchildren and great-grandchildren also survive.

The funeral will be held Friday afternoon at 2:30.  The Rev. J. McKendree Reily, pastor of St. John's M. E. Church, will officiate.  Interment will be in Pomfret Manor Cemetery.
DEAD VETERANS BOTH MEMBERS OF SAME COMPANY

In the death of Samuel Byerly at his home yesterday, the second of the few surviving members of Company E, 131st Pennsylvania Volunteers [131st Pennsylvania Infantry] died within a week of each other.

Saul Shipman, who was buried last week from his home east of this city, was also a member of that company.  The two when they men always talked about the Civil War days.  There are only a few names left on the company roster.  The company was recruited from young men in this section of Pennsylvania in the days of the Rebellion.
Because of his war injury, Samuel Byerly received a Surgeon's Certificate of Disability and was discharged.  However, the date of his discharge was lost before it was officially recorded, as is noted on the Pennsylvania Veterans' File Card, shown below, from the Pennsylvania Archives: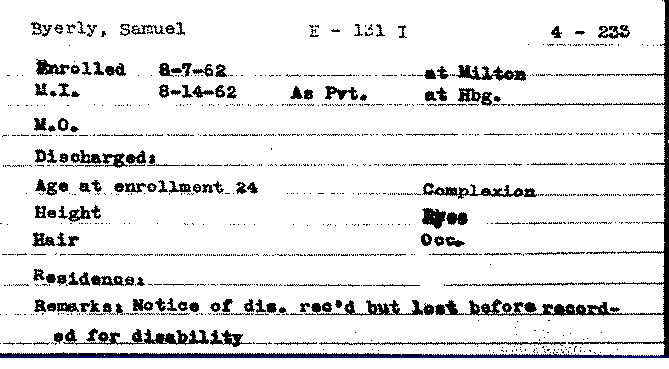 The injury and disability was serious enough for Samuel Byerly to apply for a invalid pension in 1864, as is shown by the Pension Index Card that was found on Fold3: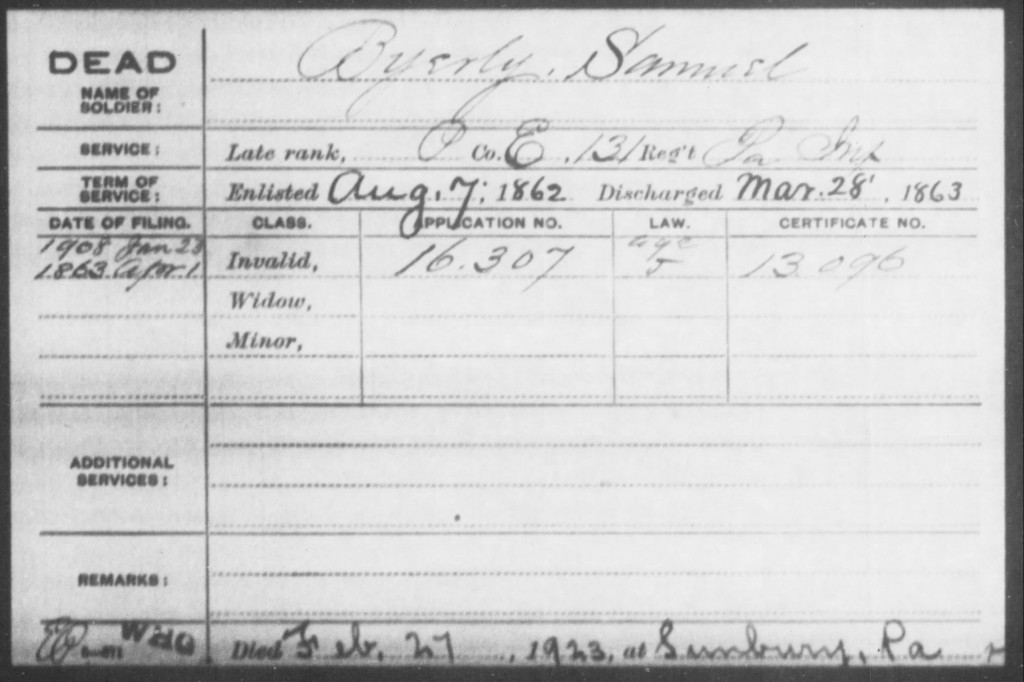 —————————–
Note:  There is also a different Samuel Byerly who is buried in Shamokin Cemetery, Northumberland County, Pennsylvania, who also died in 1923.
The obituary and accompanying article are from the Obituary Collection of the Gratz Historical Society.