Posted By Norman Gasbarro on September 6, 2013
The obituary of Joseph M. Johnson who died in 1923 at the home of his daughter in Reading, Berks County, Pennsylvania, clears up the mystery of why he was reported as killed in action at the Po River.  He is also the same J. M. Johnson whose name appears on the Millersburg Monument.

During the Civil War, Joseph M. Johnson served in the 127th Pennsylvania Infantry, Company K, as a Private from 10 September 1862 to 29 May 1863.  He then re-enlisted in the 116th Pennsylvania Infantry, Company F, as a Private where he served from 1 February 1864 through his discharge on 14 July 1865.  The Veterans' Index Cards, shown below from the Pennsylvania Archives, summarize his enlistment and service: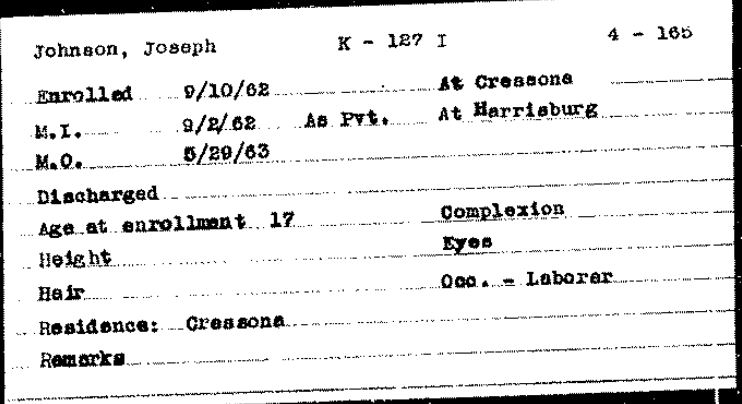 One of the confusing issues about this veteran is that he was reported missing and killed in action.  This fact is noted in the database by Steve Maczuga which is found on his website, Pennsylvanians in the Civil War: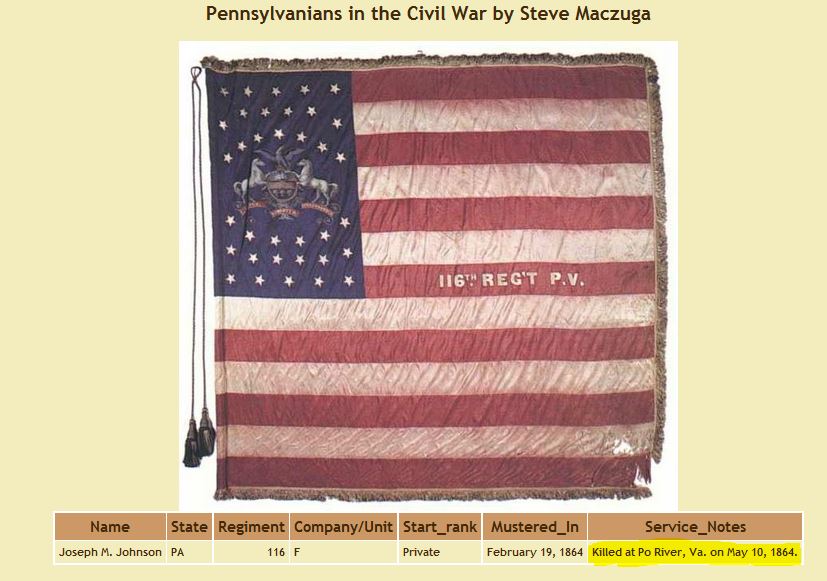 Joseph M. Johnson's obituary appeared in the Reading Herald-Telegram in November 1923:
J. M. JOHNSON STROKE VICTIM

CONTRACTOR, CIVIL WAR VET

A prominent contractor of this city and a veteran of the Civil War, Joseph M. Johnson, died at the home of his daughter, Mrs. A. M. Hornberger, 812 Chestnut Street, early this morning.  Death followed a stroke of apoplexy which occurred 11 days ago.  He was 76 years and six months of age.

Mr. Johnson was born in Schuylkill County where he lived until the beginning of the Civil War.  He enlisted in the army, 10 September 1862, for a period of nine months.  He participated in the Battle of Fredericksburg and Chancellorsville as a Private in Company K, 127th Regiment, 1st Pennsylvania Volunteers,  He was was discharged 27 May 1863 by reason of expiration of service.

He re-enlisted 1 February 1864, and served three years under Colonel Millholland in Company F, 116th Regiment.  Among the battles in which he fought were Battle of the Potomac River, Spottsylvania, Cold Harbor, Petersburg, Ream's Station, Strawberry Plane, Deep Bottom, Weldon Railroad, Hatcher's Run, Dabney's Hill, and Five Forks.

At the Battle of Spottsylvania he was seriously wounded and as no word was received from him he was officially reported dead.  Later he was found in the Baltimore Hospital in a critical condition.

Upon his recovery he went to Millersburg, Dauphin County, where he later became famous as a contractor.  During his career he constructed some of the largest reservoirs in the United States.

Seven years ago he came to this city, where he made his home with his sister, at 182 Chestnut Street.  He was a lifelong member of the United Evangelical denomination.  Surviving him are his widow, Ella (nee Eitien) Johnson: the following children:  Harry W. Johnson, and Samuel S. Johnson of Harrisburg;  Mark E. Johnson and Luke E. Johnson of Shamokin; Mayme [Johnson] Hornberger, wife of A. M. Hornberger of Reading; Joseph Johnson Jr. of Williamsport; and Martha M. Johnson of Reading; two grandchildren and three sisters, Mrs. Ophelia [Johnson] Bowers, of Los Angeles, and Mrs. H. Freeburn and Mrs. Cecil Seal, of Harrisburg.
The funeral arrangements were reported within a few days by the same newspaper, and included a late-in-life picture of Mr. Johnson.
For his service in the Civil War, Joseph M. Johnson applied for and received a pension, as is noted on the Pension Index Card, obtained from Fold3, which references the application files available at the National Archives in Washington, D.C.: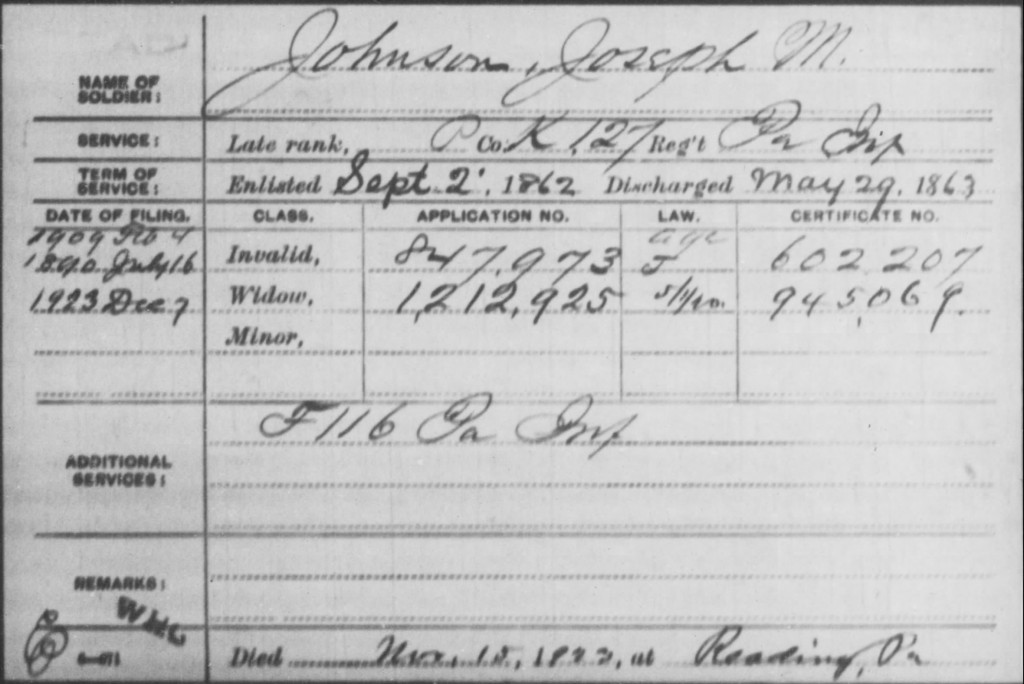 The index card gives the date of 16 July 1890 as the first pension application date, for which a pension was awarded, and a subsequent date of 4 February 1909 for a pension increase.  On 7 December 1923, the surviving widow applied to receive benefits and the certificate number indicates that she was awarded the pension, which she collected until her death.  The application files for Joseph M. Johnson and his widow should have interesting information about his military service and will probably further clarify the confusion about him being reported missing and killed in action.
Additional information is sought about Joseph M. Johnson, particularly from anyone who has obtained copies of his military record or his pension application file.  Also helpful would be information on his family and career in Millersburg as a contractor and any activities with the G.A.R.  Comments can be added to this post or can be sent to the Civil War Blog via e-mail.
————————–
The photograph of Joseph M. Johnson at the top of this post was adapted from one found on Ancestry.com and said to be of him in the period just after the Civil War, when he was working in Millersburg.