Posted By Norman Gasbarro on September 10, 2013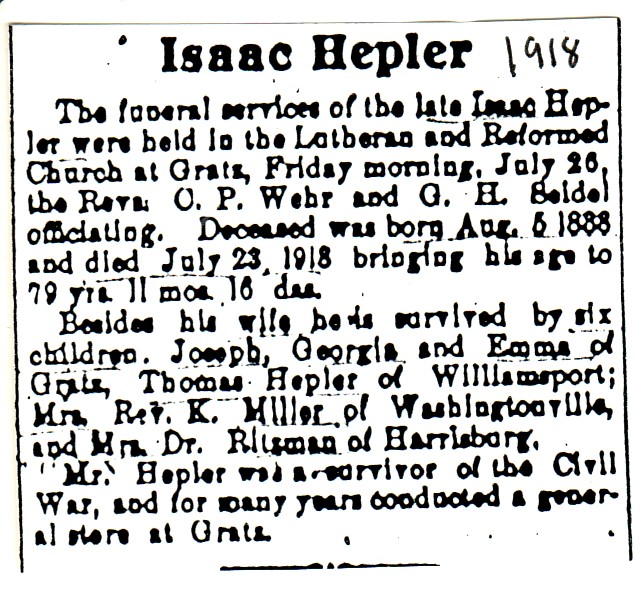 The following obituary and report on the funeral services of Civil War veteran Isaac Hepler of Gratz appeared in a local newspaper in late July 1918:
The funeral services of the late Isaac Hepler were held in the Lutheran and reformed Church of Gratz, Friday morning, 26 July 1918, the Revs. C. P. Wehr and G. H. Seidel officiating.  Deceased was born 5 August 1838 and died 23 July 1918 bringing his age to 79 years, 11 months, 16 days.

Besides his wife he is survived by six children:  Joseph Hepler, Georgia Hepler, and Emma Hepler of Gratz; Thomas Hepler of Williamsport; Mrs. Rev. K. Miller of Washingtonville, and Mrs. Dr. Ritzman of Harrisburg.

Mr. Hepler was a survivor of the Civil War and for many years conducted a general store at Gratz.
—————————–
For the obituary of Isaac's widow, Amanda Harper Hepler, see:  Amanda B. Hepler – Widow of Isaac Hepler.
The news clipping is from the Obituary Collection of the Gratz Historical Society.