Posted By Norman Gasbarro on September 28, 2013
At the time of his death in December 1899,  the Lykens Register paid a tribute to Riley Bressler, a Civil War veteran:
BIOGRAPHY OF RILEY BRESSLER

A man of so excellent a type and possessed of rare business methods which made him so successful in life is the late Riley Bressler of Tower City needs more than a announcement of his death.

Mr. Bressler was born in Gratz, 20 September 1835.  When a young man he and his father, John Bressler, moved to the old homestead back of Berrysburg, about one and one half miles from the farm now owned by Mr. Shoop.  At the age of 14 he began to learn his trade, tinsmith, serving his full apprentice with John Witman.  Later he went to Pottsville to work for Mr. Strickler.  In July 1855, he came to Wiconisco to conduct the business for Samuel Snyder, the place of business being situated on the lot now occupied by Squire Hawk.  In the Spring of 1856 he bought out Mr. Snyder and moved to Lykens in 1857.  In Dec 1858 he sold the stock to J. D. Snyder of Berrysburg and disposed of his dwelling to George D. Daniels, then worked in the mines. In 1862 he went to work for Peter Kline, tinsmith.

Drafted into service of the Civil War, 16 Oct 1862, and served 10 months, he was 3rd Sergeant under Capt. Harper of Company K, 173rd Regiment [173rd Pennsylvania Infantry].

In 1864 he helped sink Short Mountain Slope and open Mountain Slope and Colliery at Williamstown.  In 1865 he volunteered in Company B, 16th Cavalry [16th Pennsylvania Cavalry] and served to the close of the war.
Riley Bressler married Mary Ann Thomas (1839-1914) who survived him and collected a Civil War widow's pension.
Some documents related to Riley Bressler are shown below:
Riley Bressler's name appears on the Lykens G.A.R. Monument as a Charter Member of the Heilner Post: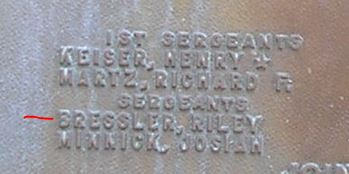 The grave of Riley Bressler is located in Tower City.
Additions and corrections can be added to the comments section of this post or sent to the Civil War Research Project by e-mail.