Posted By Norman Gasbarro on August 16, 2013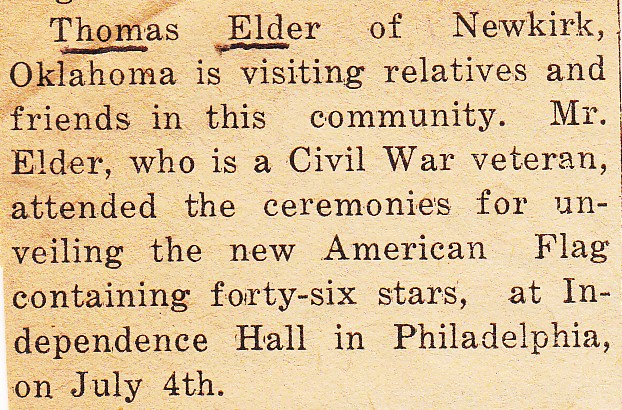 A brief notice appearing in the Elizabethville Echo in 1908 mentioned that a Thomas Elder of Newkirk, Oklahoma was visiting relatives and friends in Elizabethville, that he was a Civil War veteran, and that he had attended the ceremonies for unveiling the new American Flag containing forty-six stars at Independence Hall in Philadelphia on July 4.  This of course begs the questions as to whether Thomas Elder had some some connection to the Lykens Valley and whether he should be included in the Veterans' list of the Gratz Historical Society.
In 1850, as shown by the census return (below) for Washington Township, Dauphin County, Pennsylvania, the Robert Elder family was enumerated – which included Thomas Elder and several older sisters.  Thomas' mother, Hannah Elder was the former Hannah Dietrich, a descendant of one of the branches of the Dietrich family that had settled in the Lykens Valley (See: Dietrich Family – Immigrant Ancestors; and Dietrich Family in the Civil War).
Hannah [Dietrich] Elder died in 1896 and was buried at Peace Cemetery, Berrysburg, Dauphin County, Pennsylvania: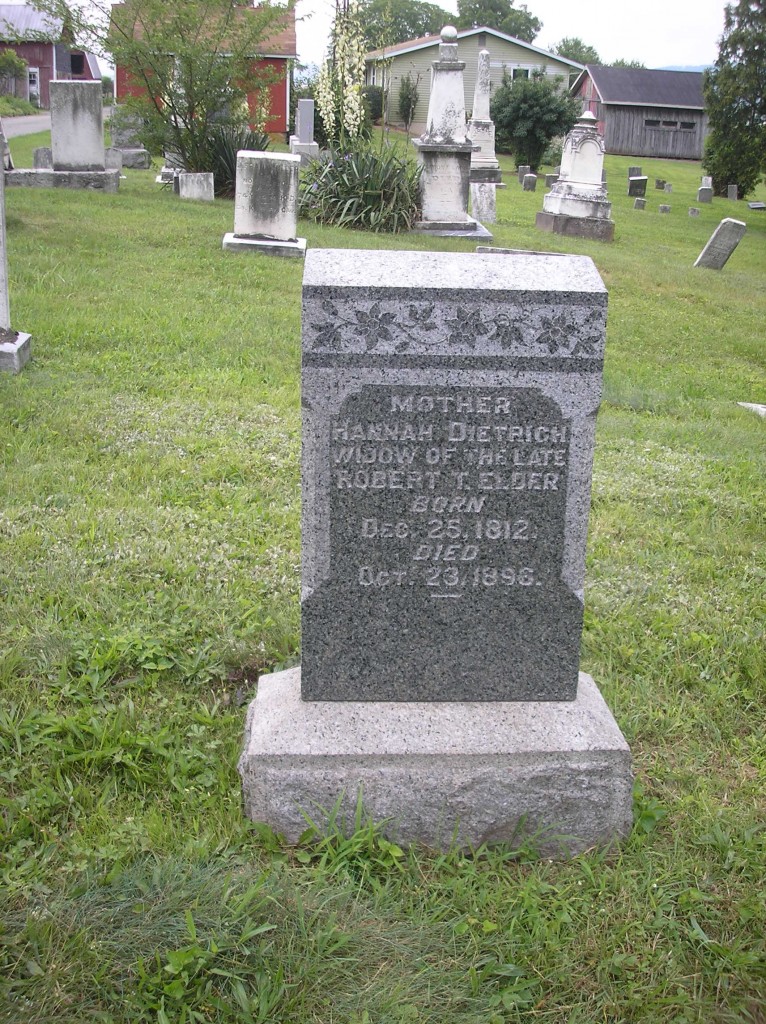 According to information found in Findagrave, the father, Robert T. Elder died in 1854, and was buried in the Paxton Presbyterian Churchyard, Harrisburg, where many other members of the Elder family are also buried.
The 1860 Census for Washington Township (below) indicates that four of the Elder children – Thomas and three older sisters – were living in their own household, with Rosetta Elder working as a milliner, and Victoria Elder and Anna Elder working as teachers in the common schools.  Thomas was working as a farm hand.
On 2 September 1862, Thomas J. Elder was mustered into the 46th Pennsylvania Infantry, Company D, as a Private.  During his service in the 46th Pennsylvania, on 1 September 1864, he was promoted to the rank of Corporal.  He received an honorable discharge from the service on 6 June 1865.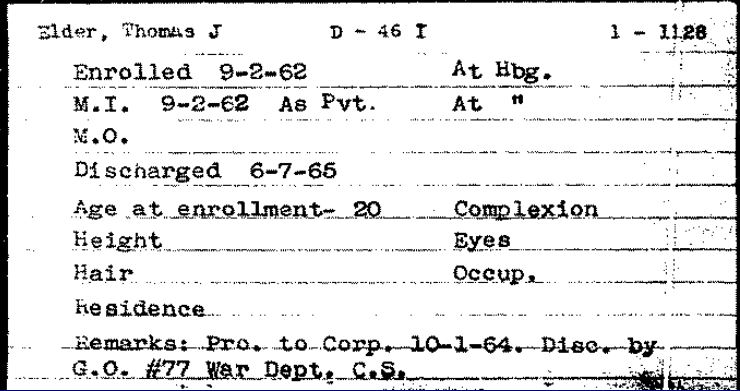 As a result of hiss Civil War service, Thomas J. Elder applied for a pension in July of 1890 – which he received and collected until his death – which according to the Pension Index Card (below) occurred on 4 October 1923 at the Sawtelle Veterans' Home in Los Angeles, California.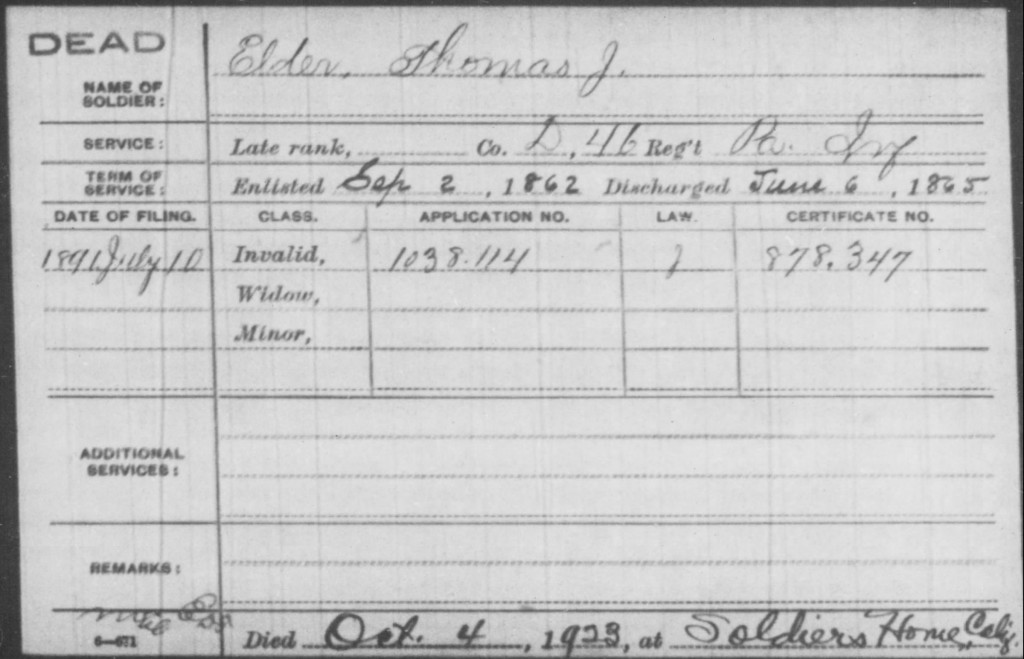 A search of the Veterans' Home records available on Ancestry.com produced records for Veterans' Homes in Dayton, Ohio; Danville, Illinois; Johnson City, Tennessee; and Leavenworth, Kansas – all places where the Thomas J. Elder who served in the 46th Pennsylvania Infantry resided as some point late in his life – in addition to Sawtelle, which is where he lived his last days.
A search of post-Civil War census records produced enumerations for Lanark, Carroll County, Illinois in 1880; Shannon, Carrol County, Illinois in 1900; and Isaac, Mariacopa County, Arizona in 1910.  In each of these cases, he was married, and working as a farmer.  The news clipping at the top of this post indicates that he was living in Newkirk, Oklahoma in 1908.
Thomas J. Elder's grave was located in the same cemetery where his father was buried – Paxtang Presbyterian Graveyard in Harrisburg.  Shown above, it notes his service in the 46th Pennsylvania Infantry, Company D, as a Private.
On 4 July 1908, the 46th star was officially added to the Flag of the United States – representing the admission of the State of Oklahoma to the Union.  A special ceremony was planned in Philadelphia at Independence Hall as noted in the news item at the top of this post.  Also found were reports of this ceremony in the Philadelphia Inquirer: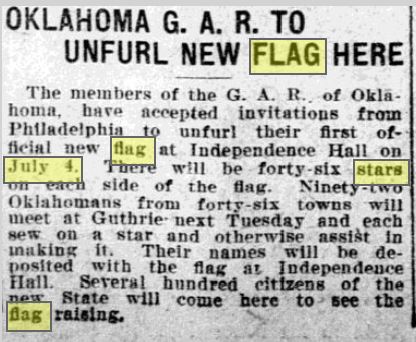 OKLAHOMA G.A.R. TO UNFURL NEW FLAG HERE.

The members of the G.A.R. of Oklahoma, have accepted invitations from Philadelphia to unfurl their first official new flag at independence Hall on 4 July.  There will be forty-six stars on each side of the flag.  Ninety-two Oklahomans from forty-six towns will meet at Guthrie next Tuesday and each sew on a star and otherwise assist in making it.  Their names will be deposited with the flag at Independence Hall.  Several hundred citizens of the new State will come here to see the flag raising.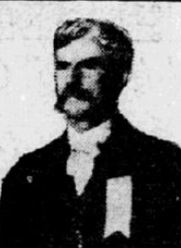 The Inquirer of 4 July featured a picture of the official delegation from the new State of Oklahoma – and cropped from the delegation picture (above) is a portrait of one of the official delegation members – Thomas J. Elder.
The delegates were also named in the accompanying article and included:  Colonel T. H. Soward, of Guthrie; Judge Hosea Townsend, of Ardmore; William H. Hornaday, of Lawton;  William Cherry, of Tulsa; B. F. Conger, of Bristow; and Thomas H. Elder, of Newkirk….  [Note: the middle initial of Thomas Elder was incorrectly given as "H"].
Another article appeared several weeks after the event – and Colonel Soward complimented the Philadelphians on their hospitality and concluded with the statement that if he would ever leave Oklahoma he would want to make his new home in the City of Brotherly Love.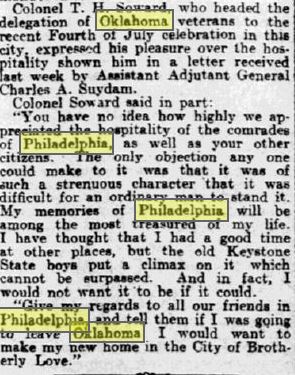 The visit of Thomas J. Elder to relatives and friends in Elizabethville probably occurred on the way back to Oklahoma from the events of Philadelphia.  Train service to the west went through Harrisburg, and it would have been relatively easy for him to make a connection to Millersburg from there, and then to Elizabethville.
Thus, a small, seemingly obscure mention in a local Lykens Valley newspaper has uncovered still another Civil War veteran with ties to the area.  There is still much more to be discovered about him – his Civil War record, why we went west after the war, how he ended up in Oklahoma, and what relatives of his were/are still living in the Lykens Valley area. There is no doubt that he belongs in the Veterans' List and will be added at the next update.  Any additional information that readers can supply will be welcome!  Add comments to this post, or send by e-mail.
———————–
The news clipping from the Elizabethville Echo (top of post) is from the collection of the Gratz Historical Society.  All other news clippings are from the on-line resources of the Free Library of Philadelphia.