Posted By Brian Tomlin on August 29, 2013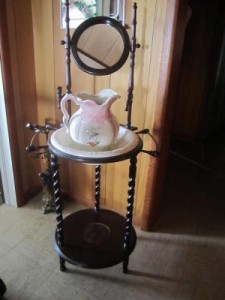 In many places the bathroom as such did not exist during the Civil War. Often a room next to or adjoining a bedroom was called a dressing room, which contained clothing storage and often a wash basin, stand, pitcher and mirror. In these kinds of homes baths were usually taken in the kitchen. .  Toilets stayed outside of the house in outhouses, in many places long after they had to, because of a fear of having this germy and smelly item inside the home. Early small closets transformed into toilet rooms were called water closets.
Gratz did not get water service until 1924 so during the Civil War era each home had to have a well to get water for all household uses. In larger cities and more affluent communities near large cities, indoor plumbing was  available  and bathrooms were found in most urban middle-class homes by the time of the civil war.
When bathrooms first came into Victorian homes, another room was usually converted to the purpose (a small bedroom, for example). Rooms were furnished and decorated like any other room, with the intent being to disguise the practical and sometimes indelicate functions of the room as much as possible. The more modern, tile and chrome dominated bathrooms did not emerge until the turn of the twentieth century.
Flooring. Kitchen floors were either wood (and usually a softer, less expensive wood than the rest of the house, like pine) or tile. Bathrooms with wood floors would have had a rug similar to the other rooms in the house, depending on the style of house and circumstances of the family.  In more rural areas it was not uncommon for the bathroom floor to be lightly painted as a matter of practicality.
Ceilings. In upscale homes, bathroom ceilings were often very elaborate with plasterwork, tin, moldings, stencils, wallpaper or some combination of these. In more modest homes probably stuck with white-painted ceilings.
Windows. Art glass, stained glass and frosted glass were common in nineteenth century bathroom windows for privacy. Blinds were venetian style and wooden.
Lighting. A hanging ceiling fixture would have lighted the typical bath of the period.
Furniture. Commode (cabinet set which included the chamber pot, pottery basin, towel bar, shelf to hold a pitcher that normally matched the bowl).  A man would have had a small shaving stand as well to hold razor, shaving soap, etc.