Posted By Norman Gasbarro on August 25, 2013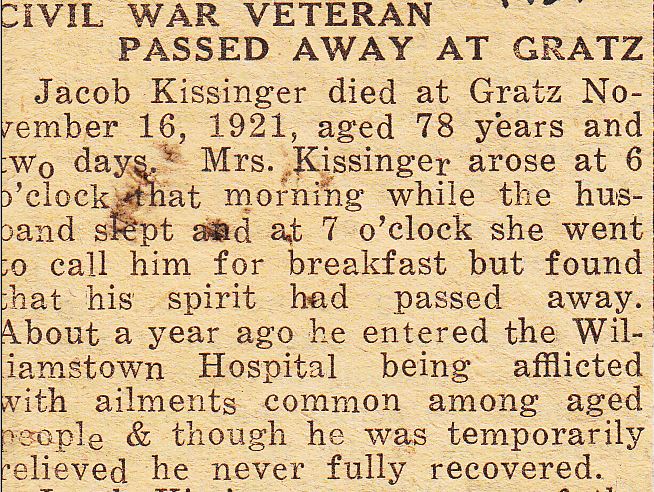 CIVIL WAR VETERAN PASSED AWAY AT GRATZ

Jacob Kissinger died at Gratz 16 November 1921, aged 78 years and two days. Mrs. Kissinger arose at 6 o'clock that morning while the husband slept and at 7 o'clock she went to call him for breakfast but found that his spirit had passed away.  About a year ago he entered the Williamstown Hospital being afflicted with ailments common among aged people and though he was temporarily relieved he never fully recovered.

Jacob Kissinger was a son of the late George Kissinger and Sarah Kissinger, born in Lykens Township, 14 November 1843, and was baptized by the Rev. Philip Steiley on 31 December 1843; on 31 March 1866 he was confirmed as a member of the Gratz Reformed Church by the Rev. Jacob Kehm and on 25 August 1867 he was united in marriage to Amanda Williard by the same pastor.

Six sons and three daughters, thirty grandchildren and six great-grandchildren also survive, and all of the surviving children were present at the funeral services except one son who lives in the state of Oregon.  Two daughters preceded the father to that world beyond.  Names of the children who are living:  Harvey F. Kissinger; Mary [Kissinger] Hoffman, wife of Frank Hoffman; S. Katie Kissinger; Daniel Kissinger, Edward Kissinger, Edmund O. Kissinger, Dora E. Kissinger, Charles W. Kissinger, Jacob Kissinger, and Thomas H. Kissinger.

Deceased attended school at the Kissinger School House in Lykens Township during the winter and in the summer he worked on the farm but on 1 July 1863, he enlisted in what was called the "Home Guards" at Gratz and become a member of Company C, 36th Regiment [36th Pennsylvania Infantry, Emergency of 1863], serving eight weeks at Gettysburg one day late for that great battle.  After eight weeks service he wasdischarged and returned home but in February 1864 he re-enlisted at Gratz for three years in Company K, 9th Pennsylvania Cavalry, Colonel Thomas J. Jordan and Captain J. Frank Miller.

He was in the Atlanta Campaign and with Sherman on the March to the Sea participating in forty two battles and skirmishes until the surrender of Johnson.  After the close of the war Mr. Kissinger returned to his home township and became a successful stockman and farmer.

Funeral services were held in the Gratz church last Saturday and the attendance of relatives and friends was very large.  The pastor, Rev. C. P. Wehr officiated.
For a previous blog post on Jacob Kissinger, including photos of Jacob and his wife Amanda, see:  Jacob Kissinger – Home Guards and the 9th Pennsylvania Cavalry.  The obituary of Jacob Kissinger, which appeared in the Elizabethville Echo, was found in the collection of the Gratz Historical Society.