Posted By Brian Tomlin on August 31, 2013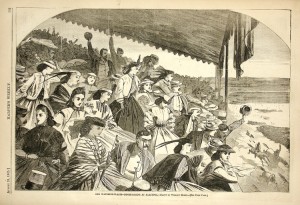 August 3. Racetrack at Saratoga Springs, NY opens.  It is the oldest racetrack in the US, and is often considered to be the oldest sporting venue of any kind in the country.
August 11. Cambodia becomes French Protectorate. In 1863, King Norodom, who had been installed by Thailand,sought the protection of France from the Thai and Vietnamese after tensions grew between them. Cambodia continued as a protectorate of France from 1863 to 1953, administered as part of the colony of French Indochina, though occupied by the Japanese empire from 1941 to 1945.
August 16. After Spain's annexation of the Dominican Republic, rebels raise the Dominican flag in Santiago to begin the Dominican Restoration War, a guerrilla war between 1863 and 1865 in the Dominican Republic between nationalists and Spain, who had recolonized the country 17 years after its independence. It ended with a Dominican victory and the withdrawal of Spanish forces from the country.